World Cup guide
It was a palpable sense of relief that enveloped Wembley Stadium last night when Steven Gerrard rubber stamped England's passage to Brazil 2014, but the hard work has only just begun. Getting out there (and paying for it) will prove just as difficult if you're an England fan on a budget
Last Updated: 05/12/13 4:16pm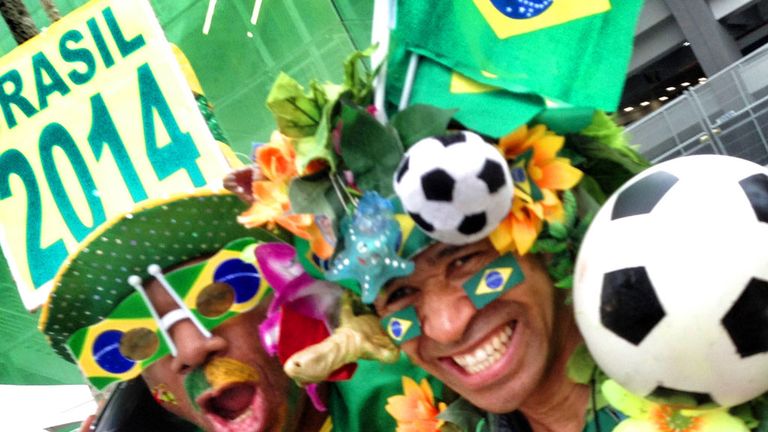 Geraint Hughes, Sky Sports News reporter
Brazil is a country of many parts. It has great natural wealth and many Brazilians enjoy a good standard of living as a result of a burgeoning economy. However, as the many thousands of favelas or shanty towns that sprawl across the hillsides of Rio or the outskirts of Sao Paulo show there is also great poverty. The inequality between rich and poor is at times overbearing. Nevertheless there is one thing that unites pretty much every one of the 190 million strong population - football. The stereotype of a Brazilian is one who's either playing football on a sun clad beach or watching their national side draped in a flag and football shirt. Well as stereotypes go, it's not far off the mark.
I witnessed that first hand during last summer's Confederations Cup. The country is football mad, passionate almost beyond belief. On the days Brazil played, for the 90 minutes of action on the pitch, millions of people momentarily were united as they put aside the political issues that roused them in their millions to protest at their government. The irony was that one of the major complaints was that too much money was being spent and wasted on the 2014 FIFA World Cup when it was needed elsewhere.
The threat of further protests, which at times turned violent during the Confederations Cup last June, is a real one next summer. Brazil's problems have not disappeared and the people, from the poor to the well-educated middle classes, found their voice and will make themselves heard again next year despite a carnival of football in their back yard.
Any England fan planning on traveling to Brazil should acquaint themselves with what's going on and keep well out of harm's way. The British Consulate in Rio gave sound advice earlier this year and doubtless will do the same again when the World Cup comes round.
It may sound then as if Brazil is going to be a hideous place for the England team and its supporters. That couldn't be further from the truth, but there's no point hiding the fact that when millions of people protest across dozens of cities, where police have dealt with elements with tear gas, rubber bullets and brute force, it's got to be of concern to the England team and its support.
Be careful is the best advice I can give. Having been in the middle of half a million people in Rio running in all directions as tear gas rained down, I can tell you it's not a pleasant experience.
Looking to more positive reasons as to what England can expect in Brazil is easy. The weather will be glorious as will the welcome for England. Paulo Senise, one of Brazil's top tourism executives, swelled with pride at the thought of England coming to his country. Last June he told me: "England gave the world football, they gave Brazil football so for that alone we love them."
Well that's not a bad start then. If you're an England fan wearing an England shirt, expect to be stopped in the street. They'll shake your hand, but then tell you England hasn't a chance of living with Phil Scolari's lads.
England don't know yet where they will play, but intend to base themselves in Rio. The city is stunningly beautiful. It would be hard not to be motivated each day as either a footballer or a fan. The beaches, the mountains, the buildings, the ever-imposing Christ the Redeemer statue looking down upon the city, it's just awe-inspiring. And England will be of interest to Brazilians. It will feel insignificant compared with the attention lavished upon the Brazilian national side, which is bordering on the absurd, but England should expect a fair deal of attention. The Premier League is well watched so the locals know their stuff and will start their own debate - Andros Townsend or Theo Walcott? Also the number of Brazilians playing in England has enhanced that knowledge and when the likes of David Luiz and Oscar speak in the Brazilian media about England they invariably do so in glowing terms.
As far as the fans go, well start saving the pennies now. Brazil is not cheap. Aside from the 12-hour flight to get there, hotels will be raising their prices during the World Cup and food and drink is on a par with central London prices - so it's not cheap! Camping is not as well established as it is in other parts of the world, but organisers have been mulling over the idea of advertising camp sites more as thousands of hardened campers from not just England, but Germany and the Netherlands, descend on Brazil.
Much of the organisation for the World Cup has been criticised, but one thing Brazilians cannot be accused of is not putting on a good party. That they do well, very well. And if Brazil are successful next summer then the tournament will be all the richer for it. The experience for England's footballers and their fans as a nation that adores football (and parties) from dusk til dawn, will be all the more memorable.
Simon Calder, travel writer
Within an hour of the final whistle at Wembley last night one of the big sport tour companies had come out with a £7,000 deal - which actually I think is a pretty good price. For that you get flights out to Brazil - they don't know, and of course none of us will know until 4pm on the 6th December, where England will be playing but they have basically said 'pay us this money and we will guarantee to get you to each of the matches'. It'd be a couple of weeks for £7,000 - maybe £1,000 spending money on top of that looks pretty good value to me.
People will have to be careful there. Every villain in Latin America will converge on Brazil to try and help themselves to the possessions of football fans but I expect it will work out okay.
The main thing is have a look and see what jabs you need, particularly if England are drawn to play in Manaus in the heart of the Amazon where there are some fairly lively mosquitoes. Take plenty of advice well in advance.
British Airways look your best bet for a flight as they fly from London several times a day. Move swiftly though as prices are presently at around the £1200 mark and are only going to go in one direction...

Alex Ellis, British ambassador in Brazil
What England fans can expect if they come is a beautiful country, a huge country. Don't forget it's scale, it's five or six hours flying end to end. It's a country that's not used to mass tourism. I think we get 33 million visits to the UK a year, Brazil gets around 5 million. Book early is my advice to everybody. The roads and rail links are not that great so everybody will fly. It all depends of course on where England get drawn for the England fans. If England get drawn in Manaus in the Amazon that's about a four to five hour flight from Rio. Book your flight early and book your hotel early. We've already seen a huge demand for tickets. The draw is on the 6 December so I'd get on with booking after that, if not before. Ticket information will be coming up on the FIFA website.
I don't think you'll need a visa if you're coming for a short stay. I've just arrived myself (in Brazil) and haven't had too many jabs so that's not too much of a worry. There's the usual stuff about criminality, you have to be alert. We have an excellent consulate team so we'll be here to help. Just be smart and intelligent. Dress down, don't be ostentatious. It's the usual stuff wherever you go across the world. Maybe be a little bit sharper in some regions of Brazil. We're working very closer with the police to get the right level of service for people when they come to visit. Be your usual self but just be savvy.
I think that it's an interesting year next year in Brazil. It's an election year; they have the presidential elections next October. They're having a mass event in a politicized time. The demonstrations last summer were quite political and very large but on the whole very peaceful. That's a separate thing from the smaller scale demonstrations which can be a bit more violent. It's going to be different; this isn't Britain, it's Brazil. The country has some fantastic characteristics and some tricky ones around security. You just have to understand that before you go.
203 countries made a total of 6,164,682 ticket requests. Around 3.3 million tickets will be available over the course of the tournament.
Dates for the diary
12 June - Hosts Brazil to open the 2014 World Cup in Sao Paulo.
27 June - First break of the tournament. The group stages will be played and completed over 15 days.
28 June to 1 July - Round of 16 matches (two fixtures per day)
4 & 5 July - Quarter-finals (two fixtures per day)
8 & 9 July - Semi-finals
13 July - World Cup final to be played in Rio de Janeiro
Alex Horne, FA secretary general
We have made plans already. We have discussed where we're going to stay with FIFA, you have to stay ahead of the game on this. You have to nominate your hotels and training grounds. We've done our homework where we want to be based in Brazil - it will be in Rio.
From our perspective, it allows us to breathe easy. We always planned to be in Brazil - all our budgets, our four-year plans, all our conversations with sponsors all plan on us being in Brazil, that is the expectation we set ourselves.
And of course we don't always do it - we didn't in 2008 - but we always plan positively like that and so there is a bit of a sigh of relief and a real sense of something to look forward to right across the FA.
The Guardian says: England were planning to stay in the Windsor Atlantica on Copacabana Beach, following the Euro 2012 model of trying to give the players a feeling for the atmosphere of the tournament and encouraging them to be "good tourists" (itself a reaction to the austere, remote regime in South Africa). But when it emerged a huge fanzone was planned outside the hotel, the FA turned their attentions to the Royal Tulip Hotel up the coast on Sao Conrado Beach and hope to use the practice facilities at the nearby Urca Navy base.
Who'll be there?
Italy, Belgium, Holland, Germany and Switzerland had all already sealed their place in the finals before Tuesday night, and completing Europe's automatic representatives were Spain, who beat Georgia to take top spot in Group I, Russia, who won Group F with a draw in Azerbaijan, and Bosnia-Herzegovina, who sealed Group G with a win over Lithuania.
There are still four spots from Europe to be determined, which will of course be decided via four two-legged play-offs. France, Portugal, Ukraine, Sweden, Croatia, Iceland, Greece and Romania will contest those play-offs. Incidentally, should Iceland qualify they will be the smallest nation to ever compete in the World Cup finals.
The seedings will be released on Thursday, and the draw will be made on Monday, with the games to be played on November 15 and 19. Given these seedings will be determined largely by world rankings, it's virtually certain that France won't be seeded, meaning after facing Spain in the group stage, they could play Portugal in the play-offs.
In South America, Brazil qualify on the technicality of hosting the thing, while Argentina and Colombia's places were safe before the final round of games. Chile's place was virtually certain but they beat Ecuador on Tuesday night, who also qualify automatically. Uruguay finished fifth and thus take the play-off place, which they will presumably win, as it's against Jordan.
The African spots are yet to be decided. The first legs of their play-offs have already taken place, with the second games set for the middle of November. In those first games, Ivory Coast spanked Senegal 3-1, Burkina Faso beat Algeria 3-2, Nigeria won 2-1 in Ethiopia, Ghana hammered Egypt 6-1 while Tunisia and Cameroon drew 0-0.
CONCACAF now, and joining the USA and Costa Rica at the finals will be Honduras, who bagged their spot with a 2-2 draw in Jamaica. Mexico will have to qualify via a two-legged play-off with New Zealand.
And finally Japan, South Korea, Iran and Australia have qualified through Asia, while Jordan can join them if they seal an unlikely win in those games against Uruguay.
The draw for the finals will take place on December 6, with eight teams seeded. Since England are currently 17th in the FIFA rankings, they almost certainly will not be one of those seeds.