Serie A: Former Inter Milan coach Roberto Mancini pays tribute to Massimo Moratti
Former Inter Milan coach Roberto Mancini paid tribute to Massimo Moratti after the president sold his stake in the club.
Last Updated: 16/10/13 12:22pm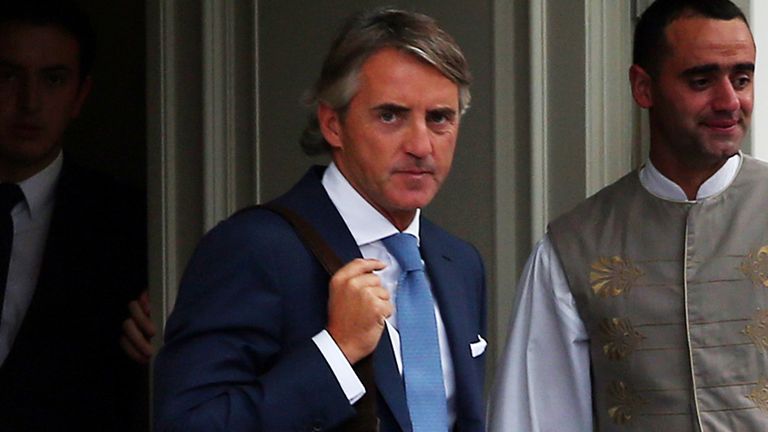 Inter announced on Tuesday they had reached a binding agreement over the sale of a 70 per cent stake of Inter to International Sports Capital, led by Indonesian billionaire Erick Thohir.
Moratti, who has owned Inter for the last 18 years, is set to retain a role at the club and keep a 30 per cent stake.
"I have read that Moratti could remain as president and I interpret that as a sign of love," Mancini told Gazzetta dello Sport.
"Inter is his life since he was a young boy and it's difficult to remain with limited power in a house where you have been the only owner.
"The Inter fans can be calm because if Moratti has chosen Thohir is because that was the best possible prospect."
Moratti's family have owned or been directors at Inter for over half a century.
He bought the club in 1995 from Ernesto Pellegrini, following in the footsteps of his own father Angelo, who owned Inter from 1955 to 1968, during the side's 'golden age'.
The Milan-based club have won the league title 18 times, five under Massimo Moratti, and have also lifted the European Cup on three occasions.
Mancini, who led Inter to three scudetti during his four-year tenure (2004-08) at the club, only has good things to say about Moratti.
"I feel as though I gave him something important," Mancini said.
"His first titles of his presidency after many failed attempts.
"In turn, I received a lot from him.
"Moratti has always loved players as it should be.
"For a champion there cannot be a better president than him because he not only support you but he grants you much more.
"As a player, Moratti tried to bring me to Inter many times and the first thing he told me when I signed as a coach is 'I wanted you as a champion but at least I have you as a coach'.
Mancini does not hold a grudge against Moratti for being sacked by Inter in May 2008 and replaced by Jose Mourinho.
"I have a lot of affection for Moratti and I know he feels the same way about me," he said.
"I surprisingly felt that when he announced his decision not to keep me as coach.
"I thought I would remain in charge but he had already made up his mind.
"When he announced his decision to me, I felt his pain.
"After a period of silence as it always happens when a working relationship ends, we started talking again."