How England qualified
We take a look back at every match during England's World Cup Group H campaign and how Roy Hodgson's side secured automatic qualification for next year's tournament in Brazil
By David Bowers
Last Updated: 17/10/13 11:47am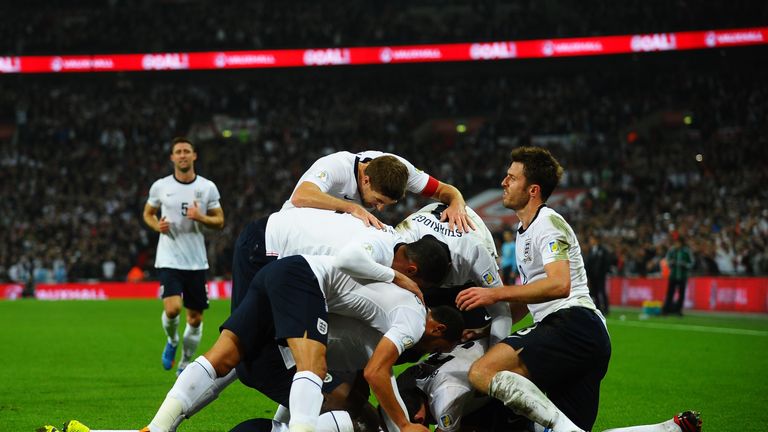 England had a great chance to start the campaign with a bang and duly delivered. The match, which saw Tom Cleverley's first competitive start for his country, was controlled by Roy Hodgson's side from start to finish. A first-half brace from Frank Lampard and a Jermain Defoe goal saw the Three Lions head into half-time deservedly 3-0 up, and the win was secured by James Milner's powerful strike and Leighton Baines' deflected free-kick, both coming in the final 15 minutes of the game. The score didn't flatter England, with the result truly reflective of England's dominance and Hodgson was understandably delighted with his side's performance.
Hodgson told Sky Sports: "The whole team's performance in the first half was very good and we've come away from a potentially difficult game with a comfortable victory. Hopefully that will give us some confidence for the game on Tuesday against Ukraine."
Hodgson was impressed with Lampard's contribution to the team, however the Chelsea midfielder was keen to avoid complacency before the Ukraine fixture.
He said: "They are certainly going to come to Wembley with intentions to make it difficult for us and show what they are about, so we will have to be on top form."
Impressed with Milner for #eng v #moldova. Far more assertive. Created and scored. Selfless too, covering back. Hodgson a huge fan of his

- Henry Winter (@henrywinter) September 8, 2012
Lampard was right to be wary, as the Ukrainians were minutes away from snatching all three points at Wembley. Ukraine went 1-0 up five minutes prior to half-time thanks to an outstanding curling strike from Yevhen Konoplyanka and despite having a Defoe goal harshly ruled out, England failed to pose any threat in the first half. After an easy victory over Moldova, England were struggling to combat Ukraine's gulf in class. It looked like a disastrous defeat was inevitable for England until substitute Danny Welbeck forced Yevhen Khacheridi to handball inside the box, and in-form Lampard fired home the equaliser.
It was a lucky escape for an England side who were guilty of numerous misplaced places, even more so after Steven Gerrard was sent off for a second yellow card.
Despite being heavily favourites for the match, England defender Phil Jagielka remained in defiant mood. He said: "It is definitely one point gained. We look forward to the next game now and if we can make that seven then it's a progression and hopefully we'll finish top of the group."
Hodgson also remained upbeat, believing England fans had a reason to leave Wembley with a degree of positivity. "I think we deserved our equaliser," he said on Sky Sports News HD. "I was very pleased with the way we kept probing and trying to play our football, and kept asking questions."
After Saturday's pleasing win, this result showed that England will have to prove that they are worthy of competing with the world's elite.
Konoplyanka was MoM. Let's stop these embarrassing MoM votes where home team has to win. England were given a footballing lesson at times.

- John Cross (@johncrossmirror) September 11, 2012
Although there were concerns regarding Hodgson's management and whether the players were good enough, the chances of San Marino getting a result at Wembley were slim to none. The minnows, who have won only one of their 118 competitive games, set up with 11 men behind the ball from the first minute which guaranteed England goals. Stand-in captain Wayne Rooney and partner Danny Welbeck both bagged a brace, with the game sealed at 5-0 thanks to Alex Oxlade-Chamberlain's first goal for England.
Despite the dominant scoreline, England failed to find the back of the net until the 35th minute of the match until Welbeck was brought down by goalkeeper Aldo Simoncini, and Rooney converted the spot kick to ease Wembley's nerves. England's 16 shots on target in comparison to San Marino's one shot off target shows just how dominant England were and may , if extra critical, have been disappointed to have not scored two or three more.
Hodgson was left fuming after the game following a heavy challenge from Simoncini on Theo Walcott, which saw the Arsenal forward substituted just 10 minutes into the game.
"If I was describing it as reckless I would be being kind," he said. "It was a very fierce challenge. I don't think there was any malice but it was a very bad challenge. They were lucky it wasn't a penalty and he was lucky he wasn't sent off."
Rooney's goals, however, moved him up to the fifth in England's all-time goalscoring charts after his 30th and 31st international goals took him past Alan Shearer, Tom Finney and Nat Lofthouse.
The Manchester United forward said: "There are some great players there and to be in the England top five is something to be proud of.
"I am only 26 so hopefully I will score a lot more."
Surprised Cleverley got a bit of stick for his performance against San Marino last night. Thought he played as well as anybody. Set up goals

- Oliver Holt (@OllieHolt22) October 13, 2012
Carrying on a pattern of winning 5-0 then drawing 1-1, England struggled to contain an impressive Poland in Warsaw. After the game had been postponed from the day before due to heavy rain, Wayne Rooney led with a relatively undeserved first-half strike on a heavy pitch. After taking the lead, Poland launched attack after attack with Robert Lewandowski, Kamil Grosicki and Ludovic Obraniak all missing gilt-edge chances.
England had chances to secure maximum points through Defoe and Rooney, but were eventually pegged back by Kamil Gilk's 70th minute header from Obraniak's corner, beating an on-rushing Joe Hart. England held on to remain unbeaten in Group H, but doubts were increasing as to whether they had the credentials to pip rivals Ukraine, Poland and Montenegro to an automatic qualification spot.
Ignoring the widespread criticism, Hodgson was happy with the point: "We weren't as sharp as I thought we were going to be yesterday evening. So as a result, we've got to be satisfied that we showed the right qualities and how we made it difficult for them to beat us."
Despite the National Stadium in Warsaw having a retractable roof, the scheduled game was called off after eight hours of rain, leaving England players to part-fund a £50,000 scheme with the FA to refund the price of tickets to fans who stayed for the delayed game.
Captain Steven Gerrard said: "We know that fans have spent money and taken time off work to travel to Poland and we don't take it for granted."
Most worrying performance on a poor night for England? Got to be Rooney. Inconsistency becoming real concern

- Oliver Holt (@OllieHolt22) October 17, 2012
As always, England were under pressure leading up to this game. Sub-par performances against Poland and Ukraine meant that they needed to score as many as they could against San Marino in order to appease the grumblings back home. This time, San Marino's resistance lasted only 12 minutes after Baines' low cross forced Alessandro Della Valle to turn the ball into his own net, and further goals from Oxlade-Chamberlain, Defoe, Ashley Young and Lampard made sure the match was over at half time, with the Three Lions leading 5-0. Keen to better their result at Wembley, England added another three thanks to a 25-yard free-kick from Rooney, Daniel Sturridge's first senior international goal and a second from Defoe.
It had the potential to embarrass England, but it was a highly productive evening for Hodgson's team and he was delighted by his side's professional performance. He said: "It was very good, but we aren't stupid and we realise it was San Marino, it wasn't Brazil we were playing tonight. I think the players will be more than satisfied with the way they played the game and of course the extra goals were a bonus."
Meanwhile, Lampard's goal meant he became England's highest-scoring midfielder and the Chelsea star was in buoyant mood after the game. "It feels very good. I'm very proud of that achievement," he said. "All my career, I've looked to score goals. It was great to be up there with the likes of the Bryan Robsons and the David Platts. Now I am above them and it was also an honour as always to wear the armband for your country."
After allegations of racist abuse from the England fans to Rio Ferdinand, who claimed he was unavailable to play in the game due to an intricate fitness regime, FA director of communications Adrian Bevington told Sky Sports News that they had investigated the claims.
"We haven't been able to find or identify any individuals chanting but I want to make clear I am not disputing or refuting that the individuals who reported this heard it."
England now 5-0 up (Young and Lampard with the latest goals) and the fans "making clear their displeasure" with the absent Rio Ferdinand

- Oliver Kay (@OliverKayTimes) March 22, 2013
A tale of two halves in Podgorica finished with England trailing group leaders Montenegro by two points. Yet to record a victory against Poland, Ukraine or Montenegro, England's positive and creative first-half aimed to rectify that statistic as Rooney's sixth minute header gave them a deserved lead going into half-time. The positivity of the first half contrasted with the negative, defensive display of the second half and England were willing to sit back and absorb Montenegro's pressure, led by talisman Stevan Jovetic. The inevitable equaliser arrived after 77 minutes, as substitute Dejan Damjanovic bundled over a scrappy goal to ensure the home side left with a deserved point.
An encouraging statistic for the Three Lions was that Rooney became the first England player to score in four successive qualifying matches since David Beckham in 2003. Despite Rooney's form, Steven Gerrard admitted that victory would have flattered England and that they'd need to win their final four games.
"We're still confident we can finish top of the group. We certainly need to improve on that second half performance and play like we did in the first half," he said. "We stopped passing the ball and that's when we lost control. I think they deserved the equaliser."
Hodgson's doubts as to whether they will automatically qualify were beginning to creep in, admitting that the play-offs were a possibility. "Everyone knows that to qualify as the team that wins the group is that much harder," he said. "If, as a result of our performances, we are second in the group, then we will worry about the team we have to qualify against."
Well if England had started the second half the way they finished it things might have been different. Familiar tale. #MNEvEng

- Simon Thomas (@SimonThomasSky) March 26, 2013
Anything other than an emphatic victory would have been seen as a failure, especially as their crucial clash with Ukraine was a mere four days away. England delivered with an impressive performance, and a magnificent strike from Gerrard set the tone for the evening after only 12 minutes. Rickie Lambert then made it two goals in two international appearances, and the performance was capped off by a Welbeck double shortly after half time, ensuring all three points were in the bag before the game had even hit the hour mark.
Welbeck, however, was harshly booked by referee Ivan Kruzliak for playing on after the whistle had been blown for offside and that meant he'd miss the trip to Kiev, souring what had been a satisfactory evening for the England boss.
"He wasn't offside," said Hodgson, who awarded Everton youngster Ross Barkley with his first cap. "To get the only yellow card of the game for that and to compound with the yellow card he got for diving in Montenegro when we should've had a penalty, it doesn't get much more unfortunate than that. The decision was totally incomprehensible."
Despite Welbeck's suspension, Hodgson was delighted that England were now leading the group on goal difference ahead of Montenegro, leading into the big game in Kiev.
Tonight's England goals have been brought to you in association with Huyton and Kirkby. Proud night for Knowsley.

- Tony Barrett (@TonyBarretTimes) September 6, 2013
After a nervy pre-match build up, chances were few and far between in Kiev. Lampard, on his 100th appearance for England, had the game's biggest chance in the final minute of the game but just headed wide. Ukraine bombed forward in numbers on numerous occasions but Phil Jagielka and Gary Cahill ensured that Hodgson's side left Kiev with a valuable clean sheet, limiting the Ukrainians to a single shot on target.
The result meant that victory in England's final two games against Montenegro and Poland would guarantee an automatic spot in Brazil next year, but their unwanted record of failing to beat the other members of the top four still hovered over the team, and asking for two victories from a fairly inconsistent side was easier said than done.
However, Hodgson was proud of his squad after surviving a stern test without several key players. "We have lost seven players from the original squad so a lot of players come into the squad this time who are not normally there and not used to this level of performance and pressure," he said. "We have got to be more than satisfied with the result against Moldova and now the result here, especially as we gained the result because we were very good defensively."
Gerrard admitted that England weren't at their best but remained positive in the knowledge that automatic qualification was still possible. "I don't think it was a top-class performance. But before the game the challenge from the manager was let's keep it in our hands, let's make the two final games at Wembley - if we win them then we're through."
England barely resembled a football team tonight but some mechanical urge is keeping them in this 2014 race. Ukraine wasted their chance.

- Paul Hayward (@_PaulHayward) September 10, 2013
An unlikely hero nudged England towards their Brazilian dream, in the form of much-travelled Tottenham winger Andros Townsend. A frustrating first half in which England failed to create any notable chances contrasted with Rooney's scrappy close-range goal just three minutes after the break, which sparked the game into life. Branko Boskovic scored an own goal to double England's lead which was immediately cut out by Dejan Damjanovic's neat finish, before Townsend stamped his authority as an international footballer. The winger, 22, has already been at nine clubs on loan and was a surprise inclusion in the squad, never mind the starting XI.
He topped off a brilliant performance, in which he tormented his markers throughout, with a brilliant 25 yard drive to ease Wembley's nerves. After Daniel Sturridge's late penalty made it 4-1, England had finally beaten one of the top four and were guaranteed a play-off place at least.
Hodgson believed that the performance restored the team's pride and that they 'made the country proud'. "I think the way we worked so hard every time we lost the ball, we worked really hard to chase back and win it back again. Fortunately for me, fortunately for the nation and fortunately for Andros himself, he stepped up to the plate and scored a fantastic goal."
Optimism grew throughout the game and Townsend was quick to admit that his debut was a 'dream come true'. "I'm so proud to have represented my country and to play well and score really is a dream come true," Townsend told Spurs' official website. "It hasn't really sunk in yet. All I'm thinking about is Poland on Tuesday."
Brilliant start for Townsend. Best England debut since, well, Rickie Lambert

- Matt Dickinson (@DickinsonTimes) October 11, 2013
Over a year of tension, criticism and frustration, Tuesday night saw England seal automatic qualification for next year's World Cup. Only a victory would guarantee Hodgson's team a spot in Brazil and despite Poland's efforts to spoil the party, England triumphed in a highly entertaining match. There were a few anxious moments during the game and Polish star-striker Robert Lewandowski highlighted some of England's defensive frailties as he was afforded space on occasions, letting the back four off with some unrecognisably poor finishing.
As Poland aimed to counter-attack through the pace of Jacob Blaszczykowski and Lewandowski, England fought fire with fire and attacked with serious intent. After a close-range miss from Welbeck and a woodwork-rattling drive from Townsend, the inevitable goal arrived as Wayne Rooney nodded in to ensure the Three Lions would go in at half-time 1-0 up.
Poland aimed to give their 18,000 supporters a souvenir but never really looked like equalising, whilst England continued their impressive attacking display. Relief ensued around Wembley as a typical Steven Gerrard driving run into the box led to the England captain chipping Arsenal's Wojciech Szczesny to send the home fans into delirium.
After the game, Rooney talked about his ambition to perform at a World Cup, having failed to find the net in both Germany 2006 and South Africa 2010.
"I have always been determined to do well and I want to try and help England be successful. This is my 10th or 11th year playing for England so the goal is to try to be successful and win trophies, that would obviously be the icing on the cake."
Hodgson, who had received his fair share of criticism throughout the campaign, was delighted with the way his team performed in the final two games and revealed that qualification is the biggest achievement of his managerial career.
"It's great. It's been our goal and I suppose you could even say it is a dream for every national team and every national coach to lead his team our in a World Cup in Brazil."
The captain has just called the flight to Brazil. Gerrard makes it 2-0 to #eng

- Henry Winter (@henrywinter) October 15, 2013