Football League Hour: Rob Edwards won't rethink retirement decision
Recently-retired Rob Edwards, Barnsley's Luke Steele, Wigan's Gary Caldwell are all on this week's Football League Hour.
Last Updated: 18/10/13 12:07pm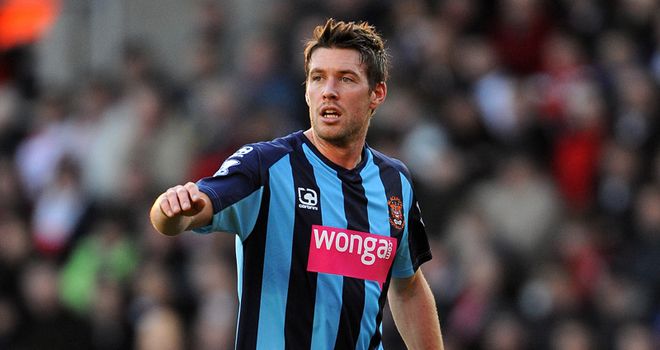 Edwards announced last week that he had decided to call time on a playing career which saw him make over 200 appearances for nine clubs.
He told this week's Football League Hour on Sky Sports News Radio that he would have continued playing had he received an offer over the summer, but he is now focused on a new career.
"I've made the decision and I'm focused now," Edwards said. "I know what I want to achieve so I'm looking forward to it and I don't want to look too much in the past.
"I've not had offers (to continue playing) and if I had have done I would have still been playing because I would have gone for it.
"So (the decision to retire) has been two-fold: my body not being able to keep going and at the same time there not being anything out there.
"I was hoping to get something sorted at Blackpool, but things didn't work out. I was injured for most of my time there this pre-season."
Edwards admits the fact that he has been without a club since the start of the season made his decision to hang up his boots a little easier.
"Because I've not managed to get anything sorted with a club I've been able to come to terms with it a little bit quicker," he said.
"People look at the games I've played in the last couple of years, nine games last year, and 17 or 18 the year before. I've got to be honest with myself. I know my body. It can't cope with the demands of the game now.
"I still love football but I think I could be better and give more in another capacity."
Edwards' former Barnsley team-mate Luke Steele, who revealed he had tried to persuade the 30-year-old to rethink his decision, said he was "saddened" by the news.
"Everybody gets on with Rob so well and I've never known anyone so liked within the game, and that's players, fans, coaches," Steele said.
"Someone you see working so hard who obviously has a lot of talent retiring at 30; it's young. But Rob has lots to give and he's going to be a good coach in the future if that's what he wants to do."
Steele also revealed that he is close to a return having missed four weeks with a back injury.
"The back's still quite sore but I'm slowly making improvement," he said. "One of the main concerns is that when I was 18 or 19 I had a bad back injury at Man United so I think they (Barnsley) are taking precautions.
"But it's nothing too serious now so hopefully I'm the road to recovery and it shouldn't be too long."
Wigan captain Gary Caldwell is also on the show and reveals he has already started planning his retirement, while Preston striker Kevin Davies, Cheltenham striker Jamie Cureton, on-loan Millwall midfielder Shaun Derry and Plymouth defender Guy Branston have the latest news on their clubs.
Listen to this week's full Football League Hour via the Soundcloud player.