Cardiff boss Malky Mackay coy over Iain Moody exit but has not been asked to resign
Malky Mackay insisted Iain Moody's departure from Cardiff was not about finance but refused to elaborate further.
Last Updated: 22/10/13 12:04pm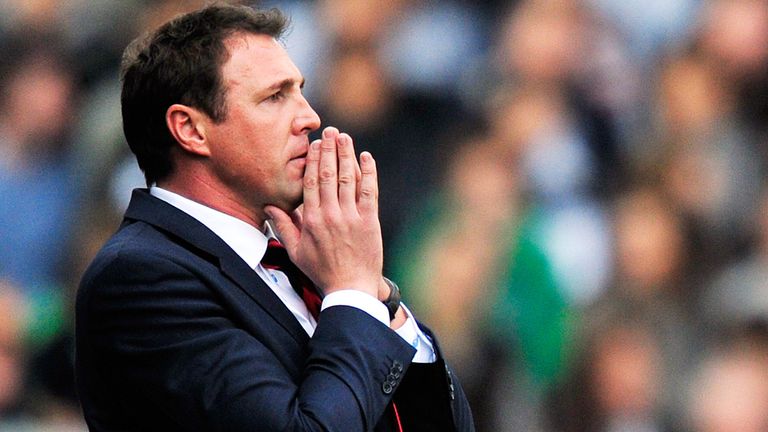 Moody, who had worked with Mackay at Watford, has been replaced by 23-year-old Kazakhstani Alisher Apsalyamov on an interim basis.
Apsalyamov is thought to be a friend of Cardiff owner Vincent Tan's son and appears to have no previous experience in football.
Reports have suggested Tan was angered by a £15m transfer overspend but, speaking ahead of Saturday's meeting with Chelsea, Mackay denied any financial profligacy - and then refused to answer further questions on the matter.
"Iain is an absolute class act as far as I am concerned," Mackay said. "He has done a very impressive job for the football club.
"In one of the periods of success at the football club, which we have been in over the last two and a half years, he has had a huge part to play in the restructuring of my squad.
"He helped bring in more than 20-odd players and he is someone who had a huge part to play in the current success, who will be missed by everyone who works for our football club.
"He leaves with my utmost gratitude and respect. I would say our loss will be someone's huge gain.
"One thing I would clarify, as I have read a few things over the past couple of weeks, is that we were absolutely under budget this summer. I want to clarify that. That is what I have to say about Iain."
The Cardiff City Supporters' Trust had admitted concerns over Mackay's future at the club following Moody's exit but the boss insisted he had not been asked to resign and nor had he considered doing so.
He further attempted to appease fan fears by praising chairman Mehmet Dalman for the role he played in an extended board meeting on Monday where events of recent weeks were discussed.
"As far as I am concerned, again for clarification, under no circumstances was I asked to resign and at no time have I thought of resigning from the football club," Mackay added.
"On Monday and over the last two weeks I have a lot of close contact with the new chairman Mehmet Dalman, who is a very impressive figure.
"Over the last couple of weeks there has been a mutual respect between us and an understanding of what needs to be done to make the club strong again. I hope he plays a big part going forward as far as the club is concerned."