Sir Alex Ferguson gives hairdryer treatment to Roy Keane, Wayne Rooney and David Beckham in new book
Sir Alex Ferguson insists Roy Keane had lost the respect of his team-mates when he was forced out of Manchester United.
Last Updated: 22/10/13 10:03pm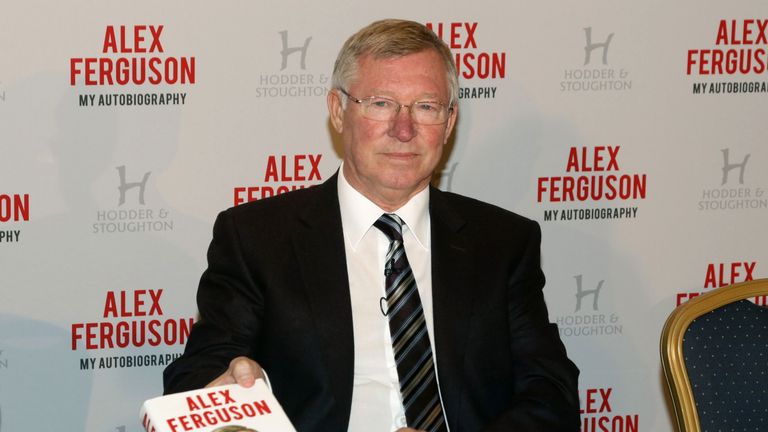 The former manager has used his new autobiography to claim Keane, now a pundit, "thought he was Peter Pan" by the time the pair fell out in 2005 and that his departure "was the best thing that could have happened" to United.
The book, due to be published on Thursday, does not spare Wayne Rooney - "not the quickest learner" - or David Beckham and confirms Ferguson was twice offered the England job as the recently retired Scot settles some old scores.
His animosity towards Keane has shown no sign of subsiding in the eight years since their row erupted.
Their relationship began to fracture as the midfielder became increasingly outspoken about his team-mates and finally broke down when he gave an explosive interview to the club's TV channel.
The MUTV interview has never been aired but Ferguson claims Edwin van der Sar, Paul Scholes and Ruud van Nistelrooy were among the players who walked out when shown it privately.
The 71-year-old recalls Keane and Van Nistelrooy having to be pulled apart in a separate incident: "His [Keane's] eyes started to narrow, almost to wee black beads. It was frightening to watch, and I'm from Glasgow."
But after the MUTV interview, Ferguson says he could not get Keane out quickly enough. He told assistant, Carlos Queiroz, at the time: "He needs to go, Carlos. 100 per cent. Get rid of him."
Ferguson, in his book, said: "In one deep sense, him leaving was the best thing that could have happened... a lot of players were intimidated by him."
The Scot's ruthlessness as well as his man-management skills were a major factor in his success and won him many admirers.
The FA were among them and he claims they twice offered him the England job - before Kevin Keegan was appointed in 1999 and again before Sven Goran Eriksson took charge in 2001.
During a press conference to launch 'My Autobiography', Ferguson joked: "It was a great opportunity to relegate England!
"No way would I have taken that job. (Former FA chief executive) Adam Crozier was the first one to come and see me.
"It took me about 10 seconds to say no way. I couldn't manage England in a million years."
However, Rooney will have a different opinion of Ferguson's management ability.
They fell out last season and the Scot has not made it any easier for his successor, David Moyes, to repair the damage with the detail in his book.
Ferguson said Rooney is "not the quickest learner", and claims the striker had to be dropped after a drinking incident two years ago. He also says he was not fit enough to last a full game last season.
The book also repeats the former manager's assertion that the England international "wanted away" last term - a key factor in the player's unhappiness at the club.
Ferguson says the way Rooney backed down after his 2010 contract also "made him look like a money man, and there was a residue of mistrust with the fans".
Beckham, who fell foul of Fergie in a spectacular dressing-room bust-up, was described as "the only player I managed who chose to be famous, who made it his mission to be known outside the game".
Ferguson insists he holds no grudge against Beckham but things were different when their relationship broke down in 2003.
Ferguson said in his book: "He was 12 feet from me. Between us on the floor lay a row of boots. David swore. I moved towards him and as I approached I kicked a boot.
"It hit him right about the eye. Of course he rose to have a go at me and the players stopped him. 'Sit down,' I said. 'You've let your team down. You can argue as much as you like'."
Two days later the story broke Beckham wore an Alice band in public to highlight his injury. Ferguson reacted decisively. "I told the board he had to go."