Hailing Jose
With Chelsea now favourites with many bookmakers for the Premier League title, Alex Dunn wonders whether Jose Mourinho ever really gets the credit he deserves. Has the Special One's self-proclamations of greatness prevented others from doing likewise?
By Alex Dunn - @skysportsaldunn
Last Updated: 02/11/13 1:53pm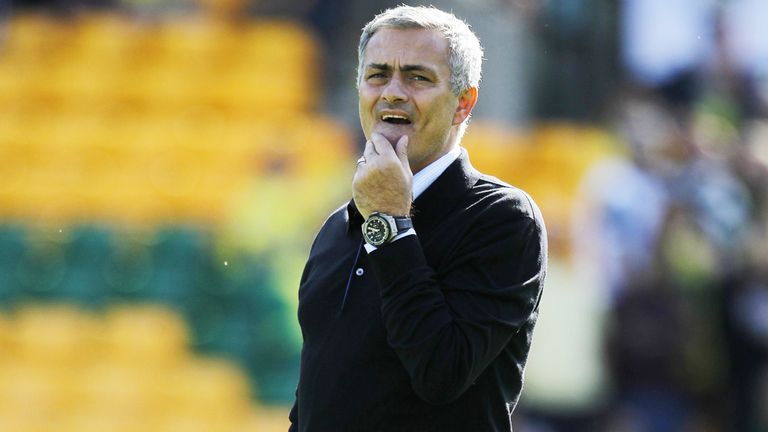 "Telling the entire world and his dog how good a manager I was. I knew I was the best but I should have said nowt and kept the pressure off 'cos they'd have worked it out for themselves." Brian Clough on regrets.
A failure to reconcile differences with erstwhile right-hand man Peter Taylor was by his own admission Brian Clough's greatest regret in the fullest of lives lived, but on a purely professional level for all the bravado and pithy one-liners he may have conceded in more contemplative moments that talking up his own achievements yielded a yardstick he was as often beaten with as measured against. Brian Clough then, judged not against the standards of his contemporaries but against Brian; the man, the myth, the legend. The Special One before managers had laid claim to being special.
It's a fate that has seemingly afflicted Jose Mourinho. By his own gold standard, taking nine games for one of his teams to be instilled as title favourites is positively sluggish, but to borrow another Clough witticism: "Rome wasn't built in a day, but then I wasn't on that particular job."
The season's narrative was always likely to have been dictated to by how three of the top four would cope with new managers; how English football's changing landscape would be shaped by messrs Moyes, Pellegrini and Mourinho. The void left by Sir Alex Ferguson's retirement could not have been more pronounced had George Washington been chiselled out of Mount Rushmore.
Who will step from the shadow cast by the most impressive bust is as intriguing a sub-plot to a season as there has been since the Premier League's inception.
Whether these narratives are decided by a select committee like the Pools Panel or a collective consciousness is by the by, but until the next apocalyptical dropped point it would appear that it is now a given Chelsea should and will mount a serious title tilt. It's forgotten that this is a Chelsea side inherited by Mourinho that finished some 14 points behind Manchester United last season and lagged champions Manchester City by 24 points the one before that.
It would be to underplay Mourinho's hand to Harry Redknapp proportions to suggest those at his disposal did not badly underachieve domestically these past two campaigns, but at the same time it's a measure of the Portuguese's quality that he's expected to first figure out and then iron out any issues - on or off the pitch - to ensure such point deficits are rendered obsolete come May. Anything less will be considered failure.
In Manchester the narrative is decidedly more manager friendly. David Moyes has taken 'the impossible job', inheriting a squad left lopsided by his predecessor that needs a major face-lift. A live grenade in the form of Wayne Rooney tossed in his direction with the abandon of Elmer Fudd lobbing dynamite into a rabbit hole hardly helped; neither did Ed Woodwood's wanton failure to adequately seal deals in the manner of his own predecessor David Gill. A summer that saw the club walk up more garden paths than a series of Grand Designs is seen as leaving the Scot hamstrung.
It's accepted that Moyes will need time to build a side in his own image and after a turgid start to life at Old Trafford, all but the truly partisan appear to have all but written off United as realistic contenders.
Flip the scenario and let's imagine Mourinho's relationship with Ferguson had been stronger than the reservations United's board held over the baggage invariably packed in his Louis Vuitton luggage. Would we now be sympathising over a lack of options in the middle of United's midfield or would Mourinho's force of personality have demanded a solution over the summer? Given he has never lost a home league match as Chelsea boss it's unlikely entertaining West Brom at Old Trafford would have had him spooked.
On taking the United job Moyes conceded his primary mandate was to provide continuity, to build on Ferguson's legacy. Mourinho's is one of transition, both in style and personnel, to create an identity for Chelsea that matches his first spell in charge. In the intervening six years Chelsea have been through seven managers (eight if you count Ray Wilkins' single game) but none managed the same level of success. There's a perception that caretakers and stop-gaps have been asked to deputise too often but those that have followed in his path have included both World Cup and Champions League winners. For every Avram Grant there's been a Guus Hiddink.
It's a truth universally acknowledged that having Mourinho at the helm is as close to a guarantee for success as possible in football but have we become too complacent in our appreciation of his talents? In an age where Pep Guardiola, Jurgen Klopp and Marcelo Bielsa have become poster boys for the hipster generation more than any player, Mourinho has become the pantomime dame - a purveyor of dark arts whose obsession with the end result over artistic endeavour is as unseemly as employing a 4-4-2.
Whilst it's expected by hook or (just as likely) by crook Mourinho will ultimately deliver trophies, how exactly he achieves such stellar results is decidedly less commented on.

Man-management
"Every player has money, entourage, influences, so the first and most important step is to learn how to live together, in a team philosophy."
Zlatan Ibrahimovic has more money than most. He also possesses an ego as big as his talent. When the two shared a dressing room at Inter Milan the potential for nuclear fallout was there from the start but Mourinho is too cute for that. In the summer of 2008 ahead of taking the Inter reins the Portuguese got in touch with his star striker, who was playing in the Euros at the time.
"He just wanted to say 'It'll be nice to work together, looking forward to meeting you' - nothing remarkable but he was speaking in Italian," Ibrahimovic recounts in his autobiography.
"I didn't get it. Mourinho had never coached an Italian club. But he spoke the language better than me! He'd learned the language in three weeks, I couldn't keep up. After the Spain game I got a text message. 'Well played' he wrote, and then gave me some advice and I stopped in my tracks. I'd never had that before. A text message from the coach. Sure, I understood he was sending those texts for a reason. He wanted my loyalty, but I liked him straight away."
Sending a text message is hardly a grandiose gesture but it's a subtle one, an inclusive one that starts to foster a relationship with a player that goes beyond the confines of the training ground. Mourinho has said in the past that 'football is a human science, it's about man, above everything else', and only through recognising the individual first can you hope to unify a group with a common goal.
"A coach must be everything: a tactician, motivator, leader, methodologist, psychologist. A teacher at university told me 'a coach that knows only about football is not a top one. Every coach knows about football, the difference is made in the other areas'. He was a teacher of philosophy. I got the message."
Ibrahimovic's experience is echoed by Wesley Sneijder, a player who at the time of working with Mourinho at Inter was arguably Europe's finest playmaker. Indeed such is his devotion to his coach that whenever his name is brought up the Dutchman's rhetoric is as much pining lover, or more pertinently estranged son, as footballer. He's not the first to see his career falter post-Jose.
"Mourinho is like a second father to me. He is a very special person for me. As a coach he is incredible, number one. It was he who gave me confidence and I enjoyed playing football like never before. And as a person he reaches you much more than in his role as coach. Mourinho is a friend."
It's a recurring theme. Football managers tend to traditionally fall into one of two camps: man-manager or tactician. Mourinho achieves the rare feat of being master of both disciplines. More than that he becomes a friend; albeit one with an iron fist in a velvet glove.
Coach first
First and foremost Mourinho is a coach. It is his meticulousness that first caught Sir Bobby Robson's attention as his interpreter at Barcelona and it's a quality he's held dear throughout his career - no detail is too finite.
"He works twice as hard as all the rest. Lives and breathes football 24/7. I've never met a manager with that kind of knowledge about the opposing sides. It has everything, right down to the third-choice goalkeeper's shoe size," said Ibrahimovic.
Mourinho's decision to omit Juan Mata from Chelsea's opener against Hull City and intermittent use of the club's two-time player of the year thereafter has sparked quite the furore, as his trial by Twitter manifest so many conspiracy theories the internet was in danger of blowing up at one point. Favouring Brazil's playmaker over one of Spain's is hardly cause for Liberty to get involved and whilst it's hard not to feel for a player who was as good as any other last season and is known for his professionalism, the nuances of Mourinho's methodology add credence to his selections.
"Some players are smart and can see what you are asking them to do. Other players are not as smart and these players are usually pure intuition. They learn what to do because they learn automatic movements without thinking."
The above quote is taken from an NSCCA coaching lecture Mourinho gave in 2012 and it's easy to see why Mata would be interpreted to play with 'pure intuition'.
Mourinho teams are invariably about the group as opposed to individuals and whilst to watch a No.10 play entirely off the cuff is one of the game's great delights, the man that matters is less interested in entertaining the neutral than having his own vision realised on the field. The manager holds similar reservations about David Luiz. When the Brazilian was left out of Chelsea's squad for a Premier League game against Fulham in September there was a similar outcry. Few defenders are as intuitive as Luiz.
There is no half measure with Mourinho. Toe the line or bring a cushion on match-day has long-since been his mantra.
Whilst his own coaching notes are copious, known in the industry to be without equal, he likes to keep things as simple as possible with his players: "Do not give thousands of information pieces to players. It has to be short and objective." In the build-up to matches at Real Madrid he would play videos of two or three areas that needed attention on a loop throughout the training ground, even in the cafeteria.
A Mourinho team is precisely that and everything his players are asked to do from Monday to Friday reflects what he wants to see on the weekend. Training exercises - which even his strongest detractors would concede are world class - are relentlessly geared to a match environment.
"You can't create a contradiction with the idea you want for the game. If your team does not play from the back during the game, do not incorporate this in your exercises. First decide how you want to play. Think about it and sleep on it. From that idea, the exercise then arrives."
According to Frank Lampard his methodology has not deviated from that which he employed in his first spell in west London: "For those of us who are still here from Jose's first time in charge, we know what he is like week in and week out, and you can see he is bringing that winning mentality back. There is a feeling that things are fitting back into place."
Strict doctrines
Mourinho has oft been accused of short-termism in the manner he builds his sides, he doesn't stick around long enough to care about youth set-ups, but as a quick-fix builder of teams capable of instantly challenging for trophies he's second to none. The way he sets his side up today differs little to the way he had Porto playing a decade ago and it's a formula that gives him a yard on his rival managers from the off.
While neither Moyes nor Manuel Pellegrini seem entirely convinced of their best line-ups or formation, Mourinho hits the ground running at every new club as he knows it will always be the players that mould to his methods rather than the other way round. His primary tactical outlook never deviates. A hard working 4-3-3 with inverted wingers is his stock and trade and whilst it should be a given every top class manager will know exactly how he wants his side to play, the manner in which Moyes in particular has dithered so often this season hints otherwise.
Old guard
Few images are as synonymous with Mourinho's time at Chelsea as those with his arms draped over John Terry and Lampard. Age looked to be catching up with his on-field lieutenants last season under Rafa Benitez but Terry's form has been exemplary this term. In starting each of Chelsea's nine Premier games to date Terry has been the constant alongside either Gary Cahill or Luiz. In terms of his back four Mourinho is uncomplicated - don't take chances. Terry in this respect is his ideal centre-half, unapologetic in being a defenders' defender, happy to turn the ball over quickly to his midfielders when in possession. It's fair to say Mourinho isn't overly bothered about his defenders scoring 30-yard free-kicks.
Mourinho has said of his captain in The Guardian: "The last few years he was not playing a lot, he had problems on the pitch, he had problems outside the pitch, he had suspensions for different reasons, he had injuries, he had managers who didn't trust him enough. And it looked like, at a certain moment, his career was going in the wrong direction.
"Even I was questioning, from far away, what was happening to this guy: physical problems, psychological problems, what is going on? I'm happy he's proving he's still a top player. Terry looks light and sharp. Easy running. It's a methodology that helps players."
Terry has always struggled with managers who want to play a high-line due to a lack of pace and he's certainly not got any quicker over the past few years. Mourinho's aversion to leaving space in behind his back four is a godsend for his captain in this respect.
Fernando Torres is another Chelsea player, at least this week, enjoying a mini-renaissance. Mourinho insists it's his training methods rather than any psychological tricks that is helping to address a chronic lack of both form and confidence. Many of his training routines are centred on bringing to the surface explosive power over 20 yards and it is in this area that Torres is showing improvement. At times in a Chelsea shirt Torres has looked almost distressingly leggy but against Manchester City at the weekend he was close to the player Chelsea paid £50million for.
"We did nothing," Mourinho has said of Torres. "It would be easy for me to say that we did this or that, but we did nothing. We work with our methodology. We believe methodology improves players' sharpness and speed in the first 15-20 metres."
A bashful Mourinho did nothing, really? Maybe Jose's taking Brian Clough's advice to heart but I suspect it's another classic quip he holds dearest.
"I wouldn't say I was the best manager in the business. But I was in the top one."