Real head-scratcher
As Manchester United prepare to take on Real Sociedad in the Champions League on Tuesday evening, Adam Bate assesses the fluctuating mood in San Sebastian after a difficult start to the season
By Adam Bate in San Sebastian
Last Updated: 04/11/13 5:21pm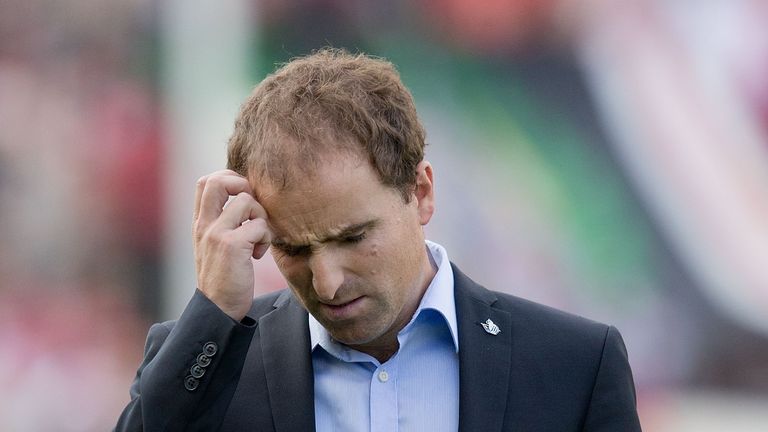 "The thing about Bilbao when you settle in and learn the philosophy is that you realise they bring in a foreign trainer to sort them out when things are going wrong. Then when everything is OK, they bring in their own." That was Howard Kendall's assessment of his experience managing Athletic Bilbao, as revealed in our Brits Abroad feature earlier this year, but the theory also seems to hold true of Basque rivals Real Sociedad.
La Real play 60 miles east of Bilbao along the Bay of Biscay in San Sebastian and while their own Cantera policy was abandoned in 1989 - to sign John Aldridge, curiously enough - those Basque ties are strong. As such, when French coach Philippe Montanier left for Rennes after guiding the team to Champions League qualification last term, the job passed to his assistant Jagoba Arrasate, a former youth coach at the club.
Born in Berriatua, a small town equidistant between the cities Bilbao and San Sebastian, the 35-year-old Arrasate is currently the youngest coach in both La Liga and the Champions League. Although his role in Montanier's success is widely credited, the responsibility of replacing Spain's manager of the year has weighed heavily. Cracks have started to appear in the team that so wowed the Primera Liga last season.
It all started well enough with a win over Getafe on the opening day of the league season. Then came the stunning 4-0 aggregate victory over Champions League perennials Lyon in the playoff for a place in Europe's premier club competition. "It was a very important night not just for me but the whole city," said Sociedad's former Arsenal forward Carlos Vela, quoted in The Independent: "After 10 years, to get back into the Champions League was a great moment."
That win featured brilliant goals home and away but none were better than Antoine Griezmann's opener that set Real on their way at Stade Gerland - a scissor-kick volley that seemed to sum up the attacking verve of the team. It was supposed to be the start of something. Instead, it soon felt like the zenith for the team Montanier constructed.
A run of eight matches without a win followed. Given that Real Sociedad lost two of their final 28 league games last season, suffering three defeats in their first eight matches of the current campaign represented a sharp downturn in form. There was the reverse at Rayo Vallecano, a disappointing draw with newly-promoted Elche and only last week came the surrender of a two-goal lead to Real Valladolid. There were stodgy goalless affairs against Levante and Malaga to ruminate over too.
Meanwhile, the Champions League dream has quickly taken the sort of unpleasant turn that leaves you sleeping with the light on. If the manner in which Real were picked off at home to Shakhtar Donetsk had pundits shaking their heads sagely and uttering those dreaded words 'naïve defending', the last-gasp goal that did for them in Bayer Leverkusen highlighted the point for all to see. A second consecutive defeat to Manchester United on Tuesday would make it mathematically impossible to progress.
Of course, Real Sociedad would not be the first team to have a European adventure scupper their domestic form. After all, the Bonfire Night clash with United will be match number 18 so far this season and their sixth in 18 days. Only 11 games had been played by this time last year. "We're not accustomed to playing twice a week and it has been a lot of games for us," admitted Xabi Prieto, the team's captain. Vela added: "You can have a good season like we did but it is hard to keep it going in two competitions."
The dip in form is a particular cause for alarm at a club that was playing in the second tier as recently as 2010. Fans know how quickly things can go wrong. But with it comes a determination to embrace the spotlight, regardless of the ostensible disappointment that a failed Champions League campaign can throw their way. "We've had so many years without playing in Europe, including three seasons in the Segunda Division," added Prieto. "We have to make sure we enjoy these times now."
In addition to the loss of Montanier, that task has also been made more difficult by the exit of Asier Illaramendi. The 23-year-old midfielder played a key role last term but made a €38million move to Real Madrid in the summer. However, there is more to the slump than the exit of one player. The standards of those players still at the club appear to have dropped. The real fear is that this represents regression to the mean rather than a malaise that can easily be solved.
The defence remains resolute. Only Barcelona and Atletico have scored more than once against Real in La Liga. The 22-year-old figure of Inigo Martinez is a significant talent in the heart of the back line.
But further forward there are issues. Imanol Agirretxe, the striker whose link up with Griezmann and Vela had been so vital to the team's fluidity in attack, has failed to score in 11 appearances so far this season. All a far cry from the 10 goals in 19 games netted after Christmas last term. The old chemistry is not quite there.
"We're missing chances, it's just not quite dropping for us," said David Zurutuza last month, quoted in The Guardian. "Increasingly teams are sitting very deep and waiting for us too, and that's hard. There might be a psychological element too, as there is in all sports. There are lots of factors. I really couldn't explain what is happening to us but when you miss chances over and over again that starts to weigh on you. You feel yourself sinking."
Real Sociedad need to raise themselves quickly because it will take more than the mixed weather in San Sebastian this week to put a dampener on supporters' ambitions. A 5-0 hammering of Basque rivals Osasuna at the weekend has boosted morale among Arrasate's men. But the visit of Manchester United represents a very different challenge to the 10 men of the Pamplona outfit. The city is abuzz with anticipation, ready to belt out the club's Txuri-Urdin anthem on Champions League night. "Everybody here - players and supporters - is excited about facing them,"Arrasate told reporters.
A win over the English champions would certainly get the Estadio Anoeta rocking again - and remove some of the question marks surrounding their Basque boss.