World Cup qualifying play-off: France midfielder Paul Pogba puts side before self
Paul Pogba is prepared to change his style for the good of the France team as they prepare for their World Cup play-off.
Last Updated: 13/11/13 2:40pm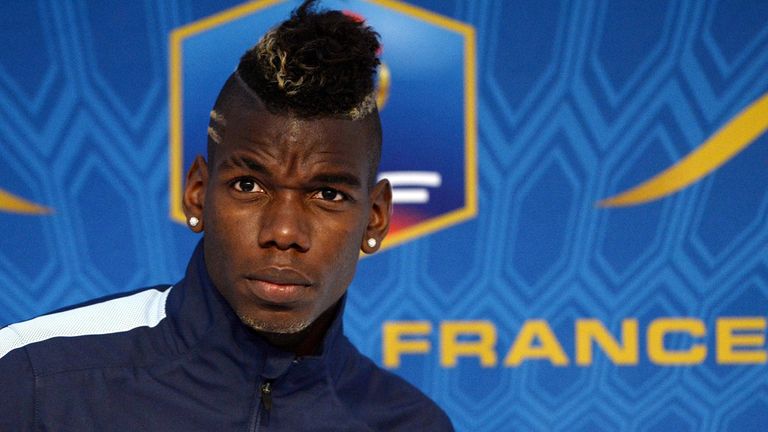 The midfielder is a key cog in the attacking wheel of club side Juventus and is earning a reputation as a scorer of some thrilling goals.
He may be asked to reign in his natural flair against Ukraine, though, with France having a number of other forward-thinking players.
Pogba says that is not a problem and is ready to do what is asked of him.
"I think the coach has called me up to bring some of the goals from Juventus and I will certainly do my best," he said in an interview with L'Equipe.
"At Juventus I play in a more offensive position but the change to defence does not bother me at all. I am comfortable in all cases.
"I really have no preference. What matters to me is just to be on the field."
It remains to be seen whether or not Pogba will be even given the nod by coach Didier Deschamps.
The former Manchester United academy player desperately wants to play, but will be happy to take a spot on the bench if asked.
"The principal aim is the team win," he said.
"It would not be a disappointment (if he does not start). We have a goal which is to go to the World Cup. The people on the pitch have to be ready 100 per cent.
"If I have to be on the bench I will be ready to go on and give my best. The main thing is the team and the win.
"I am young and I have played matches in the Champions League and this is something big. I have experience but I trust the coach and staff."
World Cup qualifiers have proven to be a mixed bag for France over the course of time and nerves in the camp would be understandable.
Twenty years may have passed but the name Emil Kostadinov still causes shudders, after his goal ensured Bulgaria and not France would be heading to USA 94.
David Ginola gave Bulgaria the ball on that night at the Parc des Princes and was duly made the scapegoat, so examples are abound of what could happen if things do not go according to plan over the next week.
For Pogba, though, his 20 years mean he has little memory of those events.
"I am one of the youngest to play in a big game like this and I hope everything will be all right," he added.
"This is experience for me, so I win. It makes me really happy."
France have won their last two games 9-0 on aggregate and appear in good shape ahead of the two-legged clash.
"The group feels good. We will prepare calmly and I hope we are going to win and go to the World Cup," Pogba said.