Ready to Rock
With Gibraltar ready to make history, Graeme Bailey talks with their national boss Allen Bula.
By Graeme Bailey - Tweet me: @graemebailey
Last Updated: 19/11/13 3:18pm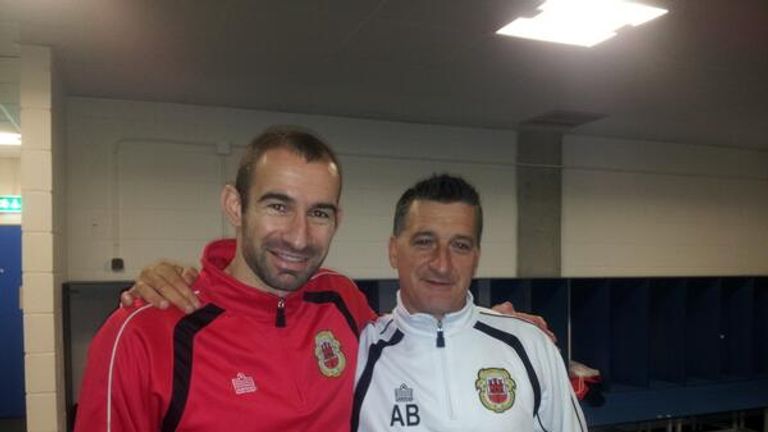 Tuesday will finally end more than a quarter of a century of battle for Gibraltar as they will take to the field as an international football team.
The tiny Mediterranean outpost first tried to gain membership to UEFA in the mid-1990s, under the same rules which saw the Faroe Islands recognised, but they were rejected.
The Spanish authorities, who still claim a right to Gibraltar, were the main opposition behind the application and UEFA later changed their rules, but this did not stop the British territory.
UEFA were backed into a corner after the Court of Arbitration for Sport supported Gibraltar's claims, leading to their membership being granted earlier this year.
Back in 2011 we talked with Allen Bula about Gibraltar's plight and, now national team coach, he cannot wait for their debut in Faro, Portugal.
"I am enjoying it, there are ups and downs, like with any manager and sometimes with national managers things can get difficult," he told Sky Sports.
"I was very lucky before when I used to have players twice a week and in the build-up to a match three times in a week. But now, with the clubs competing for the Champions League and Europa League, they have requested to have players all the time, so now I am a national manager asking for the same as someone like Roy Hodgson and I can only have them just before a game.
"But these are nice problems, and like I told the players, I used to be able to help them more but it is now up to the clubs."
Change
He admits he is surprised by how quickly things are happening for him and Gibraltar.
"I expected things to change, and we knew change was coming, but we have not expected everything to happen so quickly," Bula added.
"Investors are already coming in and looking at the clubs, and our clubs are becoming semi-pro and pro, and they are getting players in. And, from next year, the Bosman ruling will come into effect so next year we will see an influx of players, and that could impact on the national team. But I think it will push the league to become stronger so it will push the Gibraltar players to work harder, but things are changing rapidly."
Talking of change, Bula has had to work hard on assembling his first squad, but he has wasted little time in bringing in new names.
He has persuaded the Gibraltar Football Association to take on the rules which allow players who qualify for the country to take up eligibility.
His own nephew Danny Higginbotham is now on board, along with Barnsley's former England youth international defender Scott Wiseman.
"We are almost there, I am happy with the squad, and happy that the Association adopted the FIFA and UEFA ruling on eligibility which gave me the opportunity to include Danny and Scott," he said.
"I was delighted to get both of them, many people did not expect us to get someone like Scott as people think we are minnows - but all of a sudden I have two Premier League players in a key position, where I really needed to have them."
Bula also admitted that other players were in contention, including Southampton goalkeeper William Britt.
"At the moment we are surprised how many players are coming through that are eligible to play for Gibraltar. Being such a small place it is amazing how people have connections," he continued.
"There are a lot of players showing an interest and at the end of the day I would pick the best players at that time that are eligible for Gibraltar. Another one of the players coming through, and I am talking to his father, is the young goalkeeper from Southampton - the 18-year-old William Britt, he is eligible to play."
Despite bringing in some bigger names, Bula maintains that Gibraltar possess real quality within their squad.
"There are some players here with real good quality, who have not been spotted, like the striker Lee Casciaro. He could have easily made it to the Premier League but he is 32 now. But some young ones, we have included two of our starlets - Jack Sergeant and Daylian Victor. These are players to look out for and it is an opportunity for them. The eyes of the world are looking and in the next couple of years I think people will see the Gibraltar players coming through."
Stadium
Whilst Gibraltar will kick-off their first international, technically a home match, in Portugal, plans are in place for a new 10,000 seater stadium, which will then allow them to play competitive matches on home soil.
"The national stadium plans are well in advance now, and everything is more or less done, just a few bits and pieces - minor things that need to get through. We think it will be built by summer of 2016, that will be the national stadium and where we can play all future matches.
"At the moment we have the stadium in Faro and that is the one we will be using for qualifiers but for friendlies we can still use the Victoria Stadium. But that depends on the national team like Slovakia who preferred to play on grass so we play in Faro. But in March we have got Faroe Islands playing in the Victoria Stadium followed by Estonia but we are looking forward to the new stadium."
Bula admits that, as soon as possible, Gibraltar are looking to play against the home nations and the Republic of Ireland.
But opting for Slovakia was no mere coincidence as Bula spent a number of years there as academy chief of MSK Kosice.
Bula was the man who first spotted Nemanja Matic - the Benfica star now regarded as one of the finest defensive midfielders in Europe.
And he is still full of pride at how he is progressing.
"It does give me a lot of pleasure seeing him, the likes of Nemanja Matic. When we got him over to Kosice there was a lot of things I liked and I knew he could become one of the top players in Europe," he revealed.
"I advised a number of my friends in different clubs, but coming from the lower leagues sometimes people don't look - but look where he is now. And there were other players too, and it does give you a great feeling."
So Slovakia was clearly an easy choice for Gibraltar and Bula.
"Obviously Slovakia was one of the nations I wanted to play as I spent so many years over there, and it came about as we had a UEFA congress meeting and I saw the vice-president of Slovakia, who I knew and we got chatting, and their date on November 19th fell through so it just went from there and they were delighted to play against us," he said.
"But the home nations, they are all targets that I have given the association, obviously we would love to play Scotland, Northern Ireland, Wales and Ireland and of course our dream is to play England, and those are our targets for the next year and we have a window in August, but I told my association it is very late and most nations are booked so whatever comes along we get them - no matter the ranking. Right now we are preparing for 2014, 2015 and 2016 and now we are planning ahead."
England
He admits that they do dream of opening their stadium with a match against England.
"The one country we would to be playing for that match is England, we could fill a 50,000 capacity stadium for that - but we are going to build for 10,000 with room to expand."
The extent of Gibraltar's task in the future is summed up by their lack of facilities. Currently there are only two full-size pitches in the territory and one of those is owned by the Ministry of Defence - who they are in talks with to use for some of their league teams.
"We are also looking at training grounds, as we don't have many and at the moment full-size wise we have just two at the Victoria Stadium and then the MOD has got one which is a 3G pitch and we are in talks with them about whether we could use that for local teams, and we do have four or five smaller pitches that are used for training and younger age groups. We are trying to find more land, but Gibraltar is very small," Bula continued.
Bula was working as development chief before taking on the national job but he maintains a huge belief in player development.
"In Gibraltar I have always wanted to help and make sure that the players are developing because it is not easy. People think developing a player is just about playing football but it is lots of things, mentally, physically, socially - everything about that needs to be looked at when developing a player, and I am here to help that and hopefully in the future, the more we have players playing in big clubs professionally, the better it will be for football here."
He insists that the clubs need to make sure they back the national team.
"At the moment the flagship of Gibraltar is the football team. People will look and see if we do well, people will look and see quality coming through, people will look at Gibraltar, and that will be beneficial for everyone, including the clubs as it will bring in money and investment, so it will be good all round.
"The word is out now, and people are coming to look at us."