Immigration key
As fifth favourites for the 2014 World Cup it's fair to say Belgium are hardly dark horses for success in Brazil - but they're still fascinating. Daniel Storey charts their unlikely rise...
By Daniel Storey - @danielstorey85
Last Updated: 04/12/13 11:27am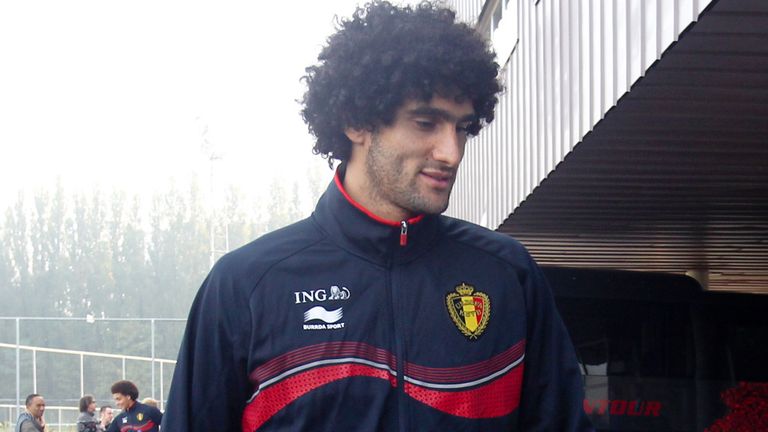 Such has been the overwhelming fawning over Belgium's rapid rise that we have now almost come full circle on their prospects; dark horses tend to become rather less dark when thousands of people are tipping them for World Cup success in Brazil. The upsurge in interest in the Diables Rouges epitomises entirely the impossibility of football hipsterism - if enough people search for the 'alternative' option, it immediately loses its marginality.
However, whilst Belgium are clearly no longer the 'unknown' option at next year's World Cup (that honour probably lies with Bosnia and Herzegovina, Iran or Costa Rica) that should not detract from what is a genuinely miraculous change in fortunes. The term 'Golden Generation' may make England fans shudder or sob, but it is highly appropriate for the current crop of Belgian talent.
This is a country that had not qualified for an international tournament since 2002, five consecutive attempts passing by without success, and the only European Championship they have participated in since 1984 was when they joint-hosted in 2000 and fell at the first hurdle. Even when they qualified for the last 16 at World Cup 2002, it was behind Japan in a group in which they drew with Tunisia. Six days into next year's World Cup will mark the 28th anniversary of Belgium's last victory in the knock-out stages of a tournament, and in 2007 they were ranked 71st in the world.
Yet this is a side currently listed as fifth favourites to win the World Cup next year behind Brazil, Germany, Argentina and Spain. They have the third most expensively assembled national side in the world and dropped just four points in a World Cup qualification group that contained Croatia, Serbia, Macedonia, Scotland and Wales.
Crucially, this also seems to be substantially more than a flash in the pan. Whereas Belgium's Under-17 and Under-19 teams were ranked between 23rd and 28th in the world in 2002, both are now in the top ten. Furthermore, Belgium's squad for their last friendly contained eight players aged 22 or younger, and the latest Under-17 squad was comprised of youngsters registered to Manchester City, Chelsea and Manchester United.
In the international game, such a speedy augmentation of fortunes is almost without precedent and has therefore driven a desire to identify the reasons for improvement, largely because our footballing stakeholders are keen to discover a quick fix for England's current toils.
Michel Sablon, the Belgian Football Association's technical director, has been widely lauded as Belgium's miracle man, and it is clear that his influence has been crucial. In an interview with the Daily Mail in September, Sablon explained his initiatives:
"We decided to make a plan for three target groups. First of all was the clubs, secondly the national team and third the coaches of the schools. So we adopted the same vision for all three groups. We went to the clubs and asked them to play a certain way below Under-18 levels. We asked them to play 4-3-3 with wingers and three midfielders and a flat back four.
"It took more than five or six years before everyone could bring themselves to accept it. Because for most of the coaches and the clubs, all they cared about was winning the game. Nothing else. But that was absolutely wrong for the development of all the players. Totally wrong."
Whilst Sablon's ideas were proved to be completely correct - and he has received notable and deserved praise for his leadership and the continued dedication to his philosophy - it isn't as if he was a total visionary shining a light down on a darkened country before re-inventing the wheel in front of their eyes. Without being churlish (I'm being churlish), given 15 minutes and a paper and pen, I could come up with similar ideas to those above, but that doesn't mean that they would work. It surely isn't quite as simple as that?
Sablon's ideas may indeed have been enough in countries such as Germany (population of 80million), France (65million) or even England (53million), but not in Belgium with its population of just 11 million, the same as Cuba. Belgium is the 140th largest country in the world, occupying just 0.02% of its landmass, and is smaller than Guinea-Bissau, Taiwan and Bhutan.
Both of those statistics demonstrate that Belgium needed more than simply a shiny (albeit calculated and logical) plan in order to improve the situation so rapidly. An outside influence was required in order to act as an explosive catalyst, and it came in the form of immigration. Is that the true reason for the almost instantaneous improvement?
In the aftermath of the two World Wars, continuing more fervently in the 1960s, Belgium began a formulated policy of attracting labour migration from north African countries to relax work permit and family reunification laws, with Morocco, Tunisia and Mali seeing the highest immigration from the region, alongside Turkey within Southern Europe. Whilst the recessions and rising employment of the late 1960s and early 1970s forced the government to tighten immigration laws, the knock-on effect had already been established, aided by relaxed nationality laws that allow for Belgian citizenship to be gained after just two or three years. The country's last census revealed that people of foreign background now made up 25% of the country, providing a wider and more diverse talent pool.
The emergence of talent from second-generation immigrant families has been astonishing, with the Mpenza brothers in the late 1990s amongst the first notable examples. If this seems like mere hypothesising, reading through Belgium's current squad provides a more convincing argument. Mousa Dembele has a Malian father, Marouane Fellaini, Nacer Chadli and Zakaria Bakkali all have Moroccan parents, Axel Witsel's father is from Martinique, Christian Benteke was born in - and Romelu Lukaku's father played for - the country now known as the Democratic Republic of Congo. Drop down the Under-21 and Under-19 teams, and the list grows longer still. It's a striking trend.
This is not the first time that we have seen immigration assist a national team. Of the 14 players used by France in their 1998 World Cup final victory, four (Lilian Thuram, Marcel Desailly, Christian Karembeu and Patrick Vieira) were born outside of France, and a further three (Zinedine Zidane, Alain Boghossian and Youri Djorkaeff) were born to immigrant families. France too allowed increased immigration after World War II in order to facilitate reconstruction.
Former Belgian international and Newcastle defender Philippe Albert is certainly an exponent of such a view. "Immigration has helped Belgium. The likes of Fellaini and Dembélé are perhaps the first generation of their families to be born in Belgium, but they have the right mentality and are very patriotic, which is important. There is no doubt that the Belgian national team is benefitting from this now."
Not only have these players dramatically improved Belgium's fortunes, they have also helped to form an identity within the squad that was lacking for so long. Until recently, cliques had always existed within the squad between Flemish and French speakers. As Steve Martens, general secretary of the Belgian FA, explains, that issue has now been abated: "We don't see any signs of little clans appearing because it's a well-bonded group. The players from Congo or Morocco are to the benefit of the team because it means that the dualistic French-Flemish speaking issue is less of an issue."
"They are symbolic for unity in the country," Martens concludes. And a strong symbol it is too.
The poster boy for Belgium's immigrant success story is the captain Vincent Kompany. Born to a Congolese father and Belgian mother, he has a university degree and speaks five languages. Raised at Anderlecht, Kompany then moved abroad, matured and is now one of the finest defenders in European football, and the most crucial player within Manchester City's vast squad of internationals.
"I'm 100 per cent Belgian and 100 per cent Congolese," Kompany explains. "It's a wealth I have. What we do is show the good of our country, the potential, other than focus on the differences." That's quite an honour and responsibility.
Belgium may well not win the World Cup, and thanks to the associated hipster dream their 'Golden Generation' may well disappoint our pre-conceived expectations next summer, but it does not matter. The foundations have been laid for a more permanent success, and whilst Belgium's rise may have been rapid, speed must not be confused with haste - there are deep roots to suggest a sustained period of achievement.
Furthermore, in a country in which the factions existing between the Flemish and French-speaking communities threatens to split Belgium in two, the make-up and success of the national football team offers hope for unity and accord. As manager Mark Wilmots said of captain Kompany, "He brings together the Flemish and the Walloons. This is a national political engagement."
This article first appeared on Football365