David Moyes takes 'complete responsibility' for Manchester United's poor form
David Moyes says he takes "complete responsibility" for Manchester United's poor results in the Premier League.
Last Updated: 10/12/13 9:10am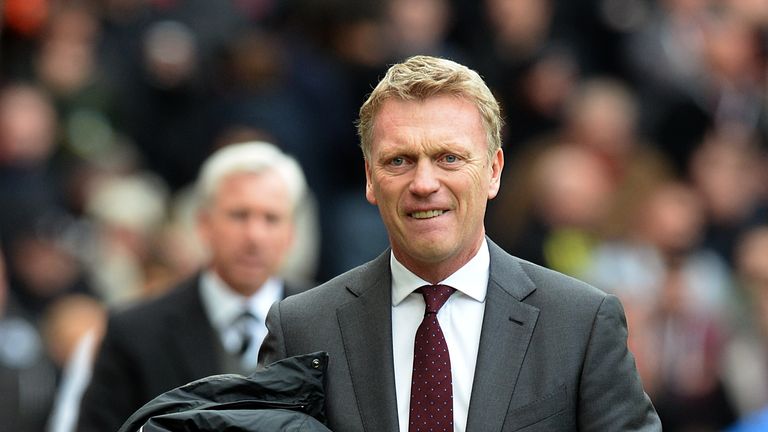 United have slumped to successive home defeats in the Premier League in the last week, leaving them in ninth place, 13 points behind leaders Arsenal.
"I take complete responsibility for the results, fortunately they've been good in the Champions League but not in the Premier League so I take responsibility for them as well and I would like them to be much better, and I've got no doubt they will," said Moyes.
"The players aren't happy because they're used to winning and when they don't win, that hurts them.
"They care very much, about their team, about their club, and they'll respond in the right way, I've got no doubt about that."
United host Shakhtar Donetsk in the UEFA Champions League on Tuesday needing only a point to secure top spot in Group A, although Marouane Fellaini, Patrice Evra, Nemanja Vidic and Chris Smalling all missed training on Monday, with Michael Carrick definitely ruled out and Darren Fletcher unregistered for Europe.
"It's important (to top the group) to give ourselves the best possible chance in the next round," he added.
"But the big job was to make sure we qualified from the group, that part is done, so hopefully we can finish off the group unbeaten, if we do that then that will see us through.
"We've been inconsistent at times and we've played very well in some games in the Champions League, not so well in the Premier League games, albeit we've lacked a little bit of good fortune in one or two games which made the difference.
"It's tough because the expectancy is to win all the games.
"I think there's a bit of everything. We'd like to generally play better, we'd like to pass better, create more chances, and defend better when those moments arise.
"I think it's all round we're trying to improve, but it was only a few weeks ago we beat Arsenal, we beat Leverkusen, we were talking very well about the team."
Bigger picture
Moyes has stated that United are still title contenders, but on the field there has been slump in fortunes since he took the reins from Sir Alex Ferguson in the summer.
Various theories have been put forward, most significantly a perceived lack of quality in midfield.
Some fans have also started to question Moyes himself, although now the decision to appoint the Scot has been made, it is accepted he must be given time to make the decisions he feels are necessary to improve United's fortunes.
"They all understand it (the bigger picture)," said Moyes. "Most of them know exactly.
"Of course no-one expects Manchester United to lose games, no more so than me, but it is a fact and my job is to make it better.
"There will be [light at the end of the tunnel] because it is a transitional period and that was always going to be the case.
"I hoped it wouldn't have been as poor as it has been in the last few games. When I came here I knew it was never going to be easy and it's proved to be that way."