Manchester United's Tom Cleverley says he has been 'average' this season
Manchester United midfielder Tom Cleverley has conceded some of his performances have been "average" this season.
Last Updated: 15/12/13 12:51pm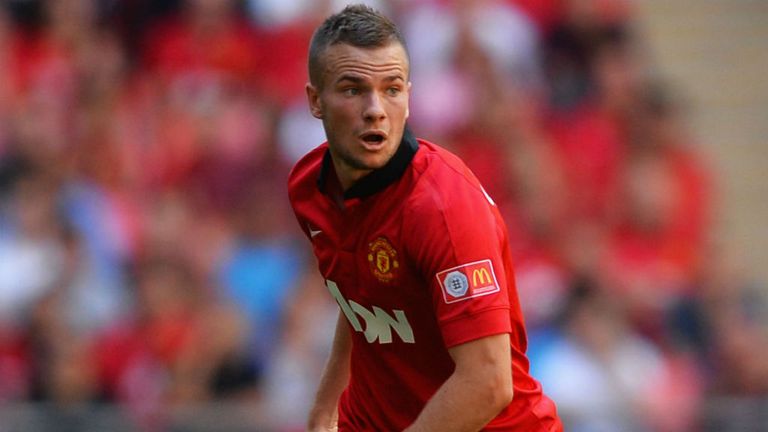 England international Cleverley has come under fire from some United and England fans after failing to hit the heights this term.
Cleverley's future at Old Trafford has been the subject of speculation with David Moyes widely thought to be in the market for midfield reinforcements.
Cleverley, who impressed off the bench in midweek against Shakhtar Donetsk, admits he feels he has more to give to the side after conceding he has not been happy with his form so far this season.
"At the moment, I feel like I've got more to give," Cleverley told United Review. "I've had a few average games, a few more than I would prefer.
"But I felt this time last year was when I hit my best form of the season, when we were playing every few days.
"I'm the type of player who prefers that and, if I can get into a rhythm, then hopefully I can add more than just appearances to my record, I can also add some stand-out performances."
Cleverley believes he is developing aspects of his play under Moyes, but accepts he still has more to add to his game.
"I'm definitely developing the defensive side of my game and tactically the manager is teaching me a lot of things," added Cleverley.
"Maybe the creative side of my game can improve a little bit too but I realise that's not my only job in the team and sometimes I've got to sacrifice that part.
"I felt Chelsea at home, defensively and tactically, was a mature performance and I thought I was having a really good game at Fulham before a bang on the head gave me double vision and I had to come off.
"I'd pick those two, and the really good team performance at Swansea on the opening day, as my best so far."
Cleverley admits United have missed the presence of influential midfielder Michael Carrick, who has been out injured for their past four Premier League games, which resulted in two draws and two defeats.
"Any team in the world who had Michael Carrick would feel the loss, there's no denying that," continued Cleverley.
"But it has given a chance for other players to play and step up to the plate."