Gary Neville: Manchester United need new players but no-one will sell them
Manchester United need signings but are going to struggle to get them, says Gary Neville.
Last Updated: 20/01/14 2:06pm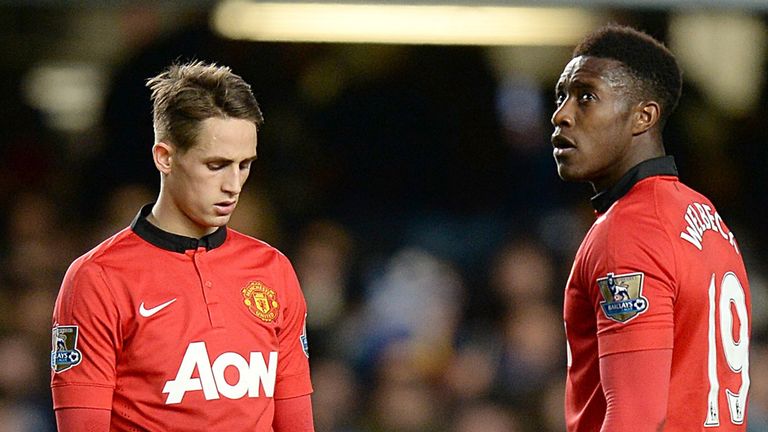 A Samuel Eto'o hat-trick gave Chelsea a 3-1 win over United at Stamford Bridge on Sunday which leaves David Moyes' side seventh in the Premier League.
Sign-in to watch highlights of Chelsea v Man United
Sky Sports expert Neville admitted he fears for his former club as they slumped to their seventh defeat in the league this season and says they desperately need some fresh blood in the squad.
Neville said: "It's always been difficult here but you were watching a team that are in the position they are in the league for a reason and Chelsea actually had more than them even though they were not at their best and that would be the worry.
"I would never get too despondent because that's not the way I look at it, but you would never say as a Manchester United person at the club that we need to sign players.
"It's the last thing you say because you have respect for your team-mates, you have respect for the players who are in your club, you always rely on the quality of the development teams to come through, but there are a group of players out there who need help.
"They're a good bunch of lads out there who have won the Champions League and many trophies for United, but they need inspiration and they need lifting. You saw the effect of Ozil at Arsenal, those players, that manager they need fresh blood and they know that.
"They're not scouring all over Europe and travelling all over Europe and being spotted at Juventus and Madrid because they don't want to sign players, they need to sign players.
"I don't think it needs a rebuild, I honestly don't. I think two, three, four players - but the problem is everyone knows they want top players and to get them will be so difficult because nobody wants to sell them."
Transfers
It's long been said that United need to strengthen in midfield and Neville is still adamant this is the key area, but warns fans that the reigning Premier League winners will struggle to sign players because other clubs know they are desperate, which only makes things harder in an already difficult January transfer window.
"They need a midfield player or two, it's obvious," added Neville.
"They've lost Anderson on loan, Darren Fletcher has just come back, Paul Scholes has retired, Owen Hargreaves left a year and a half ago - they haven't strengthened in that area.
"They were playing a centre-back in midfield today with Phil Jones, but it's not the only area. They need to get Wayne Rooney and Van Persie fit too.
"I think it's a squad that needs an impetus and when you sign players at a squad it brings a new lease of life to everybody and that's what it needs to me, not a rebuild. There's a lot of good young talent there.
"I think if they could go and sign four top players for huge money in the next week I think they would go and do it straight away. I think the problem is getting them.
"We know Arsenal want a striker, we know Chelsea want a striker; there are teams in the league that also want to put money in. Bayern Munich, Real Madrid Paris St-Germain and Monaco probably want players and they have all got huge money.
"So the fact of the matter is they're in a market that is starved of top players when there are six or seven clubs who are going to be throwing big money at them.
"I'm pretty certain if those players were there and available they would go and spend the money this week."
Missed targets
United's only signing of note of the 2013 summer transfer window was Marouane Fellaini, while their efforts to get Everton's Leighton Baines, Cesc Fabregas from Barcelona and big money rumours of bids for Cristiano Ronaldo and Gareth Bale all fell by the wayside.
Neville believes those failed transfer attempts are what had caused havoc on United's season and now Moyes needs to start making decisions about the players he's already got.
Neville said: "They tried to sign Fabregas and Baines in the summer we all know that. We know that there were bids potentially for Ronaldo and Bale.
"So if they'd have signed Fabregas, Bale or Ronaldo and had Baines - which we know they tried to do - I think you'd be looking at a completely different Manchester United side.
"They didn't get the targets they wanted and that is going to be a problem going forward for them because they want the same players.
"They will remain calm, Manchester United don't panic. The manager will get time to build his team, he'll get time to develop his squad. At the moment the players are playing for their future at Manchester United because they've got to impress that manager and the more games they lose the more he'll be thinking are you the right person for me to take forward.
"There are a lot of good players in that squad but he's got decisions to make in the next six months. There's no doubt he (Moyes) needs players, the players need players, they need help and support.
"They signed Fellaini in summer, who is injured at the moment, but they need three or four players, but they knew that in the summer because they bid for three or four players."
What do you make of United's recent transfer policy? Why not let us know by commenting below.