Gale's WC verdict
Each week Premier League winner Tony Gale will be in the Sky Sports News studio to give his verdict on the players who have caught his eye over the weekend and assess whether Roy Hodgson should take them to Brazil
Last Updated: 20/01/14 3:57pm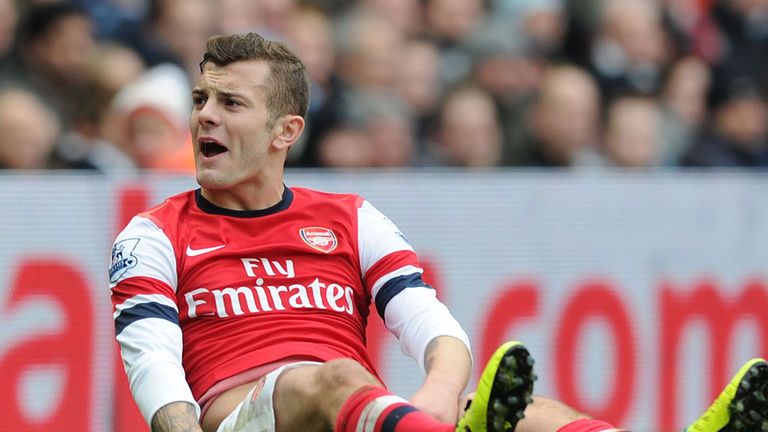 Every Monday, Tony Gale will be in the Sky Sports News studio to look at how England's World Cup squad is shaping up. In this week's show he gave his verdict on a raft of midfield contenders.
Steven Gerrard conceded he didn't have the best of games as Liverpool were held at home to Aston Villa, while Phil Jones and Michael Carrick will not take fond memories from Manchester United's trip to Chelsea.
Santi Cazorla was Arsenal's star man in their win over Fulham but Jack Wilshere was typically busy and appears to be playing his way into form.
With places on the plane to Brazil limited, only a select few of the below will make it to South America...
PHIL JONES (Manchester United)
TONY'S VERDICT
I think what you get with Phil Jones is a lot of competitiveness and I understand why Moyes puts him in there but I don't think he's a natural midfield player. What you worry about sometimes - although he has the competitive aspect - has he got the composure that we will need out there in the heat in Brazil? I still think he's a centre-back in the making.
MICHAEL CARRICK (Manchester United)
TONY'S VERDICT
He struggled yesterday and sometimes I think he's carrying this Manchester United midfield on his own. But Carrick will be fine, he will be a midfield player in Brazil.
FRANK LAMPARD (Chelsea)
TONY'S VERDICT
Hopefully Frank will get more game time because when you get to his age you need to be playing games - that's how you keep up your fitness - it's imperative Frank plays games. I still think he will be on that plane to Brazil.
STEVEN GERRARD (Liverpool)
TONY'S VERDICT
Because he's the main man at Liverpool he is still going to try and force things and that's going to be the problem, he didn't have the best of first halves against Villa. But when he started to get hold of the ball in the second half he dictated the pace of the game and his passes were spot-on. Steven Gerrard is a must, but it is important that he keeps his fitness and keeps playing games - but he's a certainty.
JACK WILSHERE (Arsenal)
TONY'S VERDICT
He's getting in more advanced areas for Arsenal, scored a goal last weekend and made the next one for Giroud and those are the balls that we will need in the World Cup. He's a certainty for the plane, but starting 11 is all about his form.
ADAM JOHNSON (Sunderland)
TONY'S VERDICT
He still has a lot to prove, this weekend he showed he can go both left and right foot. He's still an outsider but he's a good outsider if he keeps on scoring goals.
GARETH BARRY (Everton)
TONY'S VERDICT
He's become the main man at Everton, the shackles are off a bit. He's just slightly behind the players mentioned - but one injury and he's in there so he needs to keep his form.
TONY'S MIDFIELD VERDICT
I don't think it's a bad part of our team and in the extreme heat over there it's important that we keep possession of the ball. We will be playing deep but those midfielders need to be comfortable on the ball - but it's in good shape.
Watch out for Tony Gale's World Cup verdict every Monday on Sky Sports News