Sky Bet Championship: Leeds United sack manager Brian McDermott
Brian McDermott has been sacked by Leeds United after only nine months in charge.
Last Updated: 01/02/14 1:25pm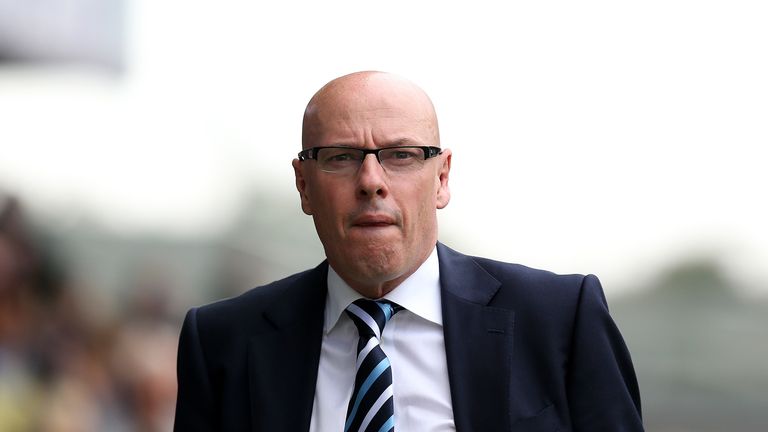 The news sparked some dramatic scenes outside Elland Road on Friday night with fans reportedly tried to block the prospective new owner of the club - Massimo Cellino - from leaving.
News of Cellino's presence spread on social media and the police were called as a taxi sent to collect him was repeatedly chased away and exits were blocked.
McDermott, 52, had been in charge at Elland Road since April 2013, at which point he signed a three-year contract.
Leeds are currently 12th in the Sky Bet Championship and are eight points off the play-off places.
The former Reading manager was in charge for just 36 games, 15 of which ended in wins, six as draws and 15 as losses.
The news of McDermott's departure - which triggered club sponsor Flamingo Land, to withdraw its backing in protest - comes at the end of a dramatic day at Elland Road which saw the club's ownership issues thrust into the spotlight.
United are in the midst of a takeover, which it is understood will be completed by the Italian Cellino, and throughout the week it has quickly become apparent that McDermott was not his man.
Cellino, the owner of Serie A side Cagliari, has had a delegation in Leeds for the last week as he prepares to sign off a 75 per cent purchase of the club from Gulf Finance House.
His influence became further apparant on Saturday morning when Cagliari announced on their website that playmaker Andrea Tabanelli has been loaned to Leeds.
One of his party is the former Middlesbrough defender Gianluca Festa and it is understood that on Tuesday it was asked if Festa could sit in the dugout with McDermott during Leeds' 1-1 draw with Ipswich.
It is thought Festa is Cellino's first choice to replace McDermott but until Friday the chance had not arisen.
But, as it emerged that Cellino was in the driving seat to buy the club after a management buyout by current managing director David Haigh collapsed, McDermott's position looked all the more vulnerable.
McDermott, who joined Leeds in April last year, gave a news conference on Friday afternoon during which he admitted that Saturday's game against Huddersfield could be his last before saying he intended to "enjoy" the occasion.
Cellino's influence has extended beyond the dugout too, with members of his delegation having attended Leeds' Thorp Arch training ground to carry out various checks.
McDermott will no longer be seen there, though, with his departure muddying the waters even further.
The decision also threw the future of club skipper Ross McCormack into confusion on transfer deadline day.
Sky sources understand that six enquiries were made for the Scotland international in the last few hours after he had earlier pledged his future to United.
Speaking exclusively to Sky Sports News, McCormack revealed how his decision to state he wanted to stay at Leeds might not have been so straightforward had he known about McDermott's departure.
"The club have decided to sack him unfortunately. Yeah he's gone, he called me up earlier and told me he was gone. It's hard times at the club," said the Scotland international.
"To be honest I'm absolutely gutted. I had a really close relationship with the manager, as you know he made me the club captain recently, and I said about a couple of hours ago, I was looking forward to continuing to work with Leeds United and Brian McDermott.
"Obviously things have changed a lot quicker than people imagine.
"I'm very happy and content at the club, but I think part of that was Brian McDermott and obviously if I had known earlier on that this was going to happen, I would have a right decision to make.
"At the moment it's still very raw, I'm absolutely gutted."