Raheem's resurgence
As Liverpool find themselves on the cusp of a title challenge, Sam Drury looks at how Raheem Sterling's resurgence since returning to the team back in December has helped...
Last Updated: 14/02/14 4:44pm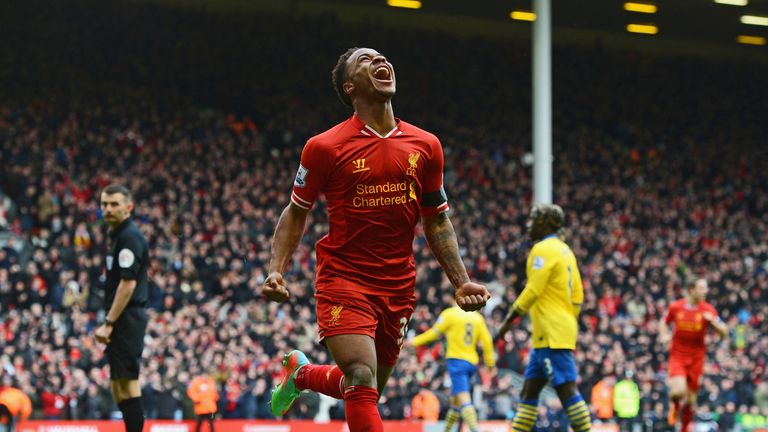 The suggestion was that a loan spell in the Championship was required if the teenager was ever going to have a chance of making it at Anfield.
It was clear to see why. Sterling was a different player to the one who had burst onto the scene at the beginning of last season. The confidence was gone. The sight of Sterling skipping past a full-back and attacking the box was replaced with short, simple, often backwards, passes. Even the lightning pace seemed to have disappeared.
Yet just weeks on, his manager couldn't speak highly enough of his young star following a performance that belied his tender years - the then league leaders having been put to the sword.
"Raheem Sterling was incredible," said Brendan Rodgers. "He's just turned 19 years of age. I don't think there's a better winger in England at this moment in time. He's absolutely phenomenal."
Few would argue with the Reds boss. Partly due to the lack of competition for such a title, but more as a result of the 19-year-old winger's form since being handed just his second league start of the season away at Hull City at the start of December.
Though Sterling has started every game since then, the game at the KC Stadium is one he will want to forget. Liverpool were beaten 3-1 and the winger looked decidedly lost on the pitch. It was after this performance that the calls for him to be loaned out reached their most vociferous.
But rather than listen to such suggestions, Rodgers stuck with the young winger and started him again three days later against Norwich. It is a game best remembered for an incredible four goal haul from Luis Suarez, with the Uruguayan also claiming an assist. Sterling was the recipient.
It had been an unspectacular showing from the Jamaican-born youngster but the confidence boost it gave him has saw him turn in a good display the following game, again at Anfield, as Liverpool beat West Ham 4-1.
It was the 5-0 thrashing of Tottenham a week later though in which Sterling return to form really made people take notice. The England under 21 international was superb as Liverpool started the game at break neck speed. Playing on the right, Sterling had the beating of Spurs left-back Kyle Naughton time and again and was arguably Liverpool's main threat. So dominant was the Reds' wide man in his battle with Naughton, that the Spurs defender was replaced at half-time to spare him any more embarrassment.
Ezekiel Fryers came on and only fared marginally better. Sterling remained heavily involved as Liverpool ran riot at White Hart Lane and got himself on the scoresheet late on to wrap up the win.
His form ever since has been persistently eye-catching considering his age, especially given that many were consigning him to the scrap heap little over eighteen months after making his senior debut.
Yet it is only since his two-goal salvo against Arsenal that he has started to receive any sort of recognition. It should not go unnoticed that up and coming young players at two of Liverpool's rivals have been lavished with praise throughout the season.
Ross Barkley at Everton and Manchester United's Adnan Januzaj have been excellent this term and have rightly received the plaudits for their form. As such, you'd assume the former pair have significantly outperformed the Liverpool man. Well, the stats suggest otherwise.
Sterling v Januzaj v Barkley - 13/14
Discipline
Sterling
Januzaj
Barkley
Minutes played
1410
1096
1628
Goals
5
3
3
Assists
2
2
0
Big chances created
5
3
1
Passing accuracy
80.92%
80.15%
85.06%
Dribbles completed
55
33
58
Recoveries
99
59
74
Indeed, Sterling more than matches his fellow starlets. He has not only scored more but outperformed in his primary mandate of creating opportunities, leading the way with the number of 'big chances' he has laid on. It is when working back though that the former QPR trainee stands out most, with his 99 recoveries significantly more than either Januzaj or Barkley and something that his team-mates are quick to recognise.
"Defensively he works really hard for the team and going the other way he's fantastic," said Jordan Henderson after the Arsenal match. "Scoring goals is important for any forward player and he's adding that to his game, which is brilliant."
Given the emphasis Jose Mourinho places on hard working wingers he's in good company.
It is unclear then why it has taken so long for Sterling to receive attention comparable to either Barkley or Januzaj. It isn't that they are that much younger. Sterling is just four months older than the Manchester United man and Barkley is actually a year older than the Anfield favourite.
Perhaps then it is that both have only come to the fore this season, whereas Sterling has already had a year in the limelight? Whatever the reason it is unlikely to concern the Reds no.31 as long as he can maintain his current form.
His confidence is back. A switch to the right wing was also credited with helping to bring out the best in him by Rodgers. Certainly the diagonal runs from out to in have become a feature of his game and with the likes of Suarez, Steven Gerrard, Daniel Sturridge and Philippe Coutinho to pick him out it is something Liverpool have been able to use to great effect.
Fifty-five completed dribbles are further evidence of his renewed self-belief, as is the way in which Sterling has backed himself to get the better of his man. Gone is the Sterling of late last season, whose fear of the repercussions of losing the ball saw him retreat into his shell. In his place is a young man using a mixture of speed, trickery and deceptive strength to leave Premier League defenders wondering how to stop him.
The thing that makes Sterling stand out is not just that he has the tools to hurt the opposition but that he knows how and when to use them, both on and off the ball.
"He's one of the most tactically gifted players I have worked with; how he presses the ball, how he gets up to the ball and his technique is wonderful," enthused Rodgers before Liverpool's trip to Fulham.
"He's more than pace. What he has got for a young player is responsibility on the pitch."
Still nearly 10 months shy of his twentieth birthday it would be foolish to expect that Sterling will now go from strength to strength without any further problems or dips in form.
However, much like Wojciech Szczesny's save from Sterling's shot ahead of his second goal last Saturday, it would merely be delaying the inevitable.
Having overcome his first real test and proven his doubters wrong, Raheem Sterling now looks destined for stardom - Liverpool and England fans just need to remain patient.