Champions League: Gerardo Martino says Manchester City v Barcelona is the 'tightest tie'
Gerardo Martino says Barcelona's double-header with Manchester City is the hardest tie to call.
Last Updated: 18/02/14 3:52pm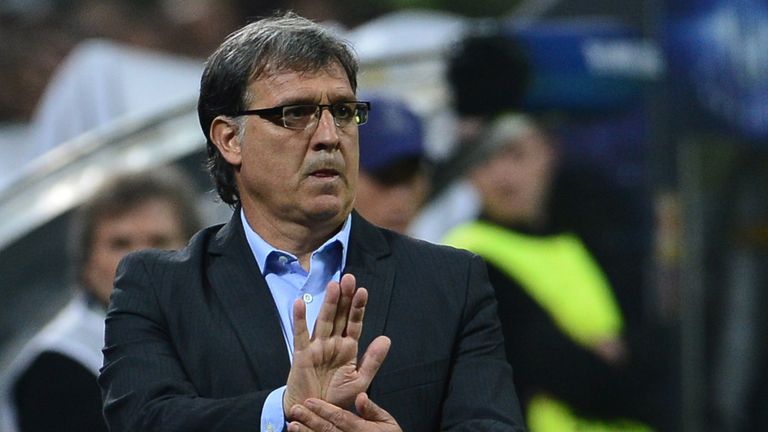 And the Barca boss insists City are not a copy of his side, but one of the best teams in the world in their own right.
The two teams meet in the first leg of the eagerly anticipated showdown at the Etihad on Tuesday night and Manuel Pellegrini's free-scoring City have drawn comparisons with Barcelona this season.
But Martino said: "I don't think City are a mini-Barcelona or a mini any team. I think they are one of the greatest teams in the world. They have great Spanish players like (Jesus) Navas and (David) Silva, but it is not only Spanish players.
"They have great players from all over the world like Yaya Toure, Sergio Aguero and Fernandinho."
Barca have won the competition three times since 2006 and have reached the semi-finals in the last six years.
And Martino admits expectation is something he and his players accept.
"For the last six seasons Barcelona have made it to the semi-finals and the fans are used to that," he said.
"It will be difficult to understand if we don't go through but it is the tightest tie of all."
His plan, he admits, is simple - keep the ball.
"The thing to do for us is to keep possession. City have a very similar game to us, maybe a bit more direct but they are very good in possession," he said. "I think the team with less possession of the ball will suffer most."
When asked what his side's 'plan B' might be should City dominate possession, he said: "Obviously to take the ball away from them.
"If we don't have the ball, it is just pointless to come to this game."