A step too far
It's rare that we get the chance to see what happens when a potentially title-challenging attack plays with a mid-table defence. It turns out it's intriguing and a lot of fun, writes Sarah Winterburn after watching Liverpool's 4-3 defeat of Swansea...
By Sarah Winterburn
Last Updated: 24/02/14 8:49am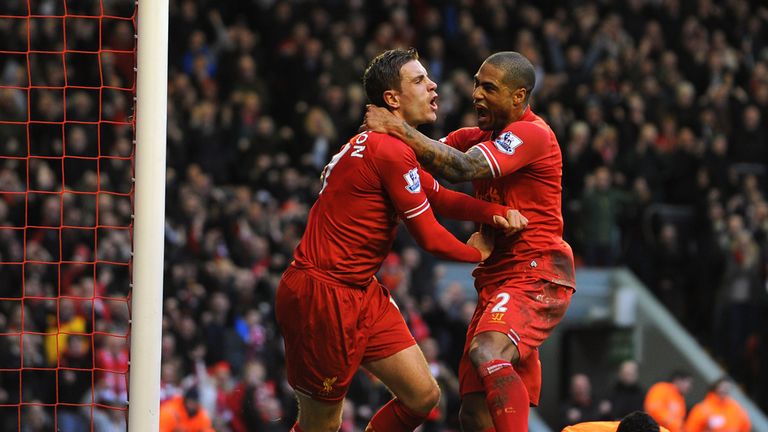 Altogether now: That is why Liverpool cannot win the title.
Whether you said that on the second or third occasion that Liverpool allowed Swansea the space to take a shot from the edge of the area or waited until Martin Skrtel had shouldered the ball into his own net or waited even longer under Skrtel had hauled down Wilfried Bony despite his defensive partner Daniel Agger winning the header directly in front of him, you probably said it at some point during 90 ridiculous minutes at Anfield.
Then you might have looked at the statistics that say Liverpool have conceded more Premier League goals than West Ham or Hull this season and only marginally fewer than Crystal Palace. You might have wondered how Brendan Rodgers spent £35m on defensive players last summer and somehow contrived to make the defence worse. You might question whether Rodgers should have been giddily chasing wingers in January when he had no defensive midfield cover for the injured Lucas Leiva.
Or you could just say enjoy the spectacle and amuse yourself at the massive gap between the quality of Liverpool's devastating attacking play and the devastating buffoonery in defence. The 4-3 win over Swansea was fabulous entertainment, just as away games at Everton, Stoke and Fulham this season have been fabulous entertainment. It's almost like an experiment to see just how poor you can be defensively and still qualify for the Champions League; their 35 goals conceded is already more than fifth-placed Everton allowed in the whole of 2007/08 and nobody could ever accuse that Everton side of being fabulously entertaining.
Yes, the kind of individual errors repeatedly made by Liverpool render it nigh-on impossible for the highest-scoring team in the Premier League to win the title, but it's a tad unfair to point out those flaws in a side built to finish in the top four. Liverpool are exactly on target to achieve the goal set by Rodgers 18 months ago, even if the form of Luis Suarez, Daniel Sturridge, Philippe Coutinho and Raheem Sterling may sometimes spark wilder ambitions.
Add the most dynamic attacking quartet in the country to a mid-table defence, stir in a midfield which pays lip service to closing down space at the edge of the box, and you get a team too dangerous not to finish fourth but too flawed to truly challenge. And that should be absolutely fine for Liverpool fans - building half a title-challenging side is far more than their fourth-placed rivals have managed and leaves obvious room for improvement.
"If we can get into the elite competition, it attracts a different type of player as well," said Rodgers this week and we have to assume that he means defenders as well as pacey wingers and goalscorers, though that loan move for Aly Cissokho - and a transfer record that boasts only Coutinho and Sturridge as unqualified successes - would suggest he may need some guidance in that area.
But for now - especially if you're English - let's enjoy watching Sturridge, who has now scored a phenomenal 28 goals in 33 Premier League games for Liverpool and is probably the best finisher in the country if you give him literally no time to think; let's enjoy watching Suarez and appreciate that a fourth-placed finish will probably keep an outrageously talented player in the English game; let's enjoy watching the rejuvenation of Sterling and the possible end to Andros Townsend's England career; let's enjoy watching Coutinho challenge the notion that there is no room for slight 14-year-old boys in the physical and fast-paced Premier League. Heck, we can even enjoy watching Jordan Henderson and idly wonder if England can simply tweak Liverpool's front six for the World Cup.
Ian Wright might not have engaged his brain when he suggested that neutrals will want Liverpool to win the title because 'nobody outside of Chelsea would begrudge Stevie G achieving his dream', but this half-baked Liverpool side are currently a) hitting their targets and b) providing the kind of entertainment that makes neutrals switch on their television sets. Sometimes little further analysis is needed.