Time up for Cole?
The inclusion of Luke Shaw in the England squad to face Denmark on Wednesday has put the left-back position in the spotlight. With Leighton Baines also in good form, Ashley Cole's place in the squad is under serious threat. Adam Bate looks at the pressure on the experienced full-back...
By Adam Bate
Last Updated: 05/03/14 9:04am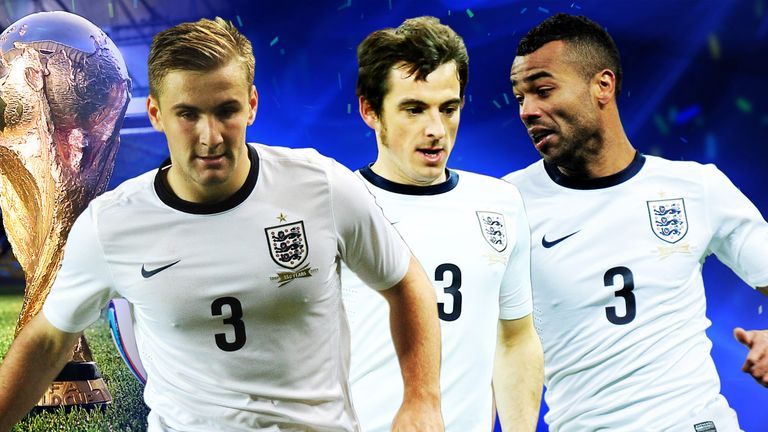 "I am very conscious of the fact that I could have to leave a big name out," said England manager Roy Hodgson when discussing his squad for this summer's World Cup. "I will have to disappoint some people I have worked with who have maybe done a good job for me and the team."
Those comments have inevitably put the focus on veteran Chelsea duo Frank Lampard and Ashley Cole. With a plethora of young midfield talent queuing up for opportunities, the pressure is certainly on 35-year-old Lampard. But the battle for the left-back slot is perhaps even more intriguing given that Leighton Baines and Luke Shaw have also been included in the squad to face Denmark on Wednesday. One of the three men will surely miss out on a trip to Brazil.
With Cole having played in four of England's World Cup qualifiers, Chelsea boss Jose Mourinho has been quick to make the case for his man's inclusion. "If one day I am the national team manager of any country, I think the players that take me to the Euros or to the World Cup are the players I am going to take to the Euros or the World Cup," Mourinho told reporters. "They took me, by qualifying, so after that, I take them on my plane. I don't think it makes a lot of sense if you trust some players to do qualification and, after that, you don't select them and pick others."
Mourinho is a man comfortable with contradictions. For while he is happy to advise Hodgson on his selections, the Portuguese coach has proven rather more reluctant to include Cole in his own line-ups. So far this Premier League season, the 33-year-old has been an unused substitute more often than he has played. In fact, Cole has featured just once since New Year's Day - away at Hull City - in either the Premier League or the Champions League. In old money, he's been dropped.
Back-up at the Bridge
With Chelsea in a good run of form, there is little sign of that changing. Branislav Ivanovic remains the first-choice right-back, while Mourinho continues to prefer Cesar Azpilicueta at left-back. That's a particular damning assessment of Cole's early season form given that the right-footed Spain international - almost 10 years his junior - has spent much of his career on the opposite flank. And this back-up role at Stamford Bridge could soon be mirrored with the national team.
The debate over whether Baines should usurp Cole as England's first-choice left-back was already in full flow even when the latter's place in the Chelsea line-up was beyond doubt. A Sky Sports poll back in September saw Baines claim 74 per cent of the popular vote and the Everton defender subsequently started both of England's final two qualifiers following Cole's withdrawal from the squad. The more recent friendlies against Chile and Germany were shared between the two men.
That Baines was culpable for one of the goals in that 2-0 Wembley defeat to the Chileans was a reminder for Hodgson of just what a reliable defensive performer Cole has been for his country. Whereas Baines outperforms Cole in terms of tackles, it is telling that Cole leads the way in interceptions - snuffing out danger before it manifests. Although Euro 2012 ended in disappointment with a penalty miss, he was arguably England's most consistent performer at the tournament and there is little tangible evidence of a steep decline in performance since.
In contrast, there remains a suspicion that Baines is far more comfortable going forwards. But this is a significant trait that should not be easily dismissed. Attacking ability is a key facet of a full-back's game and the Everton man added another assist for Romelu Lukaku's winner against West Ham at the weekend. He is a prolific creator of chances and while his sustained good form doesn't necessarily make Cole's position untenable, it certainly leaves the senior man looking more vulnerable - especially if Shaw gets the chance to impress on international debut on Wednesday.
The Southampton left-back has been a huge success since breaking through at St Mary's and has now made 50 Premier League appearances for the club. With an exciting blend of strength, stamina, pace and skill, as well as superior open-play crossing stats to Baines, Shaw is believed to be attracting interest from Manchester United, formerly suitors of the Toffees defender, and - even more revealingly - Chelsea. All the evidence suggests he is the coming man.
Team-mates past and present have joined in the acclaim. Words come cheap in this particular praise game but these guys go above and beyond the call of duty. "Luke Shaw has been absolutely outstanding," says Alex Oxlade-Chamberlain. "As an 18-year-old, the maturity that he's been playing with and the consistency level he's been playing at is unbelievable." Meanwhile, when Adam Lallana states that Shaw is "probably the best player I've ever seen at 18" you sense he means it. As a reverse option, there is a unanimous conviction that Shaw is mentally ready for the challenge.
Tournament strategy
Hodgson famously said Rio Ferdinand was "too good to be a substitute" at Euro 2012 and that decision seems to hint at the manager's thinking when it comes to back-up defenders. As Jonathan Liew pointed out in a recent Telegraph article, 44 of the 80 squad men not to feature at the last World Cup were defensive players. It might change the strategy. Speaking on The Footballers' Football Show about his experience with Switzerland in 1994, Hodgson said: "I do regret taking people who hardly featured, on the basis that he was the next best player in that position."
That would appear to bode well for Shaw. There is a quite understandable temptation for any international manager to think only of the here and now. And yet, Hodgson is not only a company man at the Football Association but also one who might well have an eye on constructing a squad to succeed at Euro 2016. Shaw will surely be at the forefront of his thinking by then, with Baines turning 30 later this year and Cole set to be 35 by the time the France tournament takes place.
As a result, if Baines is preferred to Cole, the choice of back-up left-back should be an obvious one. Shaw is fit, in-form, playing with confidence and there could be a reasonable expectation that his improvement might be accelerated by tournament experience at a World Cup. Of course, the told-you-so brigade would be quick to judge should either Baines or Shaw make a costly error in Brazil. But if that mistake came from Cole, having barely featured this season, it would surely be unforgivable. Without regular football, Ashley Cole's England career is now in serious jeopardy.