Can David Moyes take inspiration from the way David De Gea has turned it around at Manchester United?
Manchester United goalkeeper David De Gea endured a difficult start to life at Old Trafford before blossoming. Ian Watson thinks David Moyes should be inspired by the Spaniard's dramatic turnaround...
By Ian Watson
Last Updated: 25/03/14 4:07pm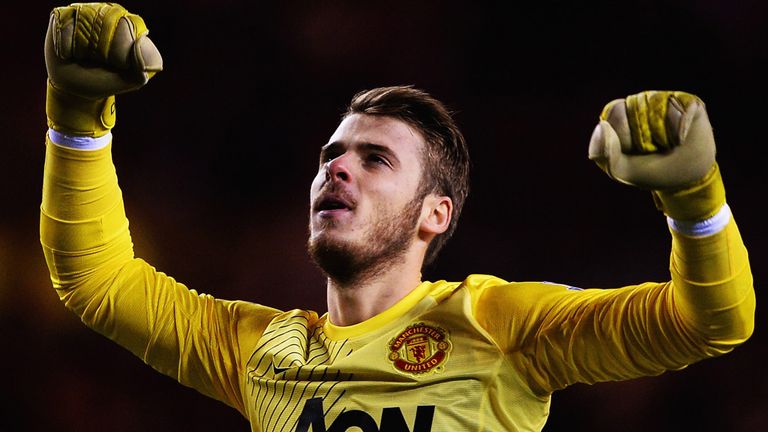 If David Moyes requires any inspiration as he attempts to overcome a woeful start to life at Manchester United, the manager only has to glance at the name on the top of his team-sheet.
David De Gea struggled to fill Edwin van der Sar's gloves when he arrived from Atletico Madrid in 2011, just like Moyes is having trouble stepping into Sir Alex Ferguson's shoes.
Many feel the 'Chosen One' is under-qualified and lacks the necessary experience for his position at Old Trafford, which are the same accusations plenty of us threw at De Gea when he made a desperately poor first impression.
Two-and-a-half years later, De Gea has made those critics - including me - choke on our words.  
While United and Moyes have floundered this season, De Gea has continued to blossom into one of the Premier League's very best goalkeepers. Behind a back four hopelessly inconsistent in selection and form, the Spaniard's performances have prevented the new manager's reign from getting off to an even more inauspicious start.In my defence, I was certainly not alone in my premature judgement.
David de Gea has been terrific. He has been great. He came in as a good young goalkeeper and he is turning into a great goalkeeper with a lot more to come.
David Moyes
In The Times, De Gea was described by James Ducker as "a kid who won a competition to play in goal for Manchester United," while Patrick Barclay commented on the same paper's podcast: "The goalie is like a jelly. He isn't physically capable. He's Heurelho Gomes without the shot-stopping.
"Mick Dennis was equally as damning in the Daily Express: "He's called David de Gea Quintana. But don't bother learning all those names. There will be another chap along soon. There has to be."
At the time, it was difficult to make a case against those judgements. Even De Gea's coach and mentor, Eric Steele, admitted in an interview in October's United We Stand fanzine that the goalkeeper's first six months in England were "horrendous". 
Ferguson's faith certainly wavered but despite dropping De Gea twice - midway through his first season and at the start of his second - the manager refused to give up on his £18million project. 
That, as it has transpired, is one of the few favours Ferguson has afforded his successor. 
De Gea's importance to Moyes and United was never more evident than last Wednesday night, when he helped United keep a clean sheet against Olympiakos which enabled his side to atone for their horror show in Athens three weeks previously. 
De Gea's all-round performance was equally as impressive as his crucial first-half double save. Such reliability when it comes to the more mundane aspects of goalkeeping will surely be what pleases Steele and new coach, Chris Woods, the most.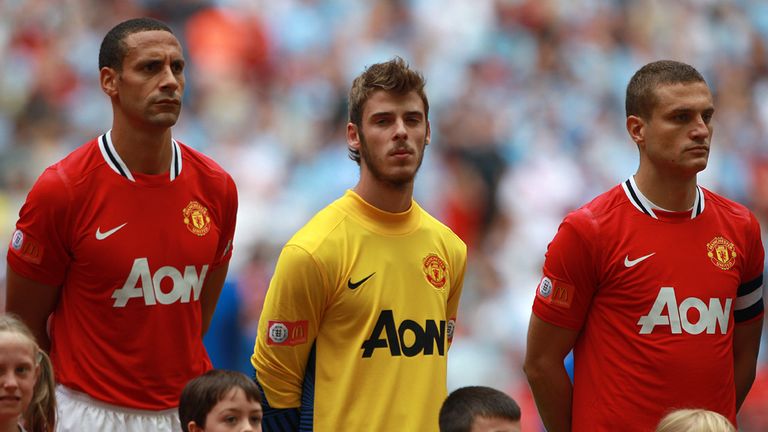 Defining De Gea's shot-stopping ability was apparent from the start, even through his error-strewn first half-season at United.
Saves to deny Stoke's Andy Wilkinson and Jordan Henderson at Liverpool stand out before the defining moment of his debut campaign - a brilliant full-length dive at Chelsea to keep Juan Mata's injury-time free kick out of the top corner with his top hand. 
It was the supposedly-routine tasks De Gea struggled with, especially when it involved leaving his goal-line to dominate the penalty area.
Looking back now at particularly costly mistakes against Blackburn and Basel highlights his dramatic improvement. 
Perhaps understandably given he had only just turned 20 when he arrived at United, De Gea's immaturity - physically and mentally - certainly hampered his start to life at Old Trafford, as Steele admitted.
The coach said: "I told him he needed to train better. There were times in his first season that he trained poorly."
"One issue with him was that he was just 71 kilos. We worked with him on and off the field to make him more powerful. We changed his lifestyle. He would finish training and want to go home. When I told him to come back in the afternoon, he would ask why.
"There were lifestyle issues. He'd sleep two or three times a day, he'd have his main meal late at night. He'd eat too many tacos. We pushed protein drinks on him straight after training. We physically made him drink. We had him in the gym a lot. He hated it."
Steele, who also revealed De Gea was "lazy in his desire to learn English", persevered with the "matchstick of a goalkeeper" who had first wowed him at the European Under-17 Championships in 2007.
The physical results were obvious by the start of his sophomore season. De Gea no longer looked like the waifish youngster struggling to fill his untucked jersey, which made him appear even more spindly when it hung over his shorts. 
Despite the improvement in his physique, inconsistency remained. Ferguson benched De Gea for four Premier League games and even after he regained the gloves, questions continued to be asked.
Only three clean sheets in 17 games preceded the January trip to Tottenham, when De Gea's poor punch allowed Spurs to equalise in the dying minutes. 
In the days and weeks that followed, the media linked countless keepers with United, with the club reportedly resigned to replacing De Gea.
Instead, Ferguson defiantly backed his young number one, who was named in the PFA Team of the Year shortly after, and the club have reaped the rewards ever since. 
The only blight on De Gea's season so far is the gaffe which saw Phil Bardsley's low drive squirm through his grasp late in extra-time of the Capital One Cup semi-final 2nd leg against Sunderland.
The Black Cats also provided the opposition in October when De Gea made what many consider to be the save of the season; a dive back towards the post he had only just vacated to parry Emanuele Giaccherini's header to safety.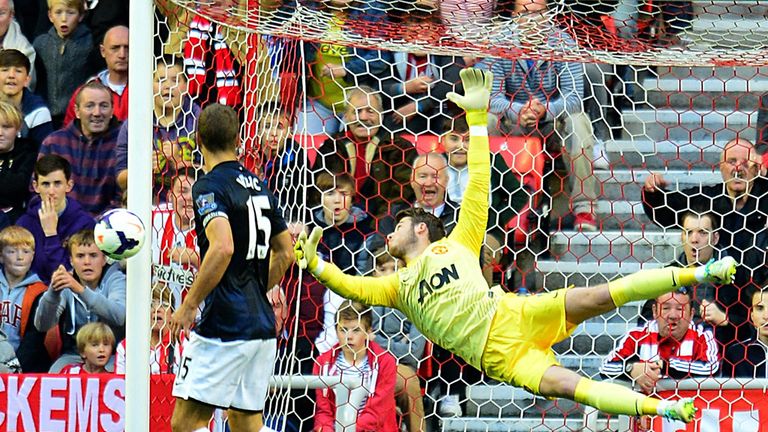 Any best save compilation would have to feature De Gea's stunning one-handed stop to deny Luis Suarez in the second half of United's humiliation at home to Liverpool - the lowest of too many lows for Moyes. 
So it was lucky for the manager that De Gea remained in similar form for the visit of Olympiakos three days later. It was also apt that the white latex on De Gea's gloves remained unblemished after his double save against the Greeks, with the kick-save having almost become his signature move.
Few keepers use their feet and legs as the last barrier as much as De Gea, which may be due to his wide stance and gunslinger-style 'set', where his hands stay close to his hips. He shares these traits with many of his countrymen, but though the likes of Victor Valdes and Iker Casillas have hardly suffered, De Gea does seem to be making an effort to keep his hands slightly more forward, therefore drawing his weight forward too.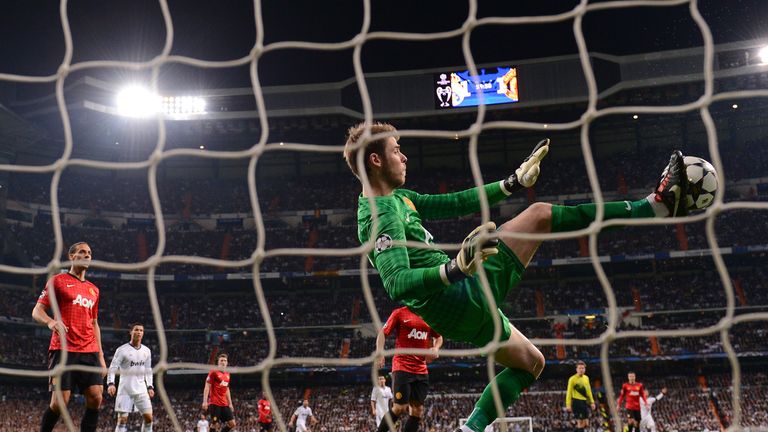 Still, sometimes he remains unorthodox which, as Peter Schmeichel proved, is not always a bad thing.
Goalkeeping is an art, rather than a science.
While De Gea is more continental in approach to his shotstopping, the way he dominates his area has become far more anglicised.
Rarely do you see De Gea flap, which was in stark contrast on Wednesday to Olympiakos stopper Roberto, who gave way to De Gea when he made his senior debut for Atletico, aged 18.
When De Gea leaves his line, it is usually to catch and in the instances he opts to punch, he uses his newly-chiseled frame to great effect. The goalkeeper and his coaches should take huge credit for that. 
The fact De Gea's development has gone unchecked through the handover of power at Old Trafford is also a major achievement. 
Moyes raised many eyebrows when he dispensed with Mike Phelan and Rene Meulensteen, but Steele's exit was perhaps the most surprising.
The coach, who now works with Steve McClaren at Derby, learned Spanish to help De Gea and deserves as much credit as anyone for the goalkeeper's improvement. 
With Woods following Moyes to United from Everton, it left De Gea without his two most infuential mentors at Old Trafford - Ferguson and Steele. 
Goalkeepers are creatures of habit. Christophe Lollichon has been Petr Cech's rock through eight different Chelsea managers and the Czech stopper has certainly benefited from that stability.
Liverpool, though, thrust four different coaches on Pepe Reina and he suffered because of that. 
Perhaps it is because of De Gea's "calmness, composure and inner strength" - his biggest assets, according to Steele - that the Spaniard did not regress like compatriot Reina did at Anfield.
The fact that "nothing fazes him" is surely the reason he got through such a poor start at United, though only those closest to De Gea will know if his coolness comes from an innate strength of character or the apathy of youth. 
Even though De Gea is settled in Manchester, Steele admitted to United We Stand that "there are still issues".
He did not identify them specifically, but talk of a return to La Liga is rarely far away.
De Gea could guard the United goal for at least another decade. Moyes has spoken of his desire to tie down his goalkeeper to a longer term deal, but does De Gea see his future that way?
The former Atletico keeper was quoted as saying last summer that "it is clear that Madrid is my city and someday I would return".
The fact his long-term girlfriend still lives in Spain may also eventually become a factor.
However, for now, the future does not seem to concern De Gea and, apparently, nor does anything else.
His new manager is certainly not as carefree, but if Moyes can prove his critics wrong in a similar fashion to his goalkeeper, then perhaps he might have a future at Old Trafford after all.
The Sky Sports team are joined in the studio by special guest Paul Scholes tonight. Join us 7pm, Sky Sports 1 and Sky 3D.