Liverpool are in sensational form but they were barely tested thanks to an embarrassing Tottenham display
Liverpool destroyed Tottenham 4-0 at Anfield on Sunday to go top of the Premier League. The Reds are a phenomenal footballing side who are tremendous to watch but Sarah Winterburn feels we learned little about their title credentials against a truly embarrassing Spurs side...
By Sarah Winterburn
Last Updated: 30/03/14 7:23pm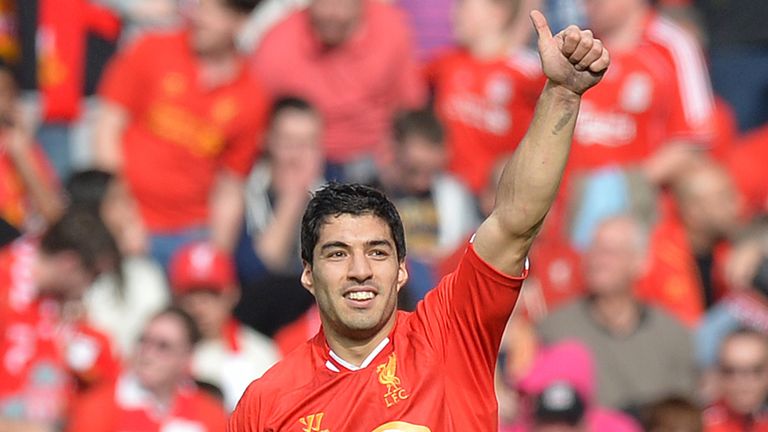 "Books! I dunno if I ever told you this, but books are the greatest gift one person can give another."
Being a self-righteous musician rather than the manager of a Premier League football side, Bono does not realise that actually, the greatest gift one person can give another is to play Nabil Bentaleb and Gylfi Sigurdsson in central midfield, Christian Eriksen as a tracking winger against an attacking full-back and Younes Kaboul, Danny Rose and Kyle Naughton as footballers in any position at all.
Tim Sherwood clearly has his faults but he is an incredibly generous man and Liverpool were the willing recipients of a series of incomprehensible errors, a ridiculous amount of space for Philippe Coutinho and, ultimately, three easy points in the first of seven games that could win them the Premier League title.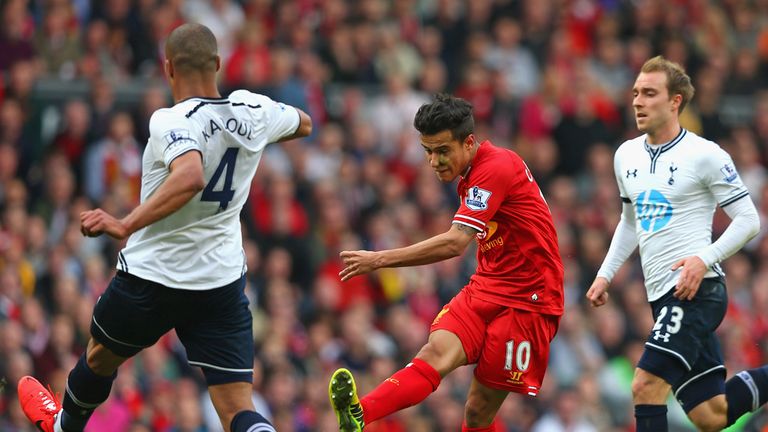 Liverpool are an excellent, mesmerising team and there is not enough space on our servers for the kudos due to Brendan Rodgers for adjusting his ambitions from winning possession counts to winning football matches, transforming Jordan Henderson from a headless chicken into a complete midfielder, giving belief to Raheem Sterling and somehow crowbarring Coutinho, Sterling, Luis Suarez and Daniel Sturridge into one wonderfully incisive starting XI. But come on Tottenham, at least put up a fight.
Just as they were in capitulations against Manchester City (twice), Chelsea and Liverpool earlier this season, Tottenham were truly abysmal. They have now conceded a mind-bending 25 goals in six games against the three title challengers. It's a record that should ensure that Sherwood's reign ends on May 11.
It was no surprise that it took Rodgers' red machine (a phrase used without irony) just 100 seconds to break their brave resistance and it was no surprise that Glen Johnson was able to leave Eriksen clawing at thin air or that Kaboul somehow contrived to backheel into his own net. That was Tottenham's 16th error leading directly to a goal this season and there was little time to wait before the 17th.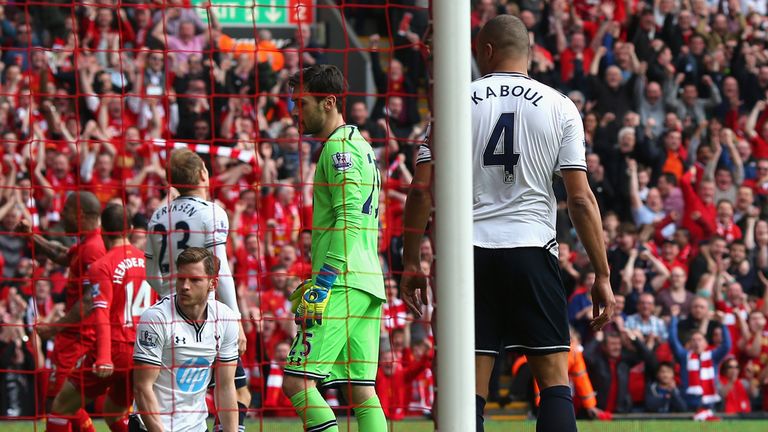 Liverpool once again looked irresistible against Tottenham but Sturridge could afford to be a peripheral figure, Henderson could afford to miss a glorious chance and Steven Gerrard could afford to take a back seat because Sherwood - who questioned before the match whether Liverpool could cope with the pressure - brought a rabble to Anfield. Instead of spoiling Liverpool's party, they turned up drunk and slept in the corner while Liverpool drew moustaches on their faces.
We learned more about Liverpool's ability to triumph in this title race from Wednesday's nervy win over a determined Sunderland. Allowed little time on the ball, they had to find a way to grind out a result. On Sunday, Tottenham simply waved them through. They were wonderful to watch - particularly the build-up to Coutinho's goal that started and ended in Tottenham's half, featuring Simon Mignolet and Martin Skrtel - but they were allowed to be wonderful.
Manuel Pellegrini and Jose Mourinho might well have switched off their televisions at 4.04pm, thankful that they will each have an opportunity to put obstacles in the way of Liverpool's march to the title. On the evidence of Sunday, they really cannot leave that job to anyone else.