Bayern Munich coach Pep Guardiola takes blame for back-to-back Bundesliga defeats
Pep Guardiola hinted his heavy rotation policy could be to blame as Bayern Munich suffered back-to-back league defeats.
Last Updated: 13/04/14 11:38am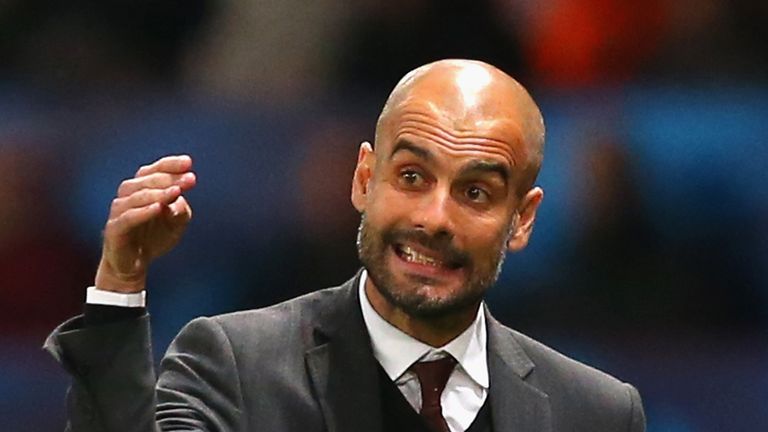 A 3-0 loss at home to Borussia Dortmund on Saturday will not affect the destiny of the Bundesliga title, which has already been wrapped up by Bayern, but it did show that the Bavarians are fallible after a 53-game unbeaten streak was ended by Augsburg a week ago.
Guardiola said keeping his side motivated for important DFB-Pokal and Champions League semi-finals is now his biggest challenge.
"It happened to me in Barcelona too that, after we had clinched the league title, we really struggled to raise our game again," he told Sky Sport.
"The aim as coach now is to build the team up again. Maybe I made a mistake.
"Maybe it was a mistake not just to carry on as we were, but I don't want to make rotation out to be an excuse."
Guardiola fielded his strongest team against Dortmund on Saturday, but he had rested key players in a recent 3-3 draw with Hoffenheim and 1-0 defeat to Bayern.
He is now unlikely to make any unforced changes to his starting XI for the midweek cup semi-final with second-division Kaiserslautern as he looks to regain some momentum ahead of the Champions League semi-final clash with Real Madrid the following week.
"I think the problem is we've already won the Bundesliga and we've just dropped off," he said.
"We've got to see things the way they are."
Goalkeeper Manuel Neuer added: "We've got to say we beat Dortmund 3-0 in the game where it mattered, so now they've just evened things up.
"I think our priorities lie elsewhere now, but we still cannot ignore the Bundesliga. We would have preferred to have a different result, and a different performance from us."