Embarrassment for David Moyes as Everton show the Manchester United boss how they have moved on
Defeat at Goodison Park to demonstrate just how far Manchester United have slumped, and an opponent crowing about their new man in town. Daniel Storey argues that the 2-0 loss to former club Everton may be the most damning yet for David Moyes...
Last Updated: 20/04/14 7:18pm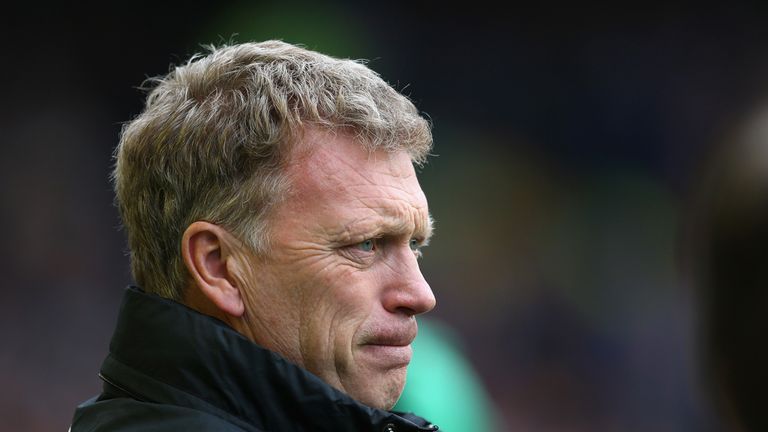 "Are you watching David Moyes?" was the cry from the Goodison Park faithful after Everton had scored their second goal.
Through his hands and with grimaced face, the United manager had little choice - it was a defeat that will be etched into his memory perhaps more than any of the other 14 in what has been a truly rotten campaign.
They say that absence makes the heart grow fonder, but nowhere is such a phrase less evident than in the blue half of Liverpool. You are less likely to sob over the departure of your spouse if you immediately meet someone else who seems more exciting and makes you feel happier - Roberto Martinez has been a wonderful new partner for Everton supporters.
David Moyes was roundly booed when he emerged from the Goodison tunnel for the first time since May, an occasion on which he had received a standing ovation and adulation from the home crowd. Moyes left Everton a hero and returned a foe.
Whilst much of that shift in treatment clearly refers to his demeanour and actions in his pursuit of Leighton Baines and Marouane Fellaini for cut-price fees, there is also a sense that the impressive Martinez has opened the eyes of Everton supporters - almost a "look what you could have won" from last season to this. This was their first league double over United in 44 years.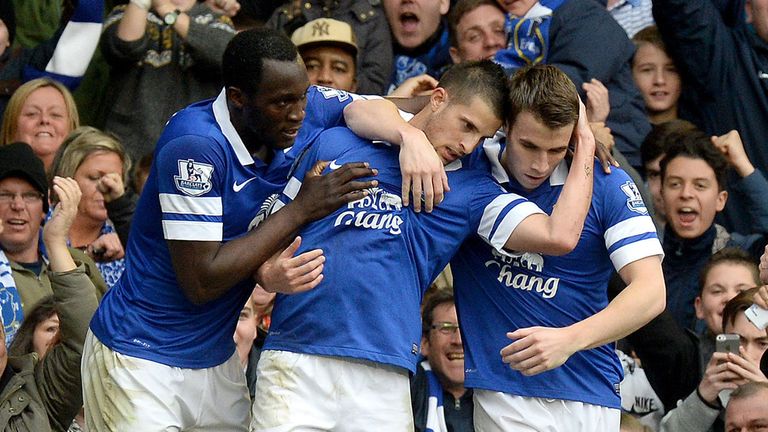 The Manchester United manager himself rather hit the nail on the head during his pre-match interview. "This is about two teams," Moyes said. "In Everton, one is challenging for the Champions League places." Yes, quite. Everton have now effected a 38-point swing on United from this season to last.
One of the principal excuses for United's obvious underachievement this season has been that, after just two transfer windows, this isn't yet his team, a reason that Gary Neville alluded to on commentary. "Wait until the end of August, at the end of his third window, and then we might be able to call it his team."
Whilst that may well contain a degree of truth, it's an explanation that looks ridiculous in comparison with Everton. In just nine months Martinez has made changes not just in personnel but also markedly altered Everton's shape, style and ethos. Under Moyes, Everton were the best of the Premier League's 'rest', but the Spaniard has provided evidence that it is foolish to place such a glass ceiling on potential achievement.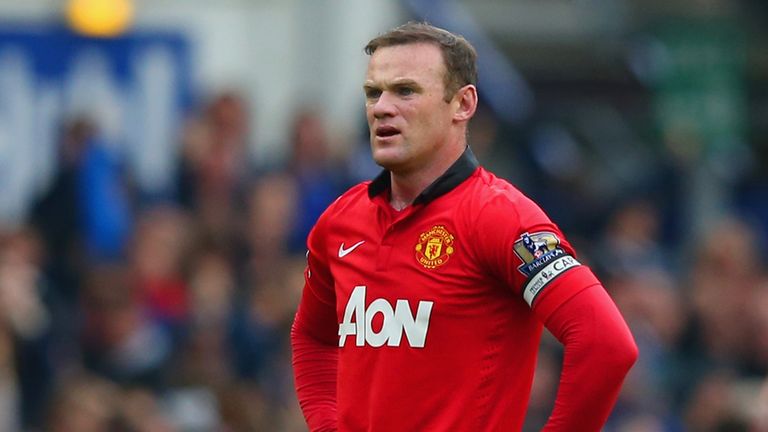 This was also a poor day for United's other high-profile return. Not £27.5million Marouane Fellaini as he failed to make it off the bench, but Wayne Rooney. There were some neat interchanges of play between Shinji Kagawa and Juan Mata in the final third, but these were utterly incongruous with the too-often careless first touches of Rooney, captain for the day in the absence of Nemanja Vidic and Patrice Evra. Such sloppiness contributed to United having just two shots on target all match.
Rooney was often excluded from United's first team when facing his old club under Alex Ferguson, and demonstrated exactly why. It was one of those days when the England striker does an awful lot of running but provides very little in the way of end product.
No United player had a lower pass completion rate than Rooney's 75.9 per cent, and he failed to have a single shot or create a chance during the first half. When presented with an opening in the early in the second period, Rooney dallied and allowed Antolin Alcaraz to slide in and thwart the danger, and Tim Howard should have been given little chance to save a late opportunity. A reminder that this is the Premier League's highest-paid player.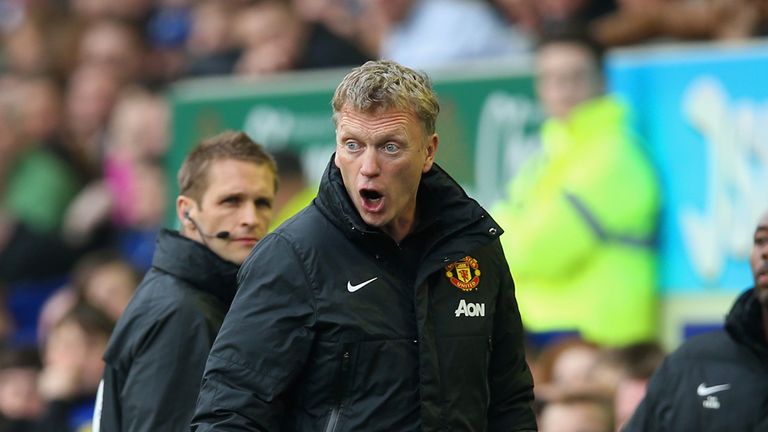 With both Vidic and Evra also likely to be absence from Moyes' side next season, it showed just how much rebuilding work the manager has to do over the summer. That this will conceivably be United's first-choice defence come June must be frightening for supporters. Phil Jones foolishly handled in the box and Seamus Coleman ran Alexander Buttner ragged all game. Chris Smalling has largely failed to improve in the last two years, Jones is still a player whose first-choice position is not totally clear (and that is concerning given that he's now 22) and Buttner is... well he's the fourth-best left back in the Netherlands, isn't he?
It was a day that started with Moyes looking foolish, claiming that United still had an "outside chance" of making the top four in his television interview before the game despite being 13 points (and three clubs) behind with just five games remaining. It ended with him having managed to find yet another low in a season of troughs.
Those hopes are now mathematically extinguished, and Moyes' tenure as Manchester United manager has surely been plunged into further doubt. Despite the inefficiencies and flaws of his squad, Moyes' job is to get the most out of the players. Defeat to his old club Everton provides yet further evidence that he is falling spectacularly short of doing so.
A version of this article originally appeared on Football365