Eden Hazard questions Jose Mourinho tactics as Chelsea exit Champions League to Atletico Madrid
Eden Hazard has questioned Jose Mourinho's tactics after Chelsea went out of the Champions League to Atletico Madrid.
Last Updated: 01/05/14 10:41pm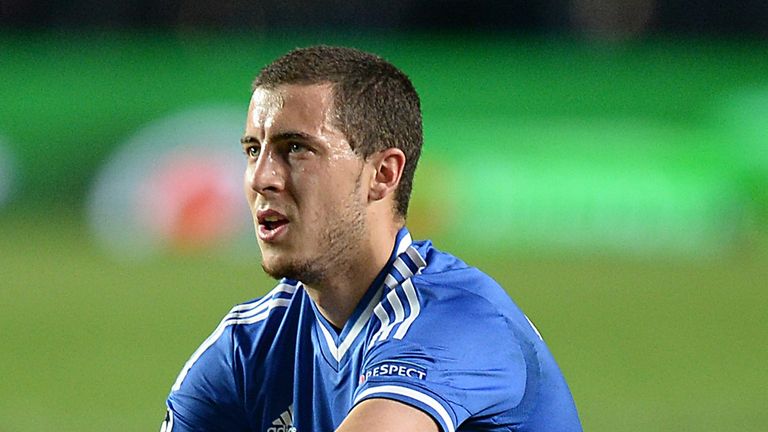 The Blues were criticised for defensive methods employed in the semi-final first leg in Madrid and in the Premier League win at Liverpool before tumbling out of Europe after a 3-1 home loss at Stamford Bridge.
"Chelsea aren't set up to play football," Belgian Hazard told beIN SPORTS' French station.
"Chelsea are set up to counter-attack - a little bit like Real against Bayern.
'I don't know what we lacked. After scoring, we had the game in our hands. Maybe they wanted it more than we did."
It was a view shared by Sky Sports' Jamie Carragher who added: "This Chelsea team at the moment does not have enough creativity to open teams up.
"Think of the attacking talent at Chelsea. But they've scored two goals in six Champions League semi-finals."
Carragher was also critical of Mourinho's substitutions after the Portuguese brought on Samuel Eto'o early in the second half with Chelsea looking for a goal to take them through. Instead the veteran striker conceded a crucial penalty which Diego Costa converted.
"I just thought it was a little bit early to go two up front," said Carragher. "It had been a tight game but as soon as they went two up front it started to open up.
"I just thought it was a little bit early and that Mourinho had patience in these big games. They only needed one goal and it was important not to concede another."
Fellow pundit Gary Neville added. "He's usually the king. He's renowned for waiting.
"I thought Chelsea would wait, probably until 10 minutes to go with five minutes of extra time there. Be at 1-1 and then think that in that little period they could build some pressure, keep the crowd up into the last part of the game. It was taken away from them in that 15 minute period after the substitution."
Unless there is a twist in the Premier League title race, Mourinho is poised to finish without a trophy for a second successive season.
Assessing his first campaign back at Stamford Bridge ahead of the closing Premier League matches, Mourinho said he clung to a dream which disappeared.
"We are realistic, but at the same time we are optimistic," he said.
"When things go in a certain direction, there is a moment where you dream and you think that things are possible, even if things are not.
"And because we did well in the Champions League and in the Premier League, there was a moment where we felt we could do it.
"In the Premier League it was the match against Aston Villa that made me believe that we had no chance to be champions.
"In the Champions League, it's the same. We knew that teams had more potential than us and were more ready than us to win the competition, but because you go step by step and beat Paris St Germain after a 3-1 defeat, you build your dream.
"And today, I think it was proved that we had our chances. Until minute 61 we were completely in the game. And 2-1 for Chelsea, or 2-1 for Atletico.
"That moment was crucial and, from that moment, the game was over. In one minute, two actions decided the game.
"Atletico's goalkeeper (Thibaut Courtois - on loan from Chelsea) makes an impossible save from John Terry's header and instead of 2-1 to Chelsea, a few seconds later a penalty. The save is amazing and the penalty is a penalty.
"After that, there was only one team on the pitch. We had immediately the feeling the game was lost."
Defender David Luiz also felt incidents early in the second half were crucial and said. "They scored when they needed to score. "We controlled the game for the first 40 minutes and then we conceded a goal at the end of the first-half and they were able to counter attack and they dictated the game.
"In the second half, they scored the second goal and then we headed the ball against the post. If it is 2-2, it is a different game and we are back in it but then they scored the third goal and that is it."
The on-loan Courtois had an impressive night for Atletico - cementing his reputation as one of the world's best young goalkeepers - and Mark Schwarzer believes he could provide some tough competition for Petr Cech next season.
"I thought he was outstanding," Schwarzer said. "He had a great game tonight. If we'd been a bit lucky and he'd been a bit unlucky we could have got back in the game and there could have been a few more nervy moments towards the end for them. It wasn't the case.
"They are both world class goalkeepers and I wouldn't say that they are at different ends of their careers because Petr still has a long way to go with his career."