Transfer news: Liverpool striker Luis Suarez pledges future to Premier League club
Luis Suarez has insisted "nothing is going to happen" regarding a transfer away from Liverpool this summer.
Last Updated: 02/05/14 9:44am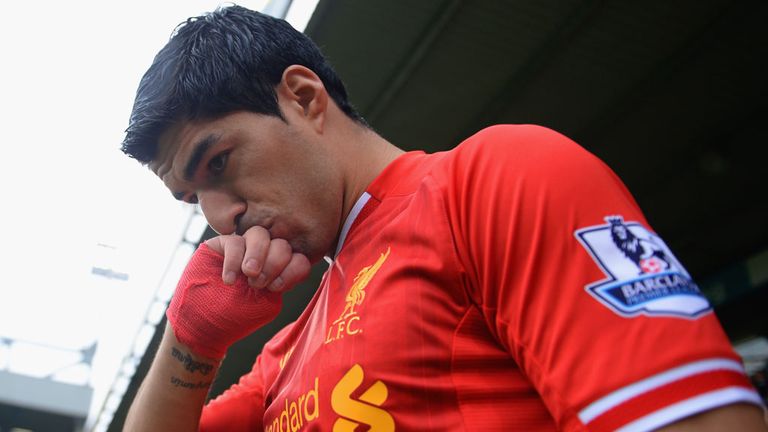 The 27-year-old Uruguay international, who was strongly linked with a move away from Anfield last summer after the Reds missed out on the UEFA Champions League, has been in stunning form this season.
Liverpool currently lead the Premier League with two games remaining and are already guaranteed a place in next season's premier European competition.
Speaking to Uruguayan TV channel Canal 10, the new PFA Player of the Year said: "Don't worry, nothing is going to happen to me. I'm very happy here and my family is happy here.
"If we could win the Premier League and bring the trophy home it would be incredible, a dream come true."
But Suarez, a reported summer target for Real Madrid after scoring 30 goals in 35 matches this season, admits he is struggling to get over last week's 2-0 home defeat to Chelsea which took the destination of the title out of Liverpool's hands.
"I'm still upset about that," he said. "It was so frustrating. We just couldn't find spaces, made a mistake at it was hard to deal with.
"We knew the game was going to be hard and tight. We all got nervous and lost control.
"We are hoping Manchester City lose some points but in the Premier League you never know, anything is possible.
"Now we have to win the next two games and it is not going to be easy."
One man central to that title challenge is goalkeeper Simon Mignolet and boss Brendan Rodgers has praised the Belgian's contribution after taking over as nuber one from Pepe Reina.
"I've been delighted with Simon since he has come in," he told the Liverpool Echo
"I think he's an outstanding goalkeeper who is only going to get better and better.
"He has come into a huge club and replaced a legendary figure at the club in Pepe Reina. That was always going to take a bit of time.
"But over the course of the season he has made a big contribution. I don't forget the significance of some of the saves he has made.
"Simon hasn't ever cost us a game but he has certainly gained us points. He's an excellent goalkeeper."
Mignolet did come under question during Liverpool's 3-2 win at Norwich as Gary Hooper pulled one back for the hosts, but Rodgers refused to lay the blame on him.
"That happened at a time when as a team we were a wee bit too deep at Norwich," he said.
"At times we looked to protect our lead too much and that didn't help Simon.
"We need to make sure we clear the space in order for him to come and make those punches and those catches that he can make.
"His form has been very good and he has consistently made really crucial saves for us."
Watch Liverpool take on Crystal Palace live from Selhurst Park next Monday from 7.00pm on Sky Sports 1