World Cup: Ashley Cole retires from international football after England squad snub
Ashley Cole has retired from international football after being told he would not be in England's World Cup squad.
Last Updated: 12/05/14 9:51am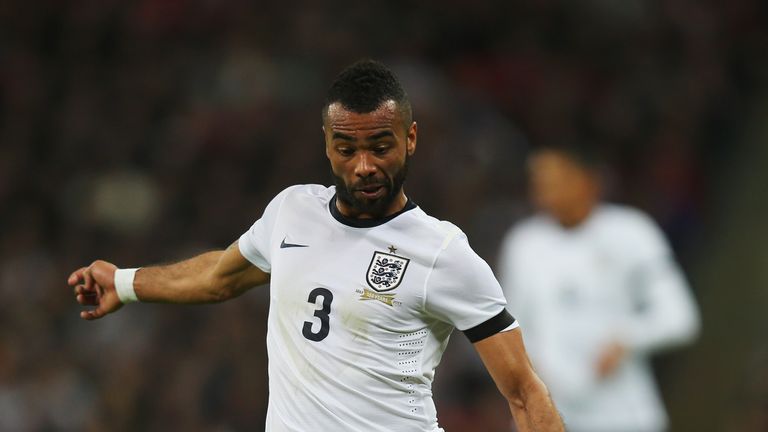 Chelsea left-back Cole, 33, has struggled for playing time with his club this season, with Spaniard Cesar Azpilicueta having been preferred by Jose Mourinho.
Although he has been involved more towards the end of the campaign, Cole has been supplanted by Everton's Leighton Baines and, most likely, Southampton teenager Luke Shaw.
The decision brings an end to a lengthy international career for Cole, who made his England debut against Albania in 2001 and has won 107 caps since.
Cole, who is out of contract this summer as well, wrote on his Twitter feed: "I got the call from Roy and agree England team should be about the young players. I think it best I retire from England team now.
"We have a great manager and team and I wish them only success. I will be supporting them like a true fan. Thanks to everyone for everything.
"Baines and Shaw are great players, proved this season, and are the future of this country, it was a pleasure to get 107 caps."
Roy Hodgson responded to Cole's announcement by telling the FA's website: "Among many difficult decisions I have had to make for my squad, not selecting Ashley was one of the hardest.
"To amass more than a century of caps was a staggering achievement and he deserves enormous credit for the desire and brilliance that has shone through over the years he has represented his country.
"Of course I must respect his decision to retire. He has been one of England's finest players but I want to look to the future. It has been one of the hardest decisions of my career."
Hodgson continued: "The most important factor was speaking to Ashley prior to the announcement on Monday, he deserved to hear it directly from me and he took the news with huge grace.
"In two years working with him he has shown nothing but relentless professionalism, and a great hunger to play for England. He is someone I have the utmost respect for and I wished him all the best, he in turn wished the team well this summer."
Walker
Cole's confirmed omission meant he was the second full-back to be told he was not going as Sky Sports sources confirmed Tottenham right-back Kyle Walker would not be going either.
Walker has been struggling with a pelvic injury and with Hodgson's medical staff fearing he will not be 100 per cent fit and deciding not to risk him, it could be Manchester United's Phil Jones - also under an injury cloud - heading to Brazil as a back-up to likely starter Glen Johnson.
Cole's omission suggests Hodgson is happy to take a youthful squad to Brazil and could mean a call for Everton midfielder Ross Barkley, who enjoyed a productive end to the season.
Liverpool winger Raheem Sterling and midfielder Jordan Henderson, Arsenal forward Alex Oxlade-Chamberlain and Southampton winger Adam Lallana - all lacking international experience - are also in contention for the 23-man squad.
The young players chosen will gain experience looking ahead to Euro 2016 - a tournament where England stand a much better chance of doing well - but Hodgson has warned they will be expected to make an impact at the World Cup too.
"Euro 2016 is in the back of my mind, but not in the forefront," he said.
"If there are young players in the squad it will be because they can do a job now.
"It will then be a bonus in 2016 as they will be experienced and hopefully that will serve us in good stead, but I don't intend to put them in the squad because of 2016."
Watch live coverage of Roy Hodgson's England squad announcement on Sky Sports News on Monday from 2pm. You can also follow the announcement in our live Sky Sports Today blog