Transfer news: Manchester United should sign Toni Kroos, says Paul Scholes
Paul Scholes wants Man Utd to make Toni Kroos their top target, but has warned they need 'five or six' new players.
Last Updated: 22/05/14 11:59am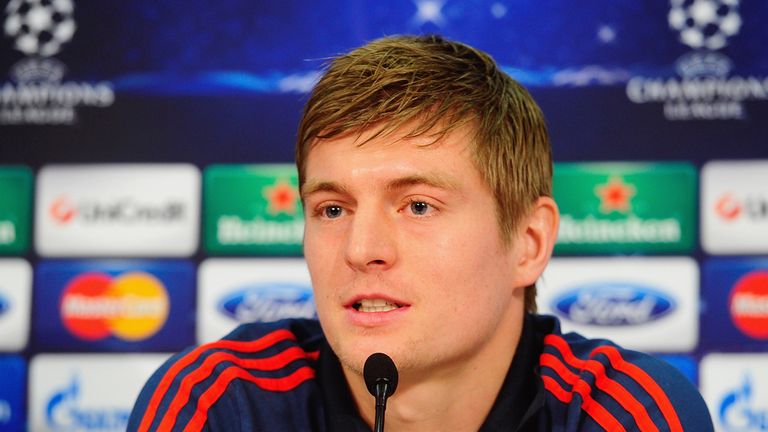 The Old Trafford outfit are reported to have agreed a £20million deal for the Bayern Munich midfielder while David Moyes was still at the helm, with new boss Louis van Gaal giving his approval for the move to go ahead.
Former United and England midfielder Scholes believes that the Germany international is just one of several players executive vice-chairman Ed Woodward needs to land if they are to return to challenging for honours.
The Red Devils endured a miserable campaign after Sir Alex Ferguson stepped aside with David Moyes being brought in for a brief an unsuccessful spell, eventually finishing the season seventh, 22 points adrift of champions Manchester City.
And Scholes feels that the coming campaign will be a measure of whether Woodward is the right man to identify and secure the players needed to restore United to their previous position.
"The first player I'd bring in is Toni Kroos," Scholes wrote in his blog for Paddy Power.
"He's a top-class central midfield player but United need five or six to get anywhere near the top of the Premier League again.
"No player at Manchester United can take much credit after last season's performances, bar David de Gea. It was a disaster. The keeper being player of the year says a lot.
"Edward Woodward has an awful lot to prove this time that he's good enough at his job. He has to bring the players in that the new manager wants.
"It's obvious that last year he didn't manage to do that. If he doesn't we are not going to get anywhere near the top."
And Scholes has admitted he does not expect to have a coaching role at Old Trafford next season.
Scholes returned last month to help out Giggs after his former team-mate was temporarily placed in charge following the departure of Moyes, with the Welshman now assistant under new boss Van Gaal.
"I've not spoken to Edward Woodward," Scholes added.
"I came back for Ryan Giggs for the last few games of last season to try to help out but I'm not waiting for a phone call and don't expect to be at United next season."
Scholes, who hung up his boots last year after playing over 700 games for the club, believes Moyes should not be held solely responsible for the problems last term.
"The players did not perform last season," added Scholes.
"The manager was a little negative with the teams he put out but I wasn't around the place in training until Ryan asked me back, so I can't judge properly.
"David Moyes took a lot of stick, but I believe he's a top manager. I'd question if 10 months was enough time."