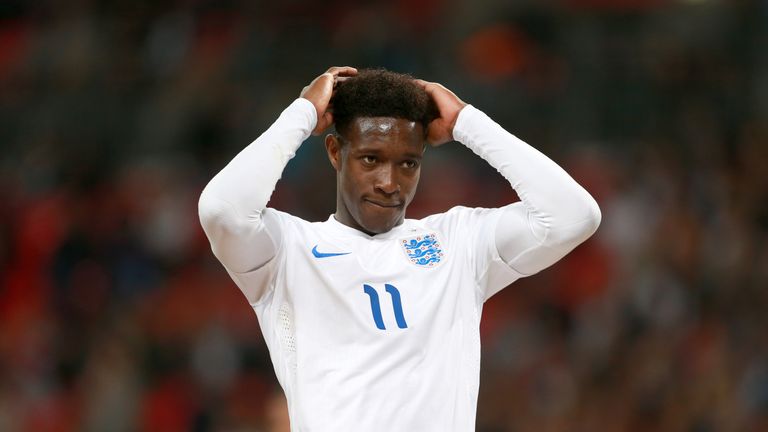 Danny Welbeck has emerged as an injury concern for England only three days before their World Cup opener against Italy.
The Manchester United forward trained on Tuesday with a strapping on his thigh and limped off before the end of the session at England's training base in Urca.
England are due to leave for Manaus, where the clash with Cesare Prandelli's men takes place, on Thursday.
If Welbeck misses that match it would mean a reshuffle of England's likely front four, with Raheem Sterling and Ross Barkley among those who could be considered by manager Roy Hodgson as a replacement.
Sterling was not involved in the 0-0 draw with Honduras in Miami on Saturday as he was serving a one-match ban for his sending-off against Ecuador.
Hodgson will almost certainly be without Arsenal winger Alex Oxlade-Chamberlain, who is more likely to be available for England's second match against Uruguay on June 19.
Oxlade-Chamberlain continued to train away from his team-mates on Tuesday, mainly running at a faster pace as he continues his recovery from a medial knee ligament injury.
"It looks very unlikely that we'll replace him," Hodgson said of Oxlade-Chamberlain. "I don't think that will be the case. I'm not a doctor I can't give you real up to date or detailed information about where it is.
"He has got a strained medial ligament - that we do know. But he is certainly working very hard and I don't think he could be further forward in terms of his progression than he is now."
Hodgson also confirmed there is no issue surrounding captain Steven Gerrard's fitness after he was restricted to light work during England's first training session in Brazil on Monday and was believed to be struggling with a groin problem.
"We did a training session yesterday where the players who didn't play on Saturday against Honduras trained, and some of the others did a warm-down session," he said.
"Steven did some extra work at the end of that training session. There's nothing wrong with him and I don't understand that story at all."
Hodgson, meanwhile, has insisted his young stars are 'not world-beaters yet' and called for calm as tension builds ahead of their opener against Italy.
"The emergence of youth is very exciting. We have a lot of potential, and we have excitement and belief in them," Hodgson said.
"But I must advise some sort of caution because these players haven't had much chance in an England shirt to show that their potential can be realised.
"Before we build people up too much and say how wonderful these young players are, let's see some very good performances in an England shirt first.
"We believe they can do it but let's calm ourselves down a little bit before we say we've got world beaters in our squad – to be a world beater you've got to go out with your international shirt on and play very well.
"I'm trying not to play down the fact that the future looks bright but, saying that, in this World Cup we are also going to need our experienced players to help these youngsters along."