Sepp Blatter hits out at UEFA as he plots bid for further term as FIFA president
Last Updated: 12/06/14 8:33am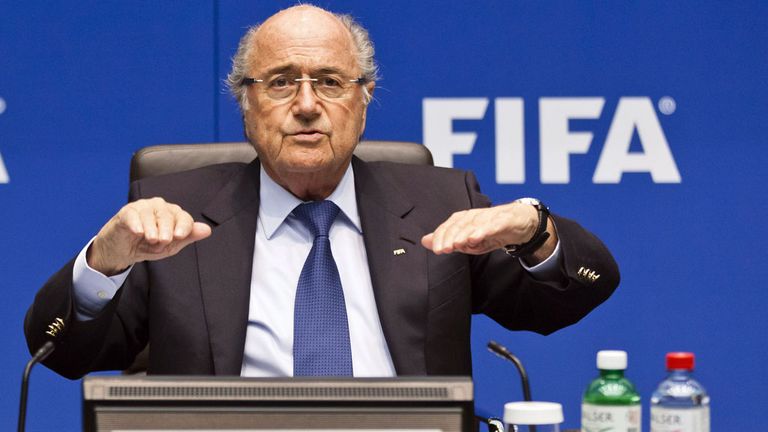 Sepp Blatter has hit back at attacks against him by Football Association chairman Greg Dyke and other European football officials as he sets out his plans to stand for a fifth term.
The subject of Blatter's future as FIFA president has been one of the main topics at the organisation's congress in Brazil, being hosted in the run-up to the kick-off of the 2014 World Cup later on Thursday.
Dyke told the 78-year-old at a meeting of UEFA countries on Tuesday that his claim racism was behind World Cup corruption allegations in the British media was 'offensive and totally unacceptable'.
And Dutch FA president Michael van Praag was blunt in his criticism of Blatter, suggesting in no uncertain terms he should not be seeking election for a fifth term at the head of football's governing body.
After the conclusion of the FIFA Congress, Blatter said: "I have had to accept a number of blows, but what I saw and heard at the UEFA meeting was the most disrespectful thing I have experienced in my entire life, on the football pitch and in my home."
Those comments came after Blatter had been given the green light to stand for a fifth term when FIFA delegates rejected a proposal to bring in term and age limits for the position of president.
The decision to reject the changes, proposed by UEFA and a number of European federations including the FA, leaves the way open for the Swiss to stay in office, Blatter making it clear he was planning to stand even though the official candidacy process has not begun.
Blatter added: "The candidature period is not yet open, so no-one can be a candidate. I know that my mandate will finish next year on June 29 in Zurich - but my mission is not finished.
"And I tell you, together we will build the new FIFA. We have the foundations today. Congress will decide who will take this great institution forward.
"It's a tough decision but I can tell you I am ready to accompany you for the game, for the world - but it is your decision."