World Cup: Tim Cahill looking for Australia to learn from Chile defeat
Last Updated: 14/06/14 10:51am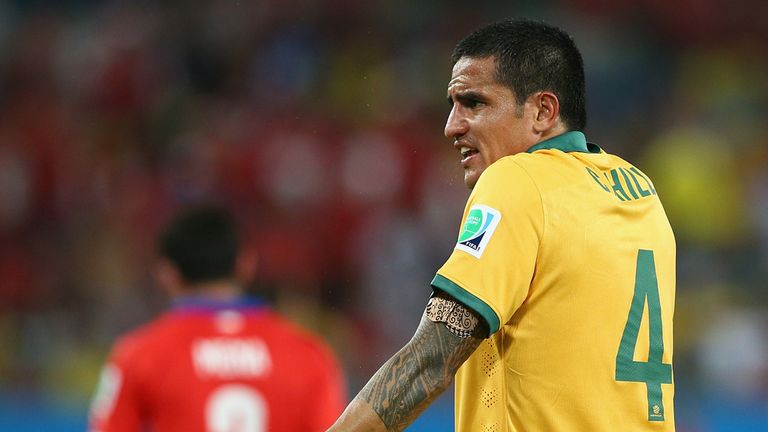 Tim Cahill believes there are important lessons for a youthful Australia squad to take from their 3-1 defeat to Chile.
The Socceroos were made to pay for a slow start in their World Cup opener, with early goals from Alexis Sanchez and Jorge Valdivia leaving them with a mountain to climb.
Australia grew into the game, though, and saw Cahill offer them a lifeline 10 minutes before half-time.
Chances to draw level came and went in the second half, allowing Jean Beausejour to wrap up the points for Chile late on.
Experienced forward Cahill told ITV when asked for his take on a keenly-fought contest: "It is all about defining moments. This is a stage to do it. When you are called upon, you have to show up.
"At the start, we showed a bit of fear, and then when we stepped up and started getting in their faces and rolling them a little bit. When they showed a bit of aggression, we have to show it back. We did that.
"We will learn from this and we will go into the next game (against Holland on Wednesday) very positive. We believe in our football, we believe in our structure.
"Last week they were questioning whether we could create chances. Tonight we created quite a lot."
Cahill thought he had levelled matters shortly after the re-start, but saw a second effort ruled out by an assistant referee's flag.
He added: "I don't know if it was a disallowed goal or not, but not a lot went our way tonight.
"They got in twice and punished us, but really after that you could see their legs were going.
"We knew we could get something from this game and, when you concede like that at the end, it is disappointing. But, overall, for a team performance, we really stood up strong and it is just unfortunate."
Coach Ange Postecoglou said: "I'm very disappointed, I thought we could get something out of this game.
"But Chile began strongly, their two goals made life difficult. For much of the second half we were on top."