World Cup: Spain boss Vicente del Bosque ponders changes after Netherlands loss
Last Updated: 15/06/14 8:35pm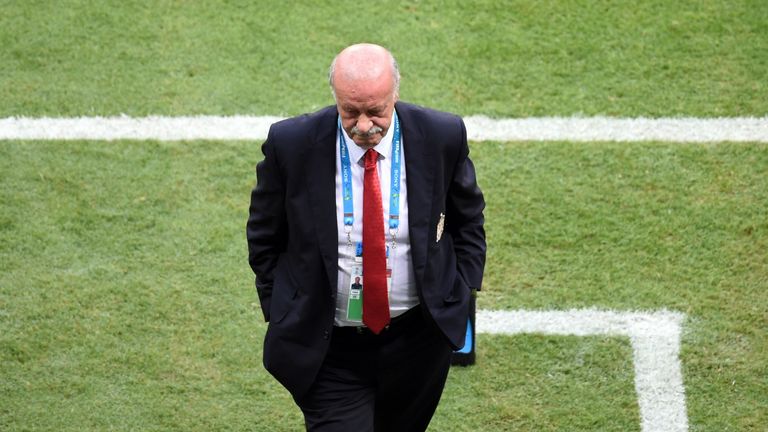 Vicente del Bosque has admitted there may be some changes to the Spain team to face Chile following their thrashing by the Netherlands.
The defending World Cup champions were crushed 5-1 in their opening Group B game to put their chances of qualifying for the next stage in doubt.
Del Bosque has now taken the time to study that defeat and admits he may switch some players around, although he refused to play the blame game.
"There may be some changes," Del Bosque said. "However, we don't want to rush into things.
"If I made a change, it wouldn't be to point the finger at someone.
"This is a short tournament and we would look to find the best solution."
Del Bosque is reluctant, however, to replace goalkeeper Iker Casillas despite his woeful display against the Dutch, which the national team captain described as the worst game of his career.
"As always Casillas has given proof of his captaincy and his commitment to the national team," Del Bosque said.
"I remember when I came back to the changing room after the press conference, he was talking to his team-mates, acting as a captain."
Spain have faced criticism for bringing some players that were in the World Cup-winning side of 2010, with many not having been in top form in the 2013-14 campaign.
There may be some changes. However, we don't want to rush into things.
Vicente del Bosque
Three Barcelona players in particular have been called into question: Gerard Pique, Xavi and Jordi Alba.
However, Del Bosque insists that everyone who has travelled to Brazil deserved to do so.
"We have brought 16 of our 23 players that are world champions," he said. "They have taken part in qualifying and have reached the semi-finals of the Champions League and done well in La Liga.
"We have brought them because we are convinced that they are the best, even if others may have a different opinion.
"We do have seven new players."
Del Bosque admits the loss will serve as a harsh lesson to his side, but he has stressed the need to look forward.
"We knew Holland were going to be a permanent danger and we weren't able to stop them," Del Bosque said.
"We are badly accustomed to always having the result in our favour. We have to be prepared to face adversity but it's not easy. Against Holland we got a painful punishment.
"We are sportsmen and we have no choice but to lift ourselves up. We have to fight in the next game which is our aim. We need to accept defeat with patience and tranquillity.
"This is what I've tried to transmit to the team."