Gary Neville: England happy with Wayne Rooney contribution at World Cup
Last Updated: 17/06/14 11:08pm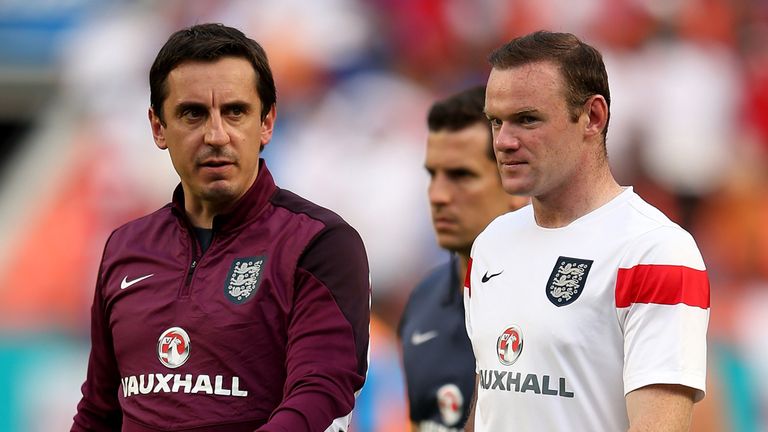 The England management are more than happy with Wayne Rooney's contribution at the World Cup so far, insists Gary Neville.
Rooney came under fire from some quarters for a sub-par performance in Saturday's 2-1 defeat against Italy.
The Manchester United striker set up Daniel Sturridge for England's equaliser, but he missed two good chances in the second half of the defeat in Manaus.
Neville, a former team-mate of Rooney, claims the England hierarchy have had no complaints about the 28-year-old, who he believes is still an important part of the national side.
My opinion is that Wayne Rooney, after seeing him every day in training, is a very important player.
Gary Neville
"My opinion is that Wayne Rooney, after seeing him every day in training, is a very important player," said Neville, now an England coach.
"He is our top goalscorer under (manager) Roy (Hodgson), he is our main assist man and probably but for a yard he would have been man of the match if he had scored that goal (against Italy).
"We came off the pitch the other night and had our coaching debrief with Roy, Ray (Lewington), Dave (Watson) and myself and there was no other suggestion that Wayne Rooney had played pretty well for us in that game, that he had done everything we asked for."
PICK ENGLAND TEAM
Here is your chance to be Roy Hodgson and choose your starting XI to face Uruguay. Click HERE to pick your England side.
Paul Scholes, a former team-mate of Rooney and Neville, sparked controversy when he suggested the England striker may be past his best.
Neville refused to get drawn into a row with the former United and England midfielder.
"Paul is a great friend of mine but I am coaching Wayne Rooney, I am of the opinion that when you get to a player like Wayne Rooney, you have to cope with everything that is thrown your way," Sky Sports pundit Neville added.
"It wasn't just Paul Scholes talking about Wayne Rooney. The fact of the matter is that it is one man's opinion, it's Paul's opinion and everyone else will have their opinion."
Neville concurred with Hodgson's assertion that the nation has an "obsession" with Rooney who stayed behind for extra shooting practice after England's latest training session.
"You can call it a debate or an obsession (about Rooney)," he added.
"I don't think either are wrong because every time I have been part of a tournament I have seen this with a player, whether it be (Paul) Gascoigne, (Michael) Owen, (David) Beckham or Rooney.
"We love it. The whole country loves creating a drama around one player."
Neville's fellow Sky Sports pundit Jamie Carragher believes Rooney and Raheem Sterling should swap positions for the Uruguay encounter.
Speaking on Sky Sports World Cup podcast, Carragher suggested Sterling's pace would prove key down the flank against a Uruguay squad one defender short after Maxi Pereira was sent off late on in their defeat to Costa Rica, while he thinks Rooney will suit a role through the middle.
"I would put him Rooney at number 10 [on Thursday]," he added. "The only reason I wouldn't have played him there against Italy was because of Pirlo – I think he would have spent most of his time worrying about him rather than getting into the box and causing problems.
"I don't think Uruguay have that type of player in midfield – they're more protective of their back four. I think they'll be more worried about Rooney than he will be of them.
"People say 'why should Sterling move' but I think the fact that Pereira got sent off means their back-up full-back will come in.
"I think these wide areas are where we need pace, so I'd put Raheem out wide and move Wayne back central."