World Cup: Adam Lallana accepts defeat is not an option in England's clash with Uruguay
Last Updated: 27/06/14 12:01pm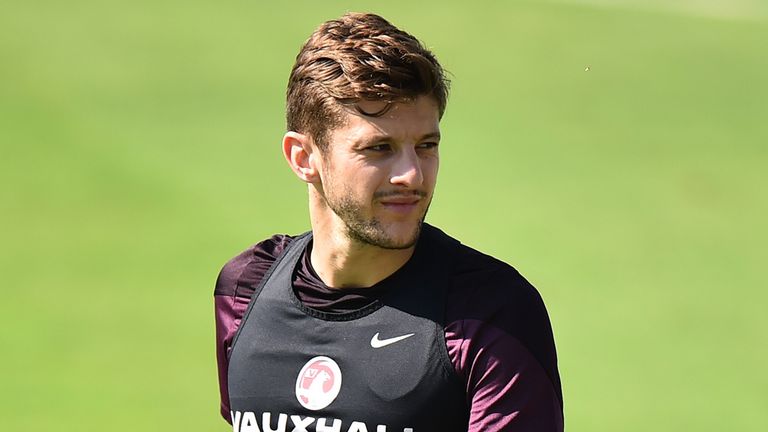 Adam Lallana admits England are facing an 'all-or-nothing' World Cup clash against Uruguay.
Roy Hodgson's side are searching for their first point in Group D after suffering a frustrating 2-1 defeat to Italy in their opening match on Saturday.
There were plenty of positives to take from England's spirited display, but they badly need a result against Uruguay, who also are desperately seeking points following a shock 3-1 loss against Costa Rica.
Lallana insists England remain confident over qualification as they prepare for a match which is likely to decide their fate in Brazil.
"It's massive for us," said the mdifielder. "We have to go all-out, but we know we need the win and we're confident.
"There were signs the other night that we're close and the lads know that it's all-or-nothing really. We've got great confidence in the camp and I'm certainly confident that we're going to get the win.
"We knew from the start that we'd be in a tough group and the Uruguayans are a tough team, but we're a strong team and we've got a great group of players. With just a few tweaks we can get this result."
Hodgson is expected to make slight positional changes for the Sao Paulo encounter, with speculation that Wayne Rooney will return to his favoured number 10 role, while Danny Welbeck and Raheem Sterling could occupy wide positions.
One of these days we're going to put three or four past a top team.
Adam Lallana
Defensive shortcomings were exposed by Italy last weekend and Lallana expects the team to be more resolute against the South Americans.
"Roy's had a day with the whole squad, working on a few things that he wanted to get across to the group, but as I said there were positive signs," said Lallana, who is likely to start from the bench again.
"We know we need to improve on the result, definitely, and on the performance if we can. If our performance is up there like it was the other night - and if we maybe work defensively on a couple of issues - then we're certainly confident of getting the three points."
In-form Daniel Sturridge should complete England's quintet after supplying a calmly taken equaliser and with such a forward, Lallana believes his teammates are only small margins away from their opening win.
EA Sports Competition
Win EA Sports 2014 FIFA World Cup Brazil PS3 games signed by Adam Lallana Enter now
"People have been talking about our creative play but I think it's maybe about that final pass, final cross or final finish," said the Southampton captain. "You can see that it's there but it's just about getting it over the line.
"One of these days, we're going to put three or four past a top team. I see it in training, I see it in games, we just need that rub of the green and extra bit of confidence and then I think we will get that result."