World Cup: Steven Gerrard admits England now 'clutching at straws' after Uruguay defeat
Last Updated: 20/06/14 7:08pm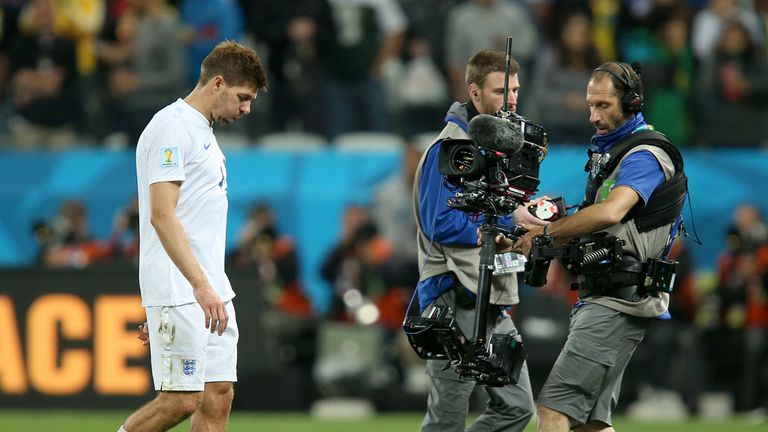 Steven Gerrard admits England now find themselves 'clutching at straws' to avoid a World Cup group stage exit.
Gerrard's Liverpool team-mate Luis Suarez scored twice to condemn England to a second successive 2-1 defeat and they could be eliminated from the tournament as early as on Friday night if Italy fail to beat Costa Rica.
The Azzurri beat England on Saturday night but while Gerrard has first-hand knowledge of their powers, he concedes relying on them to win their next two games is not the position in which the national side wanted to be.
"Italy are a fantastic team and capable of winning both games but we're clutching at straws," the Three Lions captain said.
"The position we're in is the position we didn't want to be in coming into the tournament, relying on other people's results. It's very difficult at the moment.
"We'll have to wait and see what happens in tomorrow's fixture. The manager will have to wait and see what happens before deciding what he is going to do.
"If there's nothing to play for then I don't know if he'll play a completely different team. But it's a very tough moment, at this moment."
Even if Italy do beat Costa Rica, progression will still be out of England's hands because they would then need Uruguay to lose to the Italians and win their final game against Costa Rica.
Their failure to take something from the contest with Uruguay – Suarez scored the winner five minutes from full-time – was a result of their inability to 'manage the game'.
"It is frustrating," the skipper said. "We never managed the game well enough when we got the equaliser.
"We can't give chances to Luis Suarez because he buries them from that position.
"It's a really tough moment for everyone in the dressing room but we need to be professional, keep fighting and pray for that scoreline to go for us.
"(We are) sort of frustrated because looking at the two games and how we have performed we sort of deserve something out of either one of them if not both of them.
"I don't think I am standing here saying we were poor in both games and our gameplan was wrong.
"I just thought when we got the equaliser today we just needed to be a bit more clever, a bit more cute and a bit more difficult to beat.
"Maybe accept that going for a point might have been the best option. But they were weak at the back and they were there for the taking. Once we got the equaliser we tried to use the initiative to get the second."