World Cup: Midfielder Xabi Alonso admits Spain have reached the end of an era
Last Updated: 20/06/14 8:43am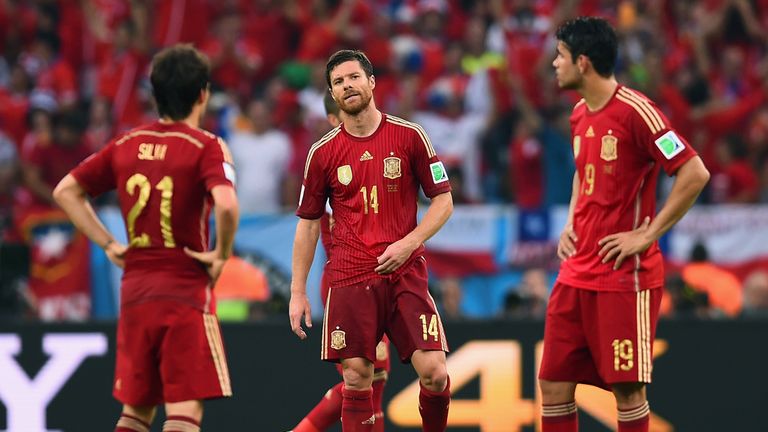 Xabi Alonso admits Spain's golden generation have reached the end of an era at the 2014 World Cup.
The reigning world and European champions are destined to leave Brazil at the group stage after suffering humbling defeats to the Netherlands and Chile – conceding seven goals and offering just one in reply.
Sweeping changes are now expected across the board.
Vicente del Bosque admits serious questions are going to be asked about his position, despite having overseen global glory in 2010 and secured a third straight major international honour at Euro 2012.
Senior stars such as Iker Casillas are also considering their future, and Real Madrid midfielder Alonso concedes that something needs to be done to return the 'ambition and hunger' to the Spanish ranks.
I don't know if this was my last game for Spain. We will see. This group did not deserve to go out like this.
Iker Casillas
He said after a 2-0 reversal against Chile: "Eras end with defeats and this was a painful defeat.
"Mentally we weren't ready. Physically, maybe the same is true. Putting that all together we weren't in the best shape. We haven't been able to maintain the same levels of conviction, of hunger.
"The success, the happiness before, is gone.
"We made a lot of mistakes. We lost a bit of that know-how and paid for it. We lost the solidity that helped us win so many games.
"We weren't able to maintain the same ambition and hunger, that real conviction that we were going to go for the title."
Alonso's club colleague Casillas, Spain's all-time leading appearance maker, added: "Today is not the day to start blaming and singling people out and saying whether to change or not to change.
"There are several of us who are over 30, the coach will make his decisions and we will respect them.
"I don't know if this was my last game for Spain. We will see. This group did not deserve to go out like this."