World Cup: Paulo Wanchope says Costa Rica players have Premier League chance
Last Updated: 26/08/14 2:53pm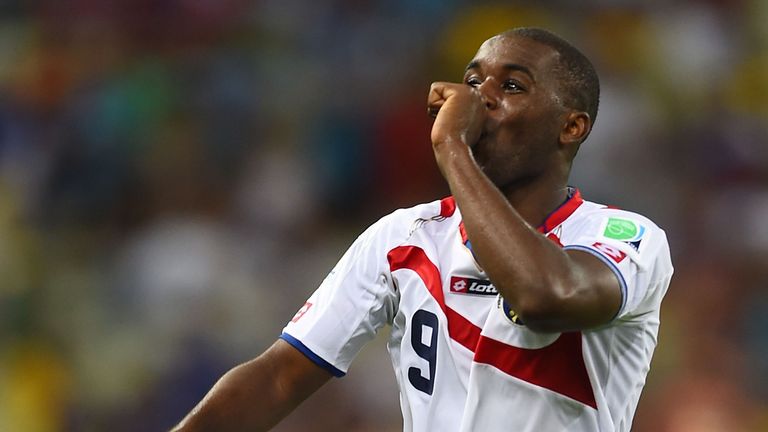 Joel Campbell is not thinking about his future at Arsenal but Paulo Wanchope says many of Costa Rica's players will see the World Cup match against England as a chance to audition for a Premier League move.
Costa Rica have already made an unexpected impact in Brazil, defying the odds to win their opening two group games against Uruguay and Italy and clinch a place in the last 16. 
They are determined to go further in the tournament but first have a clash with England to prepare for on Tuesday, and Campbell is savouring every moment of their success.
"We are not thinking about who we get in the last 16," he said. "It does not matter to us. We have been in a group with three champions of the world and we have shown that we can beat anyone.
"We always believed we could do this. Football is not decided by the shirt you are wearing. With work and effort, you can win against anyone. 
"We are very satisfied, very happy with what we have achieved but we will keep working to do more. 
"This is unforgettable. We are part of history. Nobody would have put a single dollar on this team qualifying but there you go. 
"It can change football in Costa Rica. These are the best days of my career."
Campbell is expected to head back to Arsenal for the start of the new season after spending the past three years out on loan at Lorient, Real Betis and then Olympiakos.
I know for sure that a few of the players will want to do well and end up in the Premier League.
Paulo Wanchope
The 21-year-old is keeping his focus firmly on Costa Rica though, saying: "I have two years left on my contract but I'm not thinking of Arsenal at all right now, just about my contract and this World Cup. I will have time to think about Arsenal in the future."
A number of Costa Rica players have shone in the first couple of games, particularly goalkeeper Keylor Navas and midfielder Christian Bolanos, and assistant boss Wanchope believes they will be in the shop window against England.
"I know for sure that a few of the players will want to do well and end up in the Premier League," said Wanchope, who spent eight years in English football with Derby County, West Ham United and Manchester City.
"I know that the players want to impress the world by getting three points against a team like England.
"Even though we are through and they are out, beating England would still mean a lot to our team because England have great players. 
"We know that we can go far at this World Cup. We have just beaten another world champion and we need to enjoy that and then, against England, we will definitely play to win because of all that it would mean."