Geraint Hughes
Sky Sports News
Argentina go wild: Great scenes in Belo Horizonte
Sky Sports News reporter Geraint Hughes was in Belo Horizonte to soak up Argentina's joy after their Iran triumph.
Last Updated: 22/06/14 4:53pm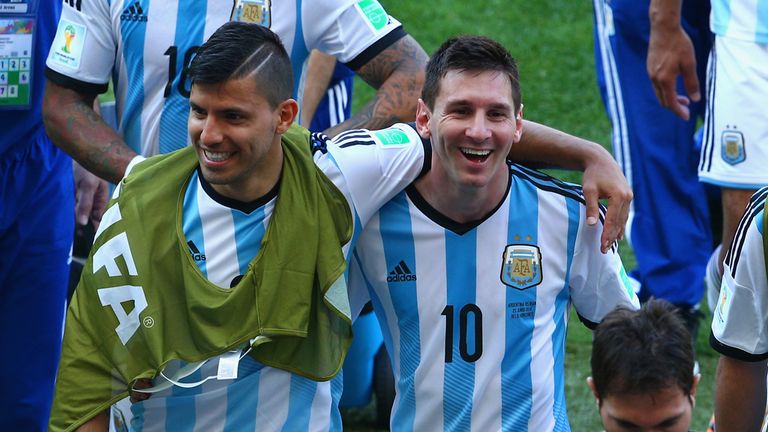 Argentina fans certainly know how to support their team, they certainly know how to celebrate a win.
After Lionel Messi's 91st minute winner against Iran, 25,000 Argentina supporters spilled out onto the streets of Belo Horizonte. 2,000 police officers were watching them and making sure everyone was safe and that there was no trouble.
It's the biggest police operation the city has ever undertaken, but as Major Gilmar Luciano of the Minas Gerais Military Police told me, it's something they have been preparing for a long time.
Brazilian police some months ago alerted British police after their Argentine colleagues passed on intelligence that some hooligan groups that have caused serious disruption at domestic matches in Argentina were intending to travel to Brazil. Belo Horizonte was always a concern as large numbers of Argentines would come here as flights are cheap and plentiful and as a quirk of fate would have it, Argentina's least favourite team - England - would play in the city just three days after Argentina played Iran. 
WORLD CUP WITH SKY
The World Cup is here and Sky Sports News will keep you bang up to date with all the stories and colour from Brazil. You can also follow all the action on skysports.com, our mobile and iPad apps as well as Sky Sports News Radio and our Twitter feeds. Click HERE to find out more.
With 25,000 Argentina fans in the city, it's fair to assume many thousands would remain here after the game, just as England supporters arrived to witness their final match at Brazil 2014 against Costa Rica on Tuesday. A potential flashpoint? Well initially yes, however a lot of work behind the scenes has been done to prevent known Argentine hooligans travelling to Brazil, just as British Police enforced 2,500 travel banning orders on English supporters who have caused trouble in the past.
No tears
Latest intelligence suggests there is no specific threat to English fans in Belo Horizonte and if any trouble was to flare up, the authorities are keeping 2,000 officers on duty throughout this period. The officers are visible, those in the front line are very much taking on a non-confrontational role, I was told and noticed that many police had dispensed with their usual firearms. Their side-holsters empty. Also much more engagement with supporters of any nationality, 12 months ago Brazilian military police didn't speak to any fans during the Confederations Cup let alone smile. A year later and with advice from several European forces, an outwardly happier military police force happy to talk to fans, happy to have their photos taken, in fact Major Gilmar gave me a hug after our interview! That has never happened to me before!
I managed to speak with some English fans who had tickets to see Argentina v Iran and asked them if they were concerned about being attacked or if they felt threatened. The reply was uniform from all three. No threat whatsoever, a bit of banter perhaps, but nothing aggressive.
Argentina fans when I asked them about England were in seventh heaven, "we're certainly not crying" said one while another admitted to having among his best friends English football followers,  "they are my friends, but am I sad for them? No!!!"
A lot of laughter followed. I asked did he feel England supporters should worry about Argentine hooligans? Certainly not came the reply.
Just in case though, Brazilian police are mounting a huge operation until England vs Costa Rica is over. British Police officers will also meet with their counterparts from Argentina as nothing in Belo Horizonte is being left to chance.