Ghana president flies $3m to Brazil to appease World Cup squad over bonus dispute
Last Updated: 26/06/14 12:12am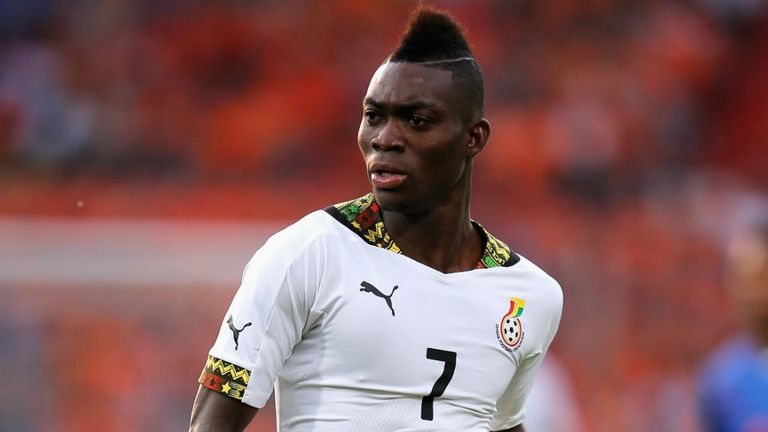 Ghana's president has flown up to $3million in cash out to Brazil to appease the World Cup squad who are disgruntled over a bonus payments dispute.
The cash was expected to arrive in Brazil on a plane on Wednesday as Ghana prepare for their decisive Group G game against Portugal on Thursday.
Ghana must win their final game - and hope Germany beat the United States heavily in the other group match - if they are to have any hope of progressing further in the World Cup.
Asked what the players will do with the cash - reportedly between $75,000 and $100,000 each - midfielder Christian Atsu said: "I think we will keep it in our bags and we'll just lock them. And we will transfer the money to our accounts."                  
President John Dramani Mahama was forced to intervene and "personally spoke to the players" to assure them they would receive the money, the Ghana Football Association said in a statement.
Atsu dismissed fears the team would boycott its final group game in Brasilia because of the dispute.
"We are not going to say we are not going to play because of the money," Atsu said. "We love our nation and we are going to play for our nation."
Ghana coach Kwesi Appiah said he had been having sleepless nights over the issue which came to a head on Tuesday when the players and team management had a meeting instead of conducting a training session.
"Every player ... knows it is his right," Appiah said.
"The management and the government are trying to sort it out and everything will be sorted out in two or three hours' time," he added.
"They should have received it before the start of the competition but it's being solved now and we are really focused on the game now."
Players aren't being paid by electronic transfer because "the practice in Ghana has always been paying the money in cash," Appiah said.
Appiah would not give an exact figure for the appearance fees owed to the players, saying: "I would be a bad person ... the players would kill me if I said."
Ghana's deputy sports minister Joseph Yammin confirmed that around $3 million would be flown over, but it wasn't clear how Ghana would be able to bring the money into Brazil without paying tax on it.
Brazilian officials said bringing in such an amount and not declaring it to authorities would be illegal and that the entire amount could be confiscated. Individuals cannot bring in more than $4,500 each without it being taxed, said Brazil's Federal Police.
Like other African countries at the World Cup, Ghana's government finances player bonuses with the money due to be reimbursed by some of the prize money - of at least $8 million - that FIFA guarantees each country, even if it is knocked out in the group stage.