World Cup: Switzerland coach Ottmar Hitzfeld calls time after Argentina defeat
Last Updated: 01/07/14 9:50pm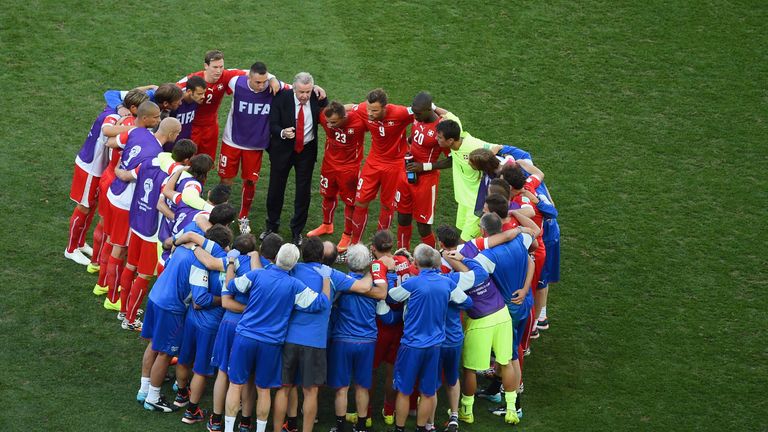 Switzerland coach Ottmar Hitzfeld confirmed that the last-gasp World Cup round of 16 defeat by Argentina was the final match of his managerial career.
The German, who bows out of the game with seven Bundesliga titles and two UEFA Champions League wins in his CV, said there was no way he would return to the dug-out.
Switzerland looked set to take the South American nation to a penalty shoot-out after stifling the efforts of Lionel Messi and co until Angel di Maria struck in the 118th minute in Sao Paulo.
"I will go on working for German TV, but my job as a coach has finished now," said the 65-year-old, whose brother died on the eve of the match.
We can walk tall and leave the World Cup with our heads held high.
Ottmar Hitzfeld
"I am proud of my career. I have been very fortunate to coach marvellous teams and it has been a great honour to work for Switzerland.
"I therefore am proud to say goodbye to the Switzerland team with a heart full of emotions.
"We can walk tall and leave the World Cup with our heads held high."
Hitzfeld compared Di Maria's last-gasp winner to his experience in the 1999 Champions League final when Manchester United scored two late goals to defeat his Bayern Munich side in Barcelona.
"This also happened in the Champions League final," said Hitzfeld, referring to goals from Teddy Sheringham and Ole Gunnar Solskjaer at the Nou Camp 15 years go.
"I had to go onto the pitch after to console the players after because they did something great for themselves, the team and entire country."