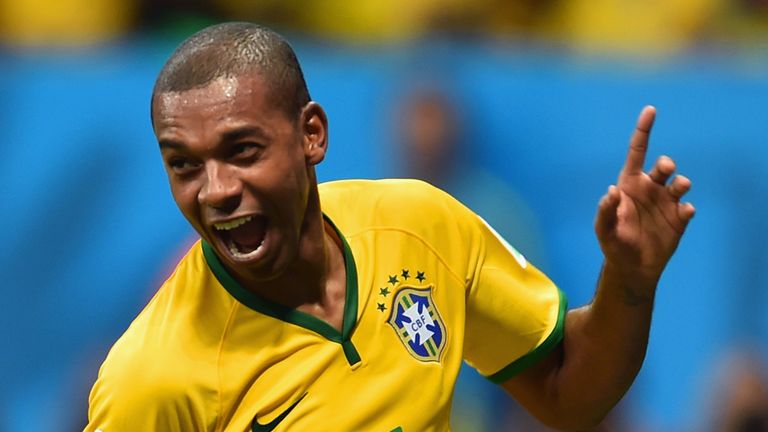 Fernandinho is wary of the threat James Rodriguez will pose against Brazil but is confident his side have the mental strength to see off Colombia and reach the World Cup semi-finals.
Rodriguez has been one of the stars of the tournament so far and scored twice in Colombia's 2-0 victory over Uruguay to take his goal tally to five in four games.
The 22-year-old playmaker, signed by Monaco from Porto for a reported £36million last summer, will be looking to carry his form into Friday's quarter-final against the hosts in Fortaleza.
Brazil midfielder Fernandinho has been aware of Rodriguez's potential for some time and is determined to keep him quiet.
"I played against him in the Champions League. It was at the start of his time in Europe and he wasn't yet a first-choice for Porto," said Fernandinho.
"Already in that game he showed his technical quality with his left foot."
Fernandinho added: "In this World Cup he is showing everyone that the money Monaco paid for him was well invested.
"The less space he gets against us, the better it will be for Brazil."
Brazil booked their spot in the last eight by getting the better of Chile on penalties, and Fernandinho insists they are tough enough to negotiate another difficult challenge.
He said: "We have been preparing ever since we first got together on May 26.
"We have worked on the psychological side and there is no need to do any of that now. What matters now is to show what we can do on the pitch.
"We have a very big responsibility representing a country of 200 million people who hope for happiness and better days through football.
"We still kept our concentration at the decisive moment when it came to penalties.
"Colombia is a little bit different to Chile. They like to play more on the attack and the left and right-backs like to help out in the attacking area."