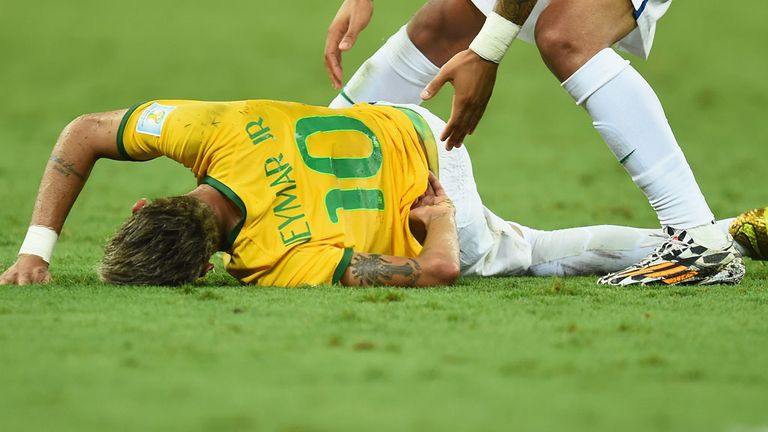 Neymar's World Cup heartbreak has given Brazil another reason to win a sixth title, according to his team-mates.
Politicians, sports stars, celebrities and even opponents offered their sympathy in the hours after it was confirmed a back injury would rule the World Cup's poster boy out of the rest of the tournament.
Brazil's team doctor confirmed Neymar suffered a fractured vertebra when Colombia's Juan Zuniga kneed him in the back during Friday's quarter-final win in Fortaleza.
And the social media tributes were led by striker Fred, who wrote: "We have one more reason to play with heart in this Cup.
"Neymar, rest assured that our group loves you and give life to win this title for you. You were and continue to be the ace and the soul of our team. The whole of Brazil is praying for you!"
Paulinho, Jo and Willian were among the other Brazil players to post messages of sympathy, while the country's president Dilma Roussef tweeted: "All our support to Neymar #ForcaNeymar".
And skipper Thiago Silva, who will miss the semi-final against Germany on Tuesday through suspension, added: "We have proposed to win the World Cup for Neymar because of the injury he suffered.
"This moment could mark the start of a revolution for us. He hopes and expects a lot from this group, and this could unite us, it could give us more determination to win."
Basketball superstar Lebron James and supermodel Gisele Bundchen also sent their support, and there were even sympathetic words from two Germany players.
Arsenal midfielder Mesut Ozil said: "Neymar, I am unhappy. Get well soon."
And Lukas Podolski said: "Happy with our victory today, can't wait to face Brazil, sad for Neymar. Hope you get better soon #ForcaNeymar."
The 22-year-old was in tears after taking a knee to the back from Zuniga, with Brazil doctor Rodrigo Lasmar confirming he has sustained a fractured vertebra.
"It's not serious in the sense that it doesn't need surgery, but he'll need to immobilise it to recover," Lasmar said. "Unfortunately, he's not going to be able to play."
Lasmar expects the recovery time to be at least a few weeks, ruling Neymar out of the semi-final and the final, should Brazil get there, on July 13.
Neymar, I hope you recover very soon friend!
Lionel Messi on Facebook
Zuniga insisted he was "playing for the shirt from my country, not with the intent to injure", but Neymar was crying in pain as he left the stadium.
His absence will be a huge blow to Brazil, who will also be missing suspended captain Thiago Silva for their semi-final with Germany.
Joachim Low's side earlier eased through to that stage for a record fourth consecutive time after a straightforward 1-0 win over France in Rio de Janeiro.
Germany, who have also reached the last four of the previous two European Championships, progressed thanks to Mats Hummels' 12th-minute header in Rio de Janeiro.
Low believes hosts Brazil will start with an advantage in the semi-final in Belo Horizonte, however.
He added: "They will have a home advantage, you can't deny that. The South Americans are fighting for their lives here.
"But we have quite a record - our president told me we have won 28 out of 31 official matches so that's quite a performance.
"This team has intrinsic qualities, is solid and stable and since 2010 we have taken on board new players like Mats Hummels, we have invested a lot."