World Cup 2014: Neymar insists his dream is not over as Brazil chase glory
Last Updated: 06/07/14 12:17pm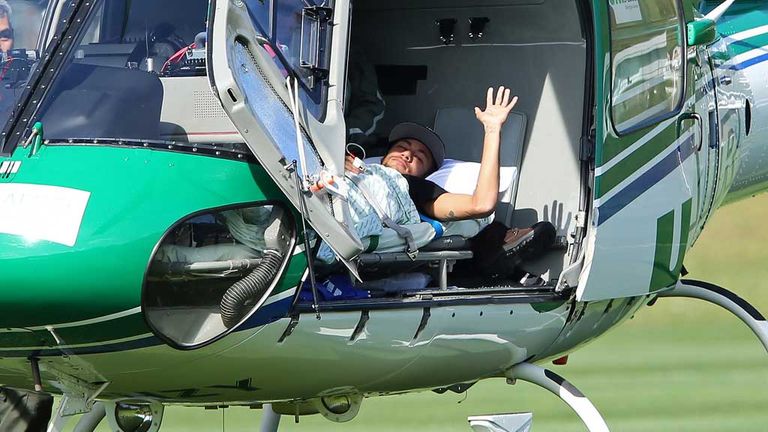 Brazil star Neymar has backed his team-mates to go on and lift the World Cup without him.
The 22-year-old will miss the remainder of the tournament - he is expected to be sidelined between three and six weeks - after suffering a fractured vertebra following a challenge by Juan Zuniga during the 2-1 quarter-final victory over Colombia on Friday.
Neymar has now been airlifted from Brazil's training camp at Teresopolis and he will continue his recovery from the injury at home in Guaruja as the rest of the squad prepare for Tuesday's semi-final against Germany in Belo Horizonte.
"My dream isn't over. It was interrupted by a play but it continues," Neymar told the Brazilian FA's official website. 
"There are two games left and I am sure that my team-mates will do everything possible so that my dream, which is to be a champion, comes true.
"It was also my dream to play in a World Cup final. But God willing, they're going to win this, they're going to be champions, and I'm going to be by their side, with them. And all us Brazilians are going to be celebrating."
Neymar was on a stretcher when he was transferred from an ambulance to a medical helicopter which landed on one of the training pitches, although he did wave briefly to onlookers.
Brazil legend Pele has also backed the hosts to overcome Neymar's absence and win the final in Rio next weekend.
Four years after winning their first World Cup, Brazil had to play without Pele in the 1962 tournament in Chile after he was injured against Czechoslovakia in the second game.
Pele wrote on Twitter: "It hurts our hearts to know that he can no longer defend Brazil in the World Cup.
"I was also injured during the 1962 World Cup in Chile, and I was out for the rest of the tournament.             
"But God helped Brazil continue on to win the Championship. I hope the same will happen with our Selecao in this World Cup."     
Brazilian team doctor Jose Luiz Runco called for World Cup referees to do more to protect players as he confirmed details of Neymar's fractured third lumbar vertebrae.
"In games involving Brazil we have seen some things happen that are not in keeping with what we should see on a football field," he said.                  
"Referees have tried to avoid giving out cards but FIFA is likely to take some action now. They must have experts looking into what happened." 
Runco also suggested that Neymar may yet attend Tuesday's semi-final against Germany.                  
"It all depends on whether he feels any pain, but it shouldn't get in the way of his recovery," he said. 
You'll be able to watch Neymar in Champions League action next season on Sky Sports 5 - the new home of European football.