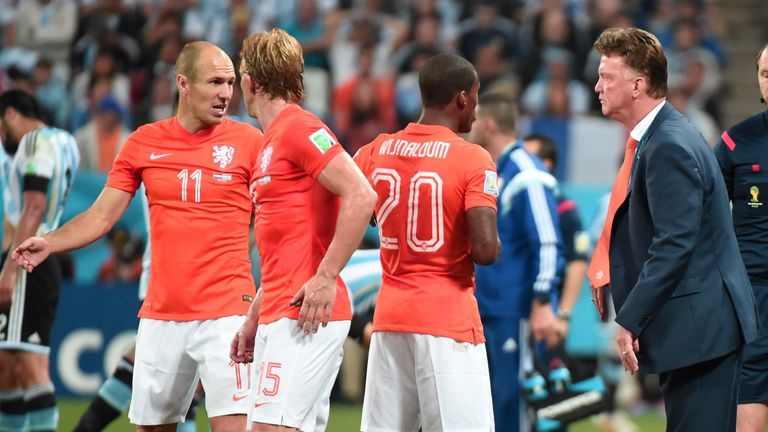 Netherlands coach Louis van Gaal insists a World Cup third-place play-off "has got nothing to do whatsoever with sport."
Netherlands will play Brazil on Saturday after losing 4-2 in a penalty shoot-out to Argentina in their semi-final clash on Wednesday evening.
Van Gaal, however, would rather the game was not taking place.
"This match should never be played. I've been saying that for 10 years; it's unfair," he said.
"There is only one award that counts and that is becoming world champions.
"The worst thing is that there is a chance you are going to lose twice in a row.
"And in a tournament in which you have played so marvellously well you go home as a loser.
"This has got nothing to do whatsoever with sport, not in my view."
Ron Vlaar, meanwhile, who missed the opening penalty against Argentina, insists he will not get too down about his part in his side's demise.
"It's sport and it's tough. But I'm a man and I'm not going to whinge about it," Vlaar told FIFA's official website.
"Of course, I know that I played well, but positive feelings pass to one side now that I've missed my penalty."
And Vlaar admits it will be hard for the squad to pick themselves up for the match against Brazil, who are still smarting from their 7-1 defeat to Germany in the other semi-final.
"We're going home empty-handed," Vlaar said with a sigh.
"It's sad, because the only thing that counts is the title. There's still the third-place match (against Brazil). But it's not the same thing."
Sneijder, along with Robin van Persie and Arjen Robben, struggled to break through an organised Argentina defence during the match in Sao Paulo.
The Galatasaray midfielder thinks the Dutch should have won the match in normal time.
"We deserved much better," he said.
"Argentina were playing for penalties, which wasn't the case with us. "We tried to play.
"I missed my penalty. It's a shame. But it's particularly frustrating not to have capitalised on the chances we created over the 120 minutes."