Wolves midfielder Jamie O'Hara willing to take a pay cut for first team football
Last Updated: 17/07/14 1:10pm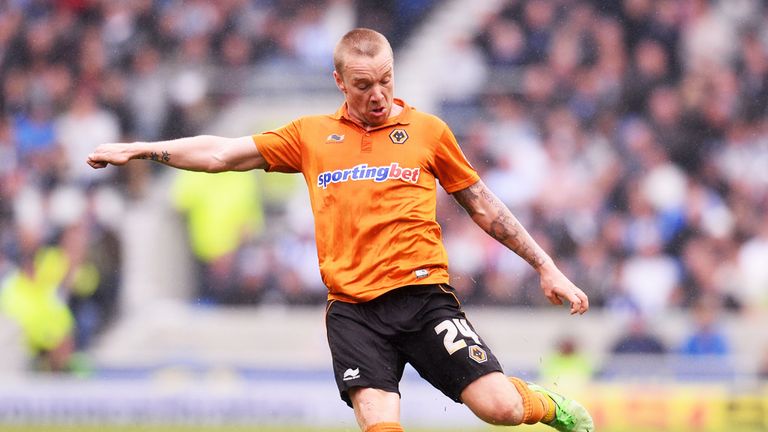 Wolves midfielder Jamie O'Hara says he is willing to take a pay cut for regular first-team football as he aims to re-build his football career.
O'Hara did not start a game for Wolves last season and has been told he cannot train with the squad during pre-season.
But he is determined to change people's opinions of him by taking individual training sessions.
"In the past people had the wrong perception and I'm just desperate to get back and show them what I'm about," he told Sky Sports News.
"The perception is that people think I'm a celebrity and when I hear people saying that I'm a celebrity it's like a stake in my heart.
"It's been a bad season for me and a bad time but I know I will look back on this season and say that it changed me as a person."
The former Spurs man also thinks that popular perceptions about his lifestyle – he is married to former model Danielle Lloyd - has had a negative effect on his career.
"I didn't fall in love with my wife because she was a model," O'Hara added. "I fell in love with her because she is the woman that she is.
"She is a great person but I have had to learn now to separate that and put that aside. It has affected my football career and that's what is hurting me the most."
The man coaching O'Hara is Mick Clegg, who in the past has put Cristiano Ronaldo through rigorous training programmes as Manchester United's fitness coach from 200-2011.
He said: "Jamie is very good at listening and then being able to do what you asked him to do and that's very important for your practical skills.
"But then you're doing speed, then you're doing strength, then you're doing brain training, then you're doing reaction. All these things are important because guess what? It's what happens out on the pitch."