Transfer news: Massimo Cellino hoping to keep Matt Smith at Leeds and targeting new recruits
Last Updated: 18/07/14 7:37pm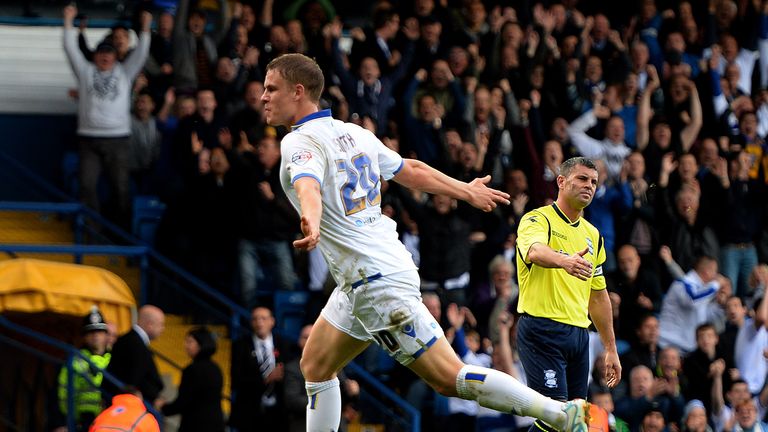 Massimo Cellino has played down the chances of Matt Smith leaving Leeds United as he plans to make further signings at Elland Road.
Millwall are reportedly preparing a new bid for Smith after being linked with him for some time, but Cellino has no interest in letting another striker go after selling Ross McCormack to Fulham.
The Leeds owner is instead looking to bring in reinforcements to go alongside Smith and the experienced pair of Steve Morison and Noel Hunt.
"Smith is growing, he's a nice player and I think he wants to stay," Cellino said in the Yorkshire Evening Post.
"A new forward is coming to help Morison, Hunt and Smith."
Leeds have already brought in four new players and Cellino is hopeful of adding Switzerland right-back Gaetano Berardi from Sampdoria.
Cellino is then keen to snap up a few more players this summer to help Leeds mount a challenge for promotion from the Championship.
"Berardi I haven't signed yet but I hope to. He's a good guy," said Cellino.
"I'm offering less money than Sampdoria, he's playing in Serie A and played 150 times in Serie A, and he's a national team player but he wants to come.
"The agent of Berardi is a good friend of mine. He (Berardi) said he wanted to go to Cellino in England. I said 'how much do you want?' and offered less. If you're good, you'll get a bonus. You have to show me that you want to come here, not for money.
"When you sign players, you can always raise the wage. You can never lower the wage. So if you trust yourself then trust me. I'm not going to take advantage."
Cellino added: "We'll sign another five or six. We need that. I don't want to say names because you test your luck.
"We've got more than 50 games next season and we need players, good players. We were missing that last season."
Cellino has been looking abroad for most of his new faces so far and says it is a policy that may continue, partly due to the cost of English players.
He explained:  "I'm just starting in British football," he said. "I try to understand the best players over here but I don't know much about them because you need time to watch games.
"I love British players but if a forward scores 26 goals in France, he costs me four million euros. Here, they ask me for £9m.
"At Cagliari we looked at players from France, Sweden, Germany, Argentina and Brazil but most of them I didn't think were right to play in the Championship.
"Because here the players are like Vikings. They're going to kill the other guy! So I need to decide which players have the right skills but are also strong enough to play in England. This is high-level, physical football."