Premier League: Ander Herrera impresses Manchester United team-mates on pre-season tour
Last Updated: 25/07/14 12:03pm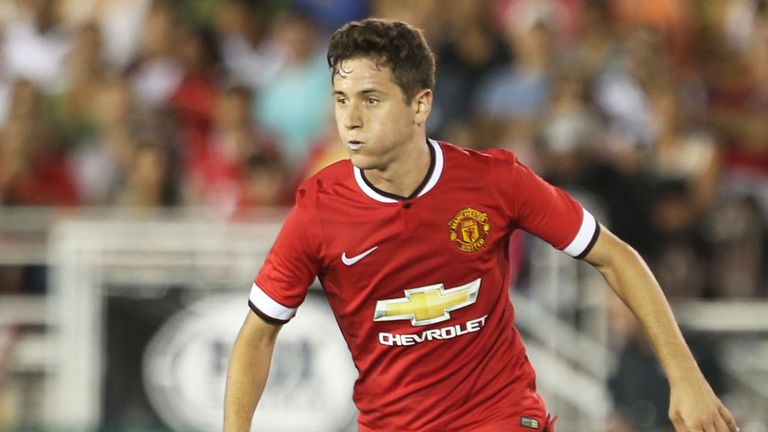 Andrew Cole has revealed how Ander Herrera has already impressed his new Manchester United team-mates on their pre-season tour.
The former United striker has been keeping a close eye on his old club's pre-season preparations and Louis van Gaal marked his first match in charge with a 7-0 thrashing of Los Angeles Galaxy.
Herrera, a £29m summer signing from Athletic Bilbao, impressed in a fresh formation, with Wayne Rooney, Ashley Young and youngster Reece James all scoring twice in Pasadena.
Another goalscorer Danny Welbeck gave a glowing assessment of the Spaniard while speaking to Cole and the 42-year-old, who played for the club from 1995-2001, believes he could play a key role next season.
"Herrera looked a real good player," he told Sky Sports News.
"The kind of player that Manchester United have been missing, a midfield player who is getting in behind, creating chances, good passer of the football, likes to keep it ticking over as we say and I enjoyed that.
"I spoke to Danny (Welbeck) briefly and he was absolutely buzzing about him after the game. When a centre-forward is buzzing about a midfield player you've got half a chance."    
Van Gaal only started his job at United last week and has praised the way his players have embraced the tactical changes.
Cole has suggested the Dutchman's ideas had been introduced before his arrival and expects him to transform the side into genuine contenders for silverware.
"I think he has given everyone a new lease of life," he said. "We were very disappointed with the way we finished last season, the way we went about our business.
"A new manager has come in, different ideas, different philosophy, wants to play in a totally different way. Everyone is saying 'wow' if we can play this way for the rest of the season, we'll be there or thereabouts.
"I don't think it's just four days. I think he's implemented that by not being there himself, but with his coaching staff and what he wants from his coaching staff, so it's not just been four days, but him being here the way he wants things to run, what he wants from his players, I think they all understand that."