Dean Lewington says he is honoured to celebrate his MK Dons testimonial
Last Updated: 26/07/14 2:41pm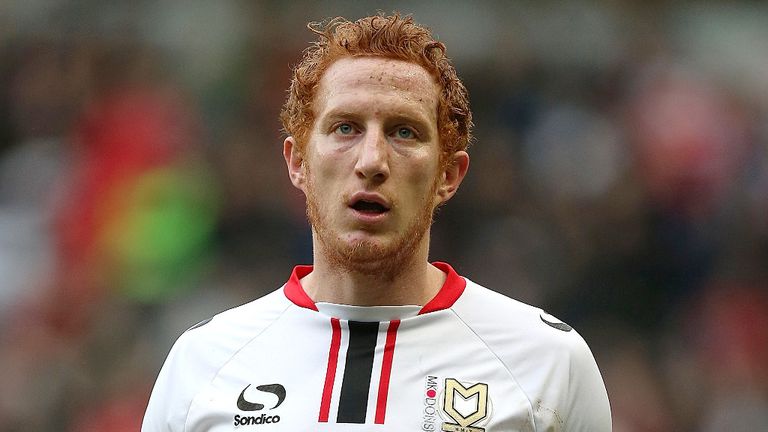 Dean Lewington admits it will be a strange experience for him when he celebrates his testimonial match against Nottingham Forest this weekend.
The 30-year-old will be honoured for his 10 years' service to MK Dons with a clash against Championship side Forest at stadium:mk on Sunday.
It has been quite a decade for Lewington at MK Dons as he was part of the Dons' set-up when they made the infamous move away from Wimbledon only years after joining the club
Lewington has gone on to make over 500 appearances for the Dons, and was named Player of the Decade at the Club's Player of the Year celebrations in April.
The left-back admits he never thought he would stay 10 years at the club after the controversial nature of their move from Wimbledon.
"It will be very strange really as it is not something that happens much in modern-day football anymore," Lewington told Sky Sports.
"It feels very strange and it makes me feel slightly old as well.
"I am really pleased Nottingham Forest agreed to it and a massive thank-you to them for doing it.
"They will bring a first XI and it's what I wanted to play in a proper game of football rather than a bit of show.
"It is obviously a nice thing to happen for me and I am very grateful and hopefully it will just be a nice happy day.
"We decided to wait until it was 10 years at MK and 11 years in total. The way the club has changed so much obviously there has been a lot of changes and I think everyone knows the story, but it has been absolutely frightening the amount of change that has happened.
"Over the years you look back from the original team, there are two of us who have actually survived the whole move and been associated with the club."
Lewington insists he has no regrets about staying at the club for so long despite having offers to leave in the last 10 years
"I don't no [have any regrets about staying]," added Lewington. "I had opportunities to [leave] and maybe I missed the boat a couple of times, but I always stayed for the best intentions and with hindsight it is always easy to look back and think well this may have been a better move or not.
"But I've always been very happy here and always been very happy to sign my contracts and I have enjoyed my football, so from that point of view I've had a wonderful 10 years and I can't complain."