Vanishing spray use backed by referee Howard Webb, Aston Villa manager Paul Lambert
Last Updated: 31/07/14 11:16am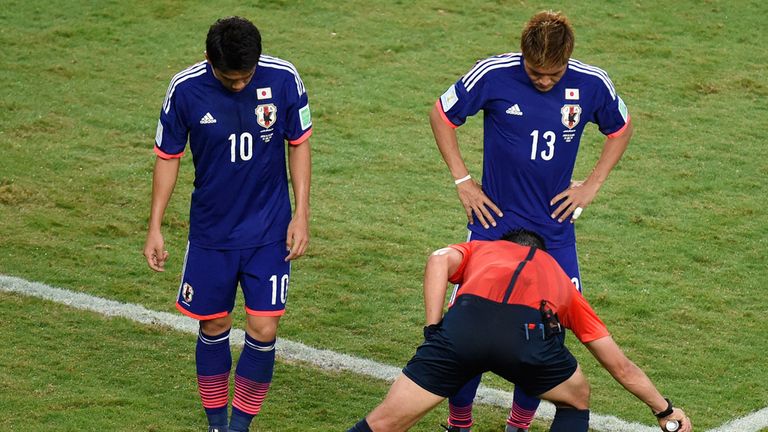 Referee Howard Webb and Aston Villa manager Paul Lambert are just two big names to have backed the introduction of vanishing spray into the Premier League.
This summer's World Cup was the first major tournament to include the use of the shaving foam-like spray, which has previously been used in South American leagues to mark out the 10-yard distance required for defensive walls at free-kicks.
Referee Howard Webb, who represented England at Brazil 2014, supported the decision. He said: "It's visual and it's easy to follow.
"As long as I remember that I've got it on my hip and I remember to use it in those important situations around the penalty area, then I think it's something that's useful."
Mike Riley, general manager of the Professional Game Match Officials Limited and a former referee, was one of those who recommended the use of the spray in the English top flight and said: "I saw first-hand the benefits of vanishing spray for referees, and for the game as a whole. The Select Group referees are looking forward to using it during Barclays Premier League matches next season."
QPR assistant manager Kevin Bond said of the move: "The referees and the officials need all the help they can get. They've got a really impossible job and I think that's a good start."
Leicester assistant manager Craig Shakespeare said: "I think it's a great idea. Watching it in the World Cup - I'd heard about it before but actually watching it in the World Cup.
"I've never met anyone that says it isn't a good idea so I'll be taking the shaving foam down to the training ground on Friday and trying it out!" 
Aston Villa manager Lambert also endorsed the introduction of the spray and highlighted the positive effect it had on games at the World Cup. He added: "I think it's going to be a really good thing and I thnk the World Cup proved that."