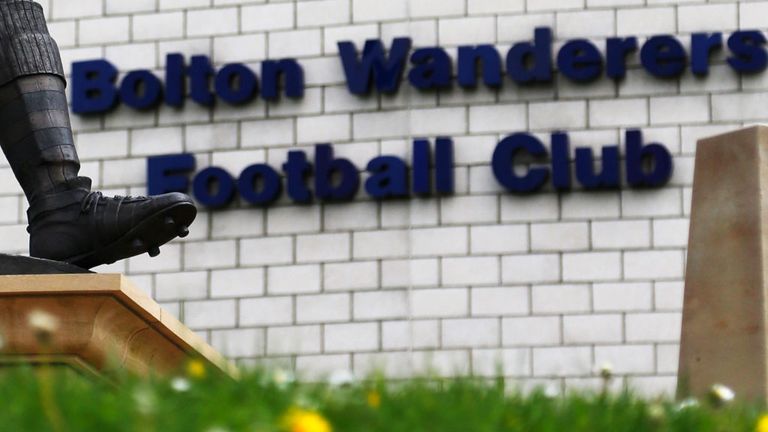 Bolton's level of debt is not a cause for concern as they prepare to start their third season since being relegated from the Premier League, according to club chairman Phil Gartside.
Financial results released at the end of 2013 revealed Wanderers, who were relegated by a single point at the end of the 2011/12 season after 11 consecutive seasons in the top flight, were £163.8m in debt.
But Gartside said the vast majority of the debt is to the club's owner Eddie Davies (and his company Moonshift Investments) and should be considered as equity in the company.
"Every time we're mentioned in the press it's alongside the fact that we've got a lot of debt," Gartside told Sky Sports News. 
"I keep repeating again and again that the debt is to the owner and is really equity - it's no different to what people have done at Chelsea and other places.
"Eddie's been a great benefactor to Bolton Wanderers over a period of 15 or 16 years and we are fortunate in that we own every asset and we have very little bank debt."
Gartside said the financial disparity between the Premier League and the Championship was getting greater with every passing season.
"There's so much difference between what you get as a Premier League club and as a Championship club," he said.
"I've said for many years that the gap's too big now and we need to look at different ways of financing or structuring the league.
"The bottom Premier League club will receive £63m and you're looking at £5m in the Championship - it's not bridgeable even with parachute payments. People say parachute payments are an unfair system but at the end of the day they are used to pay down the contracts you've committed to in the Premier League."
Gartside praised Trotters boss Dougie Freedman for taking a pragmatic approach during his time at the club.
"I like the way he's worked in the last couple of years and we have a good relationship," said Gartside.
"He knows the situation and he's good at handling finances - he's a businessman as well as a football manager and we're privileged to have that. I'm looking forward to working with him for quite some time."